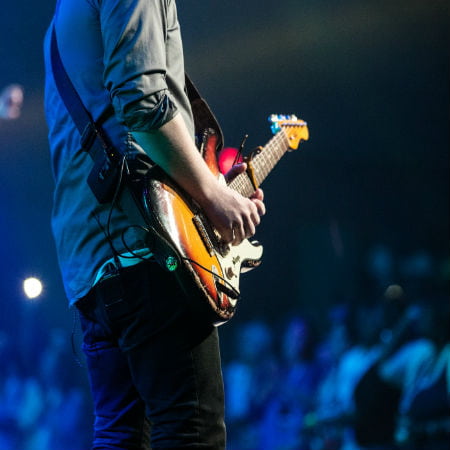 Are you a musician on tour and are looking for the best tips for securing musical instruments? In this article are the pieces of information you need.
As summer rolls in, more music festivals and concerts are happening around town. This usually runs from the start of June to way past the end of the sunny days. For avid music junkies and bands alike, it is an exciting thought. But it does take months of planning to make sure that the trip goes directly as planned.
So imagine you and your band playing in a jam-packed venue, and just when you think everything is going well, you load the truck and realize an instrument is missing. Yikes! Every musician knows that a lost instrument is a band's worst nightmare, especially since those gears come at a hefty price. So what do most bands do in the end? They post up signs in social media pleading for some kind fellow to return their equipment but to no avail. As a result, most bands have to cancel the whole tour due to the losses. But things don't always have to be this tragic or inconvenient, read on to find out the best ways of securing musical instruments and how you can better prepare for stolen valuables on tour.
Securing Musical Instruments: What Musicians Need to Know
Scroll down for video
Having your equipment stolen while on tour can be a hassle, especially since it can happen to anyone no matter how well they secure their assets. It is mostly hard for a musician because they have built personal attachment with their instruments, and even if they purchase another one, it won't be the same. But seeing how that is the only and most reasonable next step here, then you won't have any other choice.
Which leads you to the next problem: where do I get the money to buy another instrument?
The answer lies with insurance. Many bands make the mistake of assuming that their entire equipment is covered by their automobile insurance policies. This is partially true, but most of them are not enough to cover even half the cost. An option here is to carry a rider on your insurance policy to increase your benefits. But the downside here is the cost. So for example, a musical equipment insurance policy is at $250, with a rider the cost is gonna go up to $500. Sounds pretty expensive, right? The good news is that the amount is enough to cover a couple of lost or damaged gear.
However, a $500 insurance policy is not enough to pay for a $20,000 loss. Not only are you $19,500 short on compensating for the cost but this stops the entire tour from going on. This situation can be entirely avoided through careful planning and gaining knowledge of your options.
There is a huge difference between personal and commercial policies, which are too costly for the average band. And if you try looking for any available insurance options out there for musicians to cover their precious instruments and gear, you'll find out that most personal lines insurance companies don't offer a separate policy for musical instruments. If they do, you would almost have to take out a bank loan to afford the annual premiums.
Music Pro Insurance (MPI) is an insurance company focused on musicians. It was developed by David Sterling of Sterling & Sterling Insurance, an insurance brokerage that has been around for 75 years. The idea came after Sterling noticed how this type of insurance policy could aid musicians, and he realized that it wasn't readily available in the industry. MPI has been active for thirteen years now, and they cover a variety of musicians worldwide. Some notable industry partners include AFTRA, NARAS, and Noisy Planet.
So if you are interested in MPI, they have a detailed description of their insurance coverage on their Web site. But here is a short list of FAQs:
Who are eligible for coverage with MPI? Everyone, even non-professional musicians are eligible.
How do I apply? And how do I know if I have been approved/when the insurance starts? Enrollment application is done online on their official Web site, and the approval may take up to 48 hours. MPI does not base their approvals with credit and will not run credit checks.
How much will it cost my band? The coverage will cost you $112 to $10,000. You may calculate the annual cost through their Web site. Policies generally run from June 20 to June 20 of the following year.
What are the other benefits besides my $10,000 coverage? MPI is a one-of-a-kind insurance policy because aside from your instruments or gear, it also covers a total of $5,000 in electronic data processing (EDP). This means all hardware, computer, and software equipment are included in the set amount.
Do I get to choose the items under the $10,000 coverage? Applicants are given the freedom to list everything they want covered. So if you lose any of the items you list, MPI will replace them with similar ones. Note that they have set an exception for items over $25,000 such as vintage items.
Where is the "Instrument & Equipment" policy of my equipment covered? Musical instruments and the equipment necessary to let them operate are covered. This includes nationwide or worldwide tours, regardless of the mode of transportation you are using. But it does not stop there, the insurance covers acts of nature. In case a flood or earthquake damages your equipment, it still is protected. Note that this will not cover intentional damages, so you might want to leave the angsty rock star attitude for another day.
Included is a $5,000 coverage for valuable papers such as identification and business cards.
Is there a separate deductible per item lost? There is a $100 deductible but it is not charged for each item, instead the policy states that it applies to every loss/claim. For example, if the band's entire equipment is lost or stolen, then the $100 deductible will be charged for that particular claim and not for each of the item lost. This, in turn, saves the team a lot of money compared to other insurance policies offered.
Are personal devices covered? As stated above, computers, laptops, and software are covered since they are used for the band's production and may have important data or software on them. Personal items or ones used for leisure (e.g., PS2, Xbox, etc.) are not covered at all.
Does the company have a customer service line? For general questions directed to Music Pro Insurance or if you have inquiries regarding the application you submitted, you may fill out the form on the company's Web site. If you need immediate assistance, you may call the number indicated on their Web site: 1-800-MUSICPRO (1-800-687-4277).
To round it up, the insurance provided by Music Pro Insurance is as good as you can get when it comes to securing musical instruments or preparing for any stolen item. It may cost you money, but compared to losing $25,000 worth of gear without any means of making up for your losses makes the amount all worth it. Hopefully, musicians out there who are looking for the best tips for securing musical instruments can take advantage of options such as this.
You might want to invest in a reliable 3G GPS tracking device for musical instrument in the process. One of the benefits of GPS tracking technology is that it allows you to keep track of your belongings while you travel. Trackimo is one of the leading devices in the market, which gives you reliable GPS coverage anywhere in the world. It can be easily attached to your gear, giving you peace of mind as you tour. The features of these small devices make them the best tool for securing musical instruments.
As a musician, securing musical instruments as you fly overseas is a top priority. It's never easy considering the limitations that come with traveling on a plane. But by following the rules and taking extra measures, you can go on with your tour without having to deal with a lost instrument and continue making music using the gear you've always treasured.
Watch the videos below
Let us help you. We'd be delighted to answer any tracking questions you have or discuss the options in more details