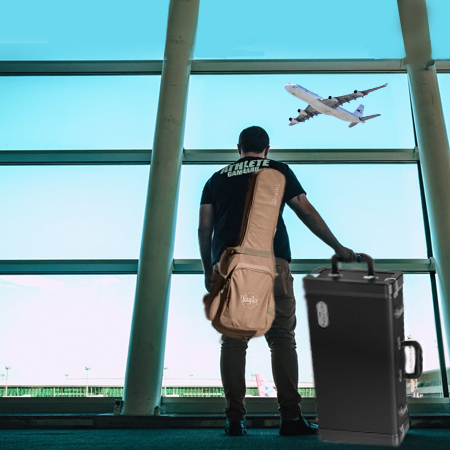 Nowadays, planes can be an inconvenient place for musicians who often have to fly overseas, as airlines have been enforcing ironclad rules when it comes to traveling with instruments. It comes out unfair especially from a musician's point of view, as most airport personnel do not understand how precious these million-dollar Strads actually cost.
Traveling with Instruments: The Growing Problem Musicians Have to Face
Scroll down for video
Airline Companies vs. Traveling Musicians
Steven Isserlis, a London-based cellist, shares his unusual plane experience. He took a flight via Air Canada, and the airline personnel placed his beloved cello on a bassinet similar to the one used for babies. They later kicked Isserlis and his cello out as soon as they failed to wrap six seat belts around it.
The story may sound odd, but it just depicts how twisted the relationship is between musicians and the airline industry and how hard traveling with instruments has always been for these performers. There seem to be no chances of them meeting in between, as most musicians have to resort to reserving an extra seat because their instruments are too big for the carry-on luggage area and too fragile to be treated like a check-in baggage.
Another case in point is that of Drew Banzhaf. The Rice University graduate was on his way to an audition when Southwest Air handed back his damaged double bass. "The neck and scroll dislodged from the body by a jagged break," Banzhaf recalled. But his woes did not end there, Banzhaf said that the company even made it difficult for him to file a claim.
Musician Zachary De Pue also faced the same problem. In a viral video that his fellow violinist Nicolas Kendall filmed, De Pue is disallowed to board the flight on the way to Fayetteville, Arkansas, with his rare violin. He and his band, Time for Three, were scheduled to play in Arkansas. He was told by a flight attendant that the violin needed to be checked in and placed in the cargo hold because it would not fit in the overhead compartment. The two violinists were able to board an American Airlines flight later with their instruments.
Airline companies had gradually been imposing stricter rules when it comes to security, much to the dismay of those traveling with instruments. It comes at the heels of several tragedies that have created a global impact on the travel industry, an example of which was the 9/11 attack followed by 2008's Great Recession.
The Case of Renowned Cellist Lynn Harrell
Los Angeles–based musician Lynn Harrell has highlighted the issue concerning traveling with instruments through his blog post that targeted Delta Airlines. He wrote that he and his cello have collectively earned half a million SkyMiles throughout their travels back in 2012. Harrell usually purchased full-fare tickets just to have the instrument sit next to him. Delta responded by confiscating his miles and terminating his membership and awards under his account. To add insult to the injury, they also banned him from flying with them again.
Paul Skrbec of Delta Airlines clarified that they "advised him that mileage cannot be accumulated for tickets purchased for musical instruments." But it does not stop there—Harrell stated that airline companies, not just Delta, were often mishandling their priceless cargo.
"After 9/11, cello endpins were removed by airport handlers, and my colleagues reported that they would arrive at the concert hall to find them missing. Imagine! They were rendered unable to play," he comments, "without these supporting spikes that attach the instrument to the floor."
Helen Nightengale, a studio musician and wife to Harrell, also recounted on how a TSA personnel took her $5 million violin out of its case and put it in a plastic box. She added that it was after she instructed him to "be careful" with a hint of agitation in her voice.
Fellow musician Isserlis can attest to what Harrell and his wife had gone through, as a similar situation involving British Airways had happened to him. "I was threatened with legal action if I ever again attempted such a heinous crime as holding a mileage account in my cello's name. Nor was I to use rewards from my own account to buy cello's tickets," he said.
The DOT's Answer to the Problem
The Transportation Department has issued a new rule that will help all those traveling with instruments when they board flights with valuable and fragile instruments. Airlines will now be required to treat these instruments like they would a regular passenger's carry-on bag.
The legislative director of the American Federation of Musicians, Alfonso Pollard, says, "Airlines have in their policies that they accept these instruments, but then once the musician gets ready to board the plane, they're sometimes told there is not enough space." So the musician is forced to check in an instrument that is fragile and can be damaged very easily. This was the main reason behind lobbying for a change in the rules. In the United States, there are about 127,000 employed musicians and 5.8 million school-age musicians.
The new rule says that if the instrument complies with the federal and airline policies for carry-on bags, then it must be given the same treatment as any other passenger bag. That means that if you can stow your guitar in the overhead compartment, the flight attendants are not allowed to remove it and ask you to check it in "even if the space taken by the musical instrument could accommodate one or more other carry-on bags."
If it is a huge instrument like a tuba, that is a different story. It's the musicians that travel with their smaller stringed instruments that do not want to hand them over to a baggage handler. Many musicians have complained about the treatment they receive when bringing their instruments on board a flight. Flight attendants oftentimes insist on their instruments being checked in, which increases the risk of the item being damaged.
Pollard further explains, "Nobody's going to be able to take a Stradivarius on a flight if they have to put it in cargo. The new rule should work and will likely reduce the amount of back-and-forth and arguments between musicians and flight attendants and pilots about whether or not they can bring their instruments on the aircraft."
Part of the initiative for negotiating the new rule came from the union leaders of the Nashville Symphony Orchestra. One time the concertmistress of the orchestra was flying to Carnegie Hall in 2000, she was carrying a Stradivarius violin and the flight attendant attempted to remove the instrument from her hand and forced her to have it gate-checked.
These battles over what is allowed to stay in the overhead bin are becoming more common since more people bring carry-on luggage aboard after airlines have started to charge for checked bags.
Guitars also have their own share of carry-on battles. Canadian musician Dave Carroll even released a protest song and video titled "United Breaks Guitars." On a flight with his band members, Carroll had to check in his valuable guitar, but when they arrived at their destination, the guitar was badly damaged. United Airlines apologized, but Carroll decided to make a music video and song about his experience. He now has a career as a speaker on customer service.
The new rule will require that flight attendants learn how to deal with instruments. Many flight attendants dislike having to deal with overhead storage disputes. Sydney Pearl, a flight attendant with 20 years experience, says, "It's such a headache. We fly to Nashville, so there are instruments galore. It's always a chore because some guitars take up an entire bin. Sometimes we have to gate-check those instruments, unfortunately." She did emphasize that a majority of baggage handlers treat instruments with care.
Zachary De Pue also added that "most flight attendants and pilots usually make an effort to find overhead space for it when you tell them you have a violin."
While most musicians who are traveling with instruments quite often are hoping the new rule will make things easier for them, they can't help but take measures themselves to prevent their possessions from getting damaged or lost. Musicians who travel a lot have learned how to manage their instrument woes. Here's how.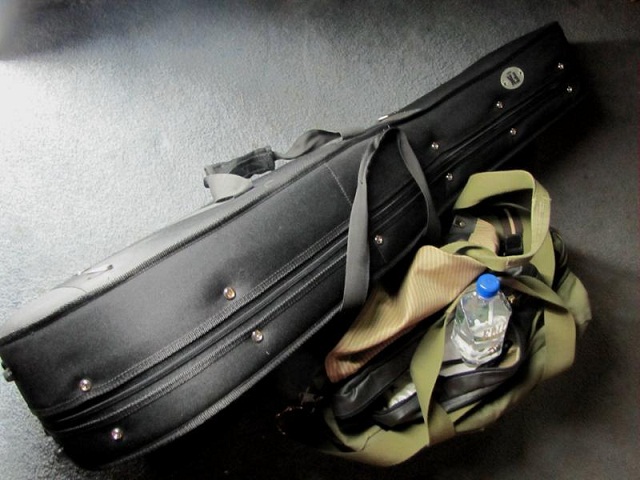 How Musicians Cope with the Inconvenience of Traveling with Instruments
Musicians who travel with larger instruments like cellos purchase an extra seat. A cello cannot fit into an overhead bin, so they just have to sit next to their precious instruments. This also allows them to keep a closer eye on their instruments than when these are placed somewhere they can't always see.
Traveling with a fool-proof cello
To get by airline mishandling, Harrell travels with what he calls a fool-proof cello. He would take the pin off and pack it in a suitcase to prevent it from getting lost. Not only that, Harrell has come up with several other tricks as well. He admitted to changing the passenger for his cello's ticket and schedules flights between 4:00 a.m. and 6:30 a.m. to avoid strict check-in agents.
Another option is to use GPS tracking device. Advanced technology has made it easier for everyone to locate items using GPS devices that are capable of determining the real-time location of anything and anyone. For the sake of peace of mind, some musicians attach GPS trackers to their instruments so they'll know where it is at any given time.
The now–very strict laws imposed on musicians traveling with instruments are a far cry from their privileges during the '70s and '80s, where planes were bigger, there were no strict rules, and personnel would actually respect how valuable the instruments were. Not to mention, this was a time that airline companies would never send out rude responses to people who needed extra seats for their equipment.
For all musicians out there, the urgency and need to get your instruments on board can be an exhausting process. But the best thing you can do here is to get the upper hand by remaining calm and polite. As anger, no matter how justifiable, will never get you a positive response.
Watch the video below
Let us help you. We'd be delighted to answer any tracking questions you have or discuss the options in more details.