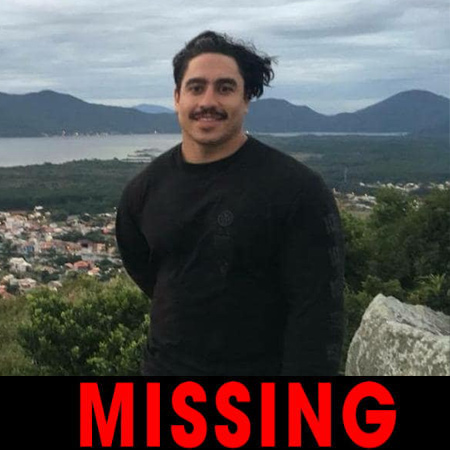 A Tasmanian man named Rye Hunt has been reported missing in Rio De Janeiro after disappearing suddenly from the city's international airport on Saturday.
Scroll down for video
Mr. Hunt, who is 25 years old, has not been found since May 21 when he was at the airport. He hasn't accessed his bank accounts or been on his social media platforms ever since.
He works in the western part of Australia when he decided to leave the state indefinitely on April 7 to what he states on his Facebook page as "an adventure to see the world."
Mr. Rye Hunt also mentioned on his Facebook status, "Unsure of what the future has in store for us, stay safe everybody, hope to see you all upon our return."
He speaks with his girlfriend on a daily basis but hasn't been in contact with her since he went missing.
Mr. Hunt had split up with his friend at the Rio De Janeiro International Airport. They each went to grab a cup of coffee as they were deciding on their next destination. It was arranged by them to meet up again in about half an hour later; however, Mr. Hunt never returned much to the worry and concern of his friend.
Family Worried after Rye Hunt Reported Lost
As time passed on, the family of Hunt expressed deep concern on the 25-year-old's whereabouts and safety.
Romany Brodibb, the sister to Mr. Hunt, said her family had already filed a few reports of a missing person to the ministries including the Department of Foreign Affairs and Trade and the Australian Embassy.
"They were staying in Rio and their next intended destination was Bolivia," Ms. Brodribb said. "When Rye didn't turn up [his friend] went looking around the airport and talked to security for hours."
Mr. Hunt's friend had returned to his hostel in Rio to continue with his search after hours of trying to track him down. Mr. Hunt's friend had contacted his girlfriend to learn if she had spoken to him after he disappeared.
"Nobody has heard from him, including his girlfriend which is very unusual," Ms. Brodribb said.
The DFAT, with the help of the Australian embassy, are working effortlessly with the help of tourist police in Brazil also in knowing Mr. Hunt's whereabouts.
"The Australian Embassy in Brasilia is working closely with local authorities to locate an Australian man reported missing in Brazil," a DFAT spokesperson said. "Due to privacy obligations, we will not provide further comment."
According to Inter State Press release, it is reported in 2010 that about a hundred people go missing each month in Brazil.
"The issue is that while the authorities are being cooperative now, they weren't at first," Ms. Brodribb said.
"We are really concerned for his safety and we are feeling really helpless being back here. We just want to know he is safe somewhere."
An e-mail (FindRye@gmail.com) has been opened urging anyone with information on him to send them a message. Mr. Hunt was seen last holding a big blue and black traveler's backpack.
Watch the video below
Let us help you. We'd be delighted to answer any tracking questions you have or discuss the options in more details