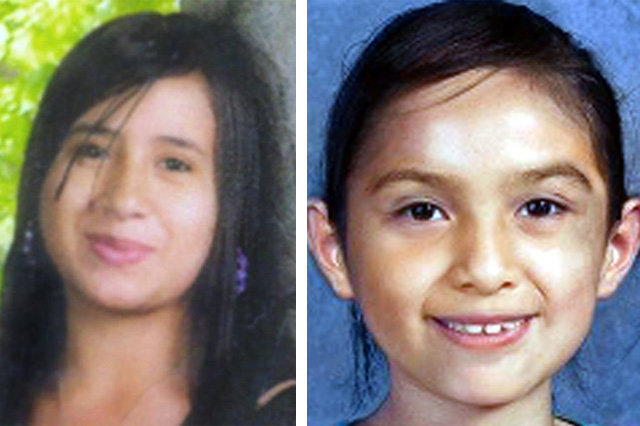 May 25 is the International Missing Children's Day as well as the National Missing Children's Day as ordered by former US president Ronald Reagan in 1983.
In the US last year, there were about 460,000 reported cases of missing children. Based on the record of National Missing and Unidentified Persons System and the National Center for Missing and Exploited Children, in Arizona alone, there were about 60 active cases of missing children, persons below 17 years-old.
Scroll down for video
Some of the cases can be traced back to 1959. Despite the already large number of missing persons, there's a possibility that the actual number of missing individuals could be higher than what was reported due to incidents where families failed to inform the police authorities.
Within the urban areas in Phoenix, 17 percent of the reported cases of child kidnapping are done by members of the victim's family.
Jayson Pierce
Jason Pierce was only a year old when he was abducted by his step-father. He was last seen on April 15, 1983, when he was handed by the man to an identified family member. Jason would have been 34 years old this year.
Diego Hernandez
On May 11, 2011, one-year old Diego Hernandez of Tempe, Arizona, was kidnapped. The police believed he was taken by his own father.
Sophia Larranaga
Sophia Larranaga would have been 19 by now had she been found after she was reported missing on February 11, 1998. The then one-year old girl was believed to have been abducted by her mother and brought to Sinaloa, Mexico.
Natasha Corley
Another one-year-old infant was allegedly been kidnapped by her own Mother. Natasha Corley was taken from Scottsdale, Arizona on August 28, 2006. The local authorities believe that little Natasha's last name was altered to Allende and then brought to Mexico by Anabel Allende. A year later, Annabel was issued a federal warrant for unlawful flight in order avoid prosecution.
Samuel Robinson
On Sept. 30, 2006, Samuel Robinson was allegedly abducted by his own Mother Alma Robinson in Phoenix, Arizona. Samuel, who is now 10 years old, was traveled to Las Vegas or Mexico.
Christian and Leonardo Diaz-Borjas
Christian, 3, and Leonardo Diaz-Borjas, 4, were allegedly taken by their father, Pedro Diaz-Roman, on March 25, 2005, in Phoenix, Arizona. Diaz-Roman was given a felony warrant for kidnapping.
Yareli Barajas
Yareli Barajas, who is now 19 years old, left her home in Phoenix on August 11, 2009, with an adult relative. Law enforcers believed the two went to Mexico.
Jhessye Shockley
Five-year-old Jhessye Shockley was last seen on October 11, 2011. Though her body was never found, it was proven that little Jhessye was killed by her own mother, Jerice Hunter.
Gabriel Johnson
On December 27, 2009, Gabriel Johnson was kidnapped by his mother and was taken from Arizona to Texas. A week later, baby Gabriel was traveled on bus to Florida, according to investigators. The mother told Gabriel's father via text message that she killed their son, but she later retracted her statement. She admitted to giving Gabriel to a couple at a Park in San Antonio. Gabriel is still missing. He would have been 7 years old by now.
It's unfortunate that these kids and many others have to suffer the feeling of being separated from their families. The absence of 3G tracking technology such as Trackimo kids tracker device in the past made it difficult for the law enforcement to track kids.
But today, such technology is now available. Child tracking is now possible, thus helping families as well as authorities in finding missing children.
Watch the video below