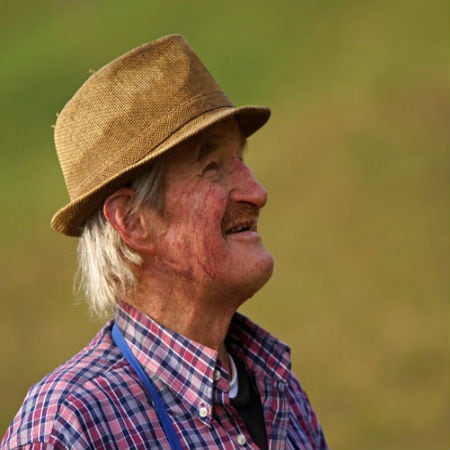 Futuristic animation like The Jetsons and Wall-E may be closer in real life than you think. From weeding the garden to picking up after people, robots may soon be able to do most of your household chores for you; and at some point, you will be glad for them.
Aging, after all, is an inevitable occurrence, and it can make everyday tasks more difficult as your body is not as nimble as it was during your heydays.
Many elderly folks struggle to find a balance between proper care and maintaining their independence, so researchers are now working to design fairy-godmother drones to look after elderly people, and it seems that the technology is coming nearer than you'd realize. This is not limited to family GPS trackers or the same sort, what they're saying is that there could be more.
A World of Technology: Drones to Look After Elderly Now Possible
Scroll down for the video
Elderly adults' population is rising, and the people aged 60 and over are expected to double in number by 2050 and triple by 2100, which means that robots, Utilizing GPS trackers, and drones to look after elderly citizens may actually be needed earlier before these times.
A roboticist from the University of Illinois was recently awarded a $1.5 million grant from the National Science Foundation to design drones that can help around the house. The roboticist, Naira Hovakimyan, is putting small drones to work by testing how they perform common tasks like retrieving a medicine bottle from a different room. If successful, having drones to look after the elderly is now a possibility. These drones could act as a fairy godmother to the elderly, which is exactly what they're supposed to be. With automated technology being developed every day, she said that these drones could be a regular part of the elder care system soon—in about a decade or two.
Many are questioning the technology, and to help shake the hesitation, the researchers used an Oculus Rift headset to help people virtually acclimate to the closeness of a drone. Elders today are not very receptive of the new methods, but the team believes that future generations of elders, themselves included, could be more open to technological development. "Within the next 15 years I am going to be the one in need of technology, and if I start the development today and grow with the technology development, I will certainly be receptive to it," she wrote. "It is with this understanding that we are developing the technology today."
Similar technologies have aimed to combine artificial intelligence with existing care products, with intelligent walkers, balancing aides, and smart pendants like GPS trackers for people to track falls and wandering, the risks seniors face. These technological advances will be commercially available in years to come, and researchers are even looking to AI to help combat the loneliness epidemic happening among aging adults, with robotic companions to provide human-like interaction and help them stay on track with their medications and even keep in touch with medical facilities.
Certain effects of aging such as dementia, for instance, can be offset by human connections, but it is yet to be known whether or not virtual companionship and other helpful AI technology could hold the same cognitive value. However, researchers know that robotics will become increasingly important in the future of human progress, with Hovakimyan convinced that robotics could be present in every area of our lives in the future. 'They will assist soldiers in war, elderly in assisted living facilities, people in their homes, and in lot of other circumstances."
Robot helpers are too far away for your now aging parents and grandparents, but fear not, you can still keep track of them thanks to GPS for elderly tracking like Trackimo.
Check out this easy-to-use device to ensure that the aging people in your home are kept safe at all times.
Watch the video below
Let us help you. We'd be delighted to answer any tracking questions you have or discuss the options in more details.