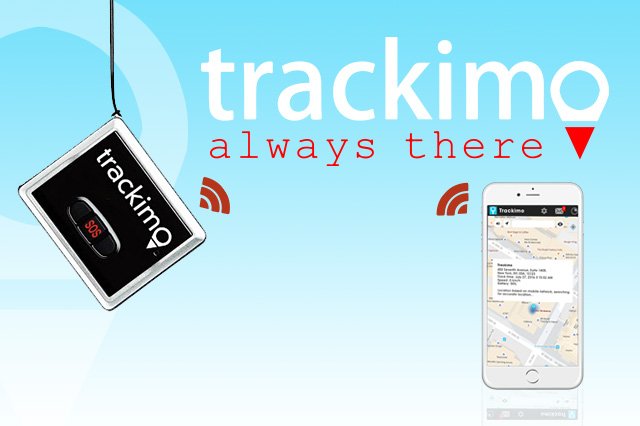 Not so long ago, GPS technology was developed, but it was not immediately made available to the public. But despite its huge potential, the technology didn't create an impact right away mainly because of its inaccessibility price-wise. And then recent advancement in technology and significant cost reductions made it accessible for most of us. We now use it to guide us when traversing in unfamiliar places and keep an eye on our loved ones as well as our valuable possessions. One of the best GPS technology is the Trackimo device.
Scroll down for videos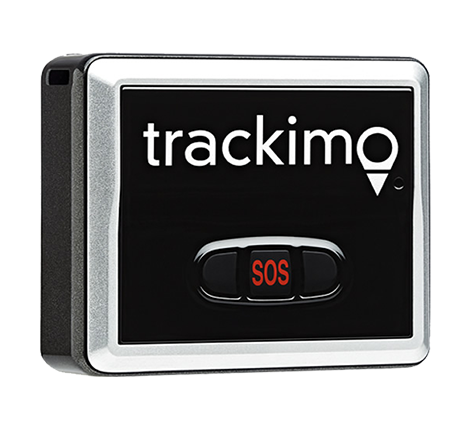 As there are growing demand for GPS devices, the supply is also catching up. The truth is, these days, the market is so saturated with this product that choosing the right one for you would require a thorough research and much consideration.
Types of GPS Tracking Systems
For starters, there are two types of GPS tracking systems available today: one uses SIM card in transmitting coordinates of the tracking device to any cellular phone, and the other uses GPS and Bluetooth software on smartphones to transmit an object or a person's location to the server and back to the phone. The later is dependent on the number of users of such devices in a particular area or country.
Trackimo Device Tracker Review
Trackimo is one of the latest and most comprehensive GSM/GPS tracking systems the market has today. It utilizes both GPS satellites and cellular networks in transmitting location data. In terms of portability, it's small enough to carry it with you, smaller than the size of your palm. As for its battery, you'll have no problem as it's one of the GPS trackers with long battery life. But if you want an uninterrupted, immortal-like battery life, you can plug it into your own vehicle's power supply.
Trackimo™ is a US-based IoT (Internet of things) solution provider with proprietary technology that allows global connectivity for M2M (machine to machine) units. Trackimo aims to mold business models by way of flexible radio frequency mobile technology solutions that are practical and easy to use, worldwide reach with advanced security and impeccable quality.
Trackimo™ is specially designed to provide people with wide range of formidable alternatives for keeping track of people and objects valuable to them. It's one of the smartest, solidly built, and cost-effective tracking devices in the market.
Inclusions
Currently, Trackimo devices are available in 2G and 3G GSM/GPS stand-alone trackers. Also available are vehicle, marine, and drone packages, which, aside from the 3G GPS model, also include needed tools to connect to the said items such as cables, battery, attachment kits, and waterproof casing.
All Trackimo units come with a free one-year GSM international service including 10 SMS alerts monthly (the device has three buttons at the top, which you can use to send text alerts). After that, if you decide to request for a termination of the service, you can do so without any obligation. And if you wish to continue the service, you may be asked to get a new SIM card and pay a subscription fee of 5 USD a month (probably the lowest offer there is).
What's Inside the Box
There is an MTK3336 GPS tracker, a motion-sensitive device known to be a battery saver and one of the most in-demand units in the market; an MKT6250A quad band GSM module, which supports GPRS and GSM 850/GSM 900/ DCS 1800/ PCS 1900 bands; a microphone; and a rechargeable lithium-ion 600mAh battery, which can power the Trackimo tracker up to 72 hours of tracking (150 hours on standby). The device itself is flexible, it can be placed on anything you want to track with, be it a car, a boat, or even your spouse.
Specifications and Features

Packaging and Contents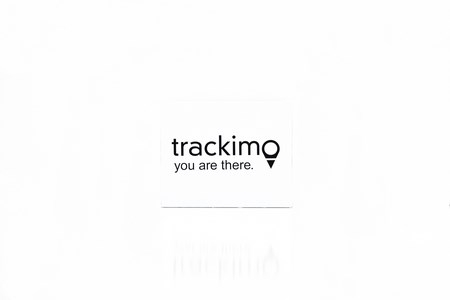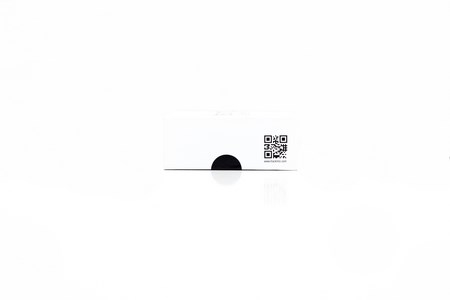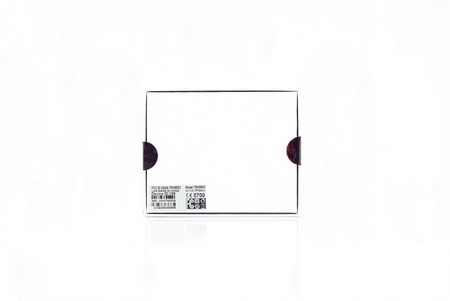 Since this is a Trackimo tracker review, of course, we are using a Trackimo device. We receive it secured inside a small white box with the brand name on top. There's also a 2D barcode on the left side and a sticker with the power requirements and the serial and part number at the back.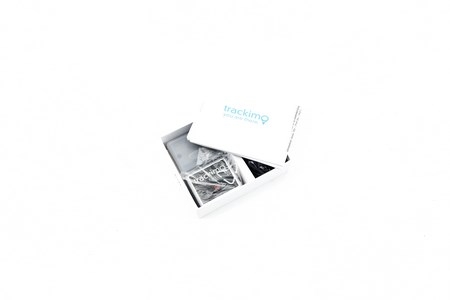 We assume there's no shipping issue since the box where the device is placed, though very small, is so thick.
Inside the box, you will see the Trackimo device, 600mAh li-ion rechargeable battery along with a belt clip attachment, adhesive magnetic attachment (already mounted onto the tracker), adhesive Velcro piece, micro USB charging cable, waterproof silicon cover, lanyard, screwdriver, single screw, and the quick start guide.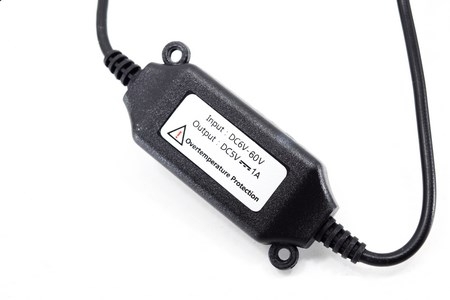 The car/marine bundle is in a separate plastic container. Inside are 5V micro USB connector (features a built-in over-temperature protection), fuse cable, battery pole cable, and two cable ties
The Trackimo Device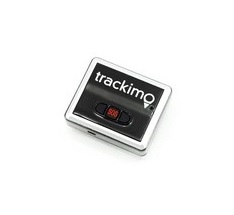 Depending on the model, Trackimo devices have different sizes (and mass, obviously). The one we have here has a measurement of 47 mm in width, 40 mm in length, 17 mm in height, and 42 g in weight.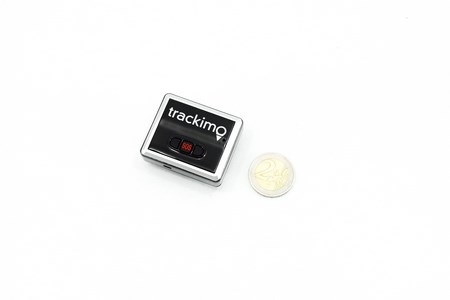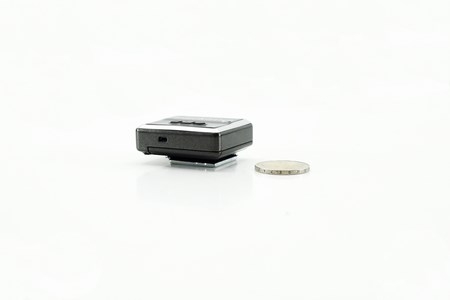 To give you a better idea on Trackimo's actual size, we placed a €2 coin beside the Trackimo device.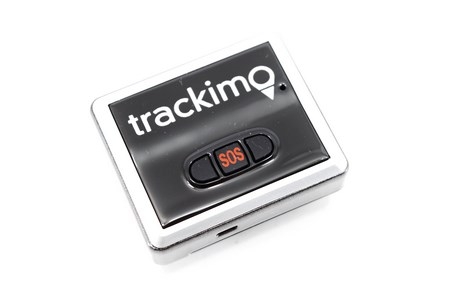 If you can see, the upper side in front of the device is the company name and logo, just beside it is the microphone hole. On the lower part is the SOS button (also called emergency button) sandwiched in between two buttons, which you can use to send alert messages to whoever is monitoring you (you will need the Trackimo app to do that, though).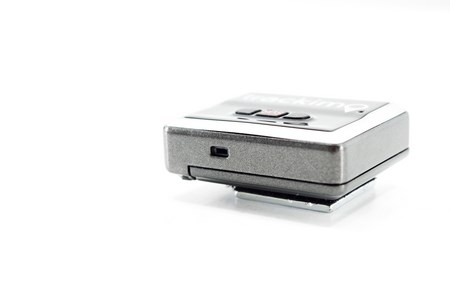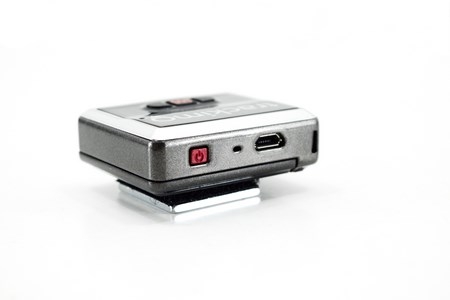 At the base of the device, you will see another tiny hole, it could be an outlet for the speaker, while the red button is obviously for turning the power on and off. Also present is the micro USB charging port and another tiny whole, could be for another microphone. There's a tiny hole at the base of the Trackimo (it may be the speaker one) while the on/off power button, the micro USB charging port, and another tiny hole (probably another one for the microphone) are placed at the top.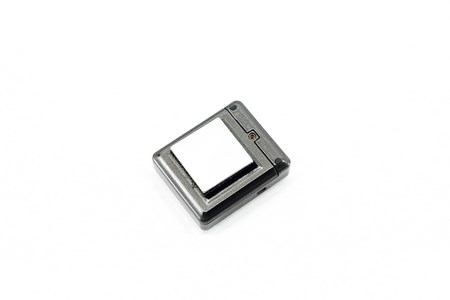 Out of the box, the Trackimo device is pre-attached with a magnetic adhesive, which you can use to either secure in place with the supplemental screw or switch for one of the others.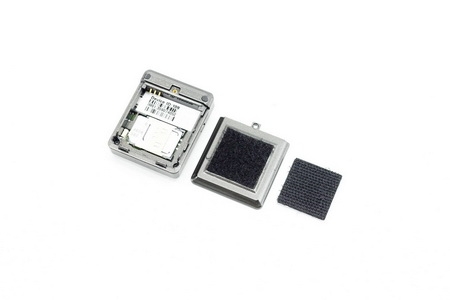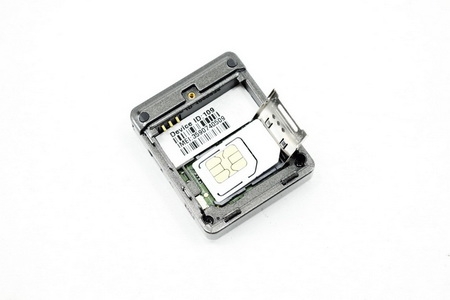 If you opt to remove the attachment, it's very easy; and once done, you will find the free SIM card.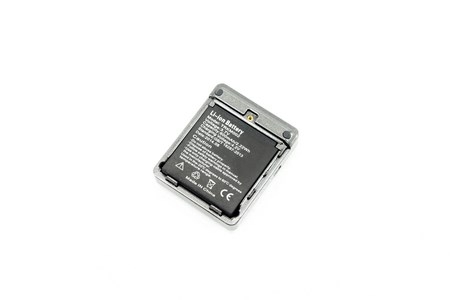 This is where you will have to affix the bundled 600mAh rechargeable li-ion battery.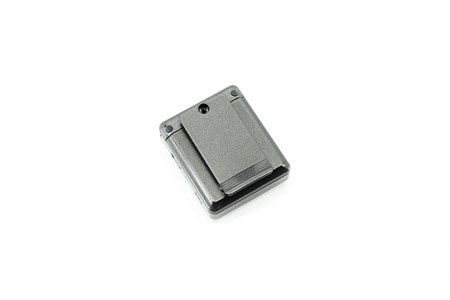 In addition to the magnetic adhesive attachment and the plain adhesive attachment, you can also use a belt clip attachment.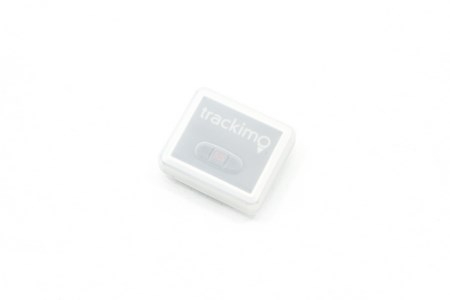 To protect your Trackimo device from splashes, cover it with the bundled water-resistant silicon casing. (See the image above.)
Setup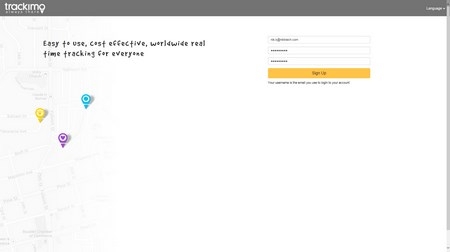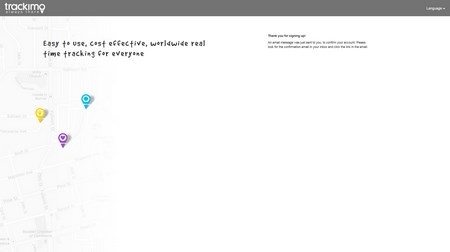 To activate the Trackimo device, just visit their Web site and click on the Activate button at the top. You will then be asked to create a new account. (See the image above.)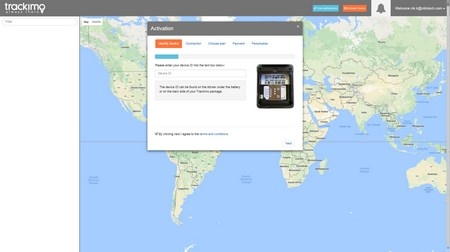 Next step is to place the device in an open space, then turn it on. Go back to the Web page, then enter the device ID (it can be found at the bottom of the box, in the battery or SIM compartment).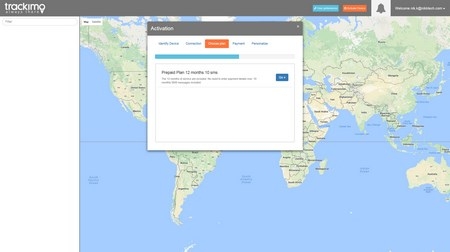 Once completed, you will be asked to fill in the payment details for the cellular service plan. If the 12-month plan is included, just select Go.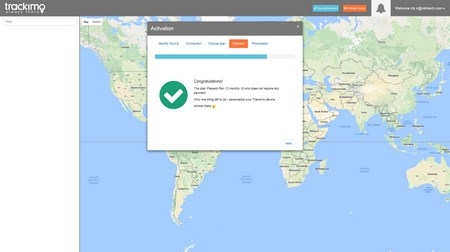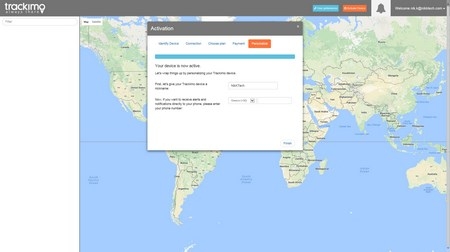 You will need to provide the device name and cellular number where you want to send your text alert notifications. You can input as many as ten per month.
Using the Trackimo Device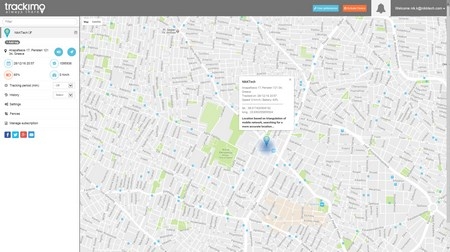 You only have to log in to the Web app of the Trackimo device to see all the tracking information you need from the device's exact location to how much battery is left, the speed it is moving as well as its GPS coordinates. Tracking history is also available for viewing at a later time.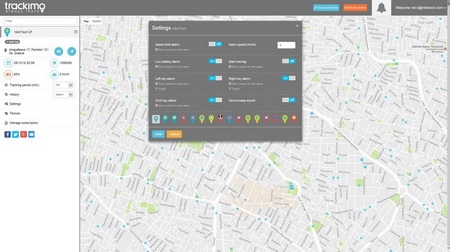 Another useful feature of the Trackimo device is the customizable SMS alarms. You can set the speed limit alarm, low-battery alarm, motion-sensor alarm, and key alarms. Mute function is also available. In case you are using multiple Trackimo devices, different icon is used for each tracker.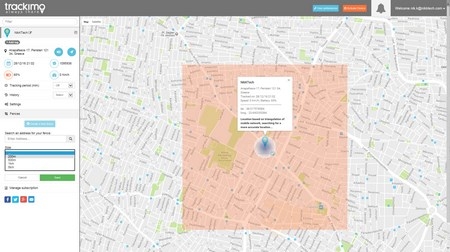 Geo-fencing is also available in Trackimo device. This feature allows you to set up a virtual perimeter with alarm (200 m/500 m/1000 m/5000 m). The alarm goes off in the event that the device exits the area, and you receive instant text alarm. This can be used to monitor children or pets.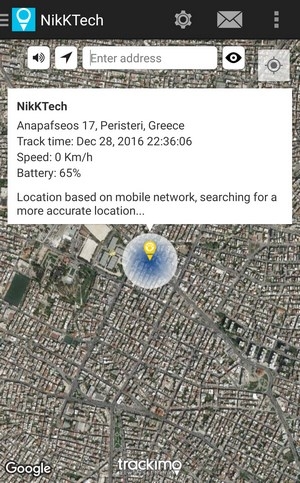 It may seem like the Android and iOS apps do not offer the same type of information, but you can also see where the device is located (both in map and satellite view).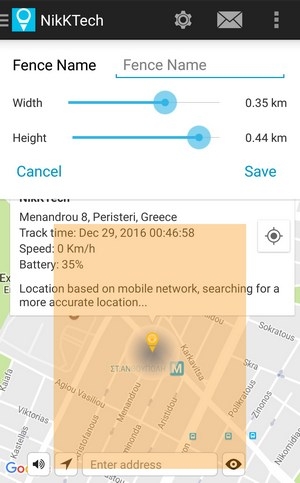 Geo-fencing alarm from the Android/iOS app is available as well.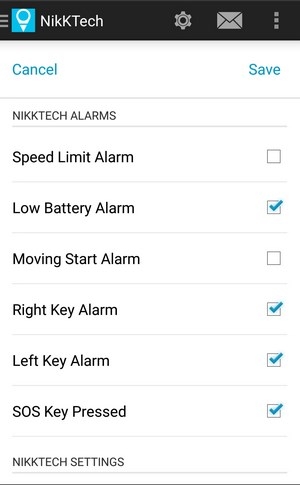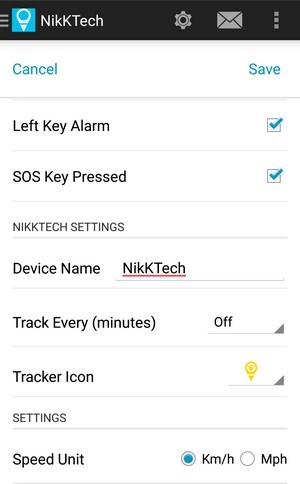 There is also an option for you to change the name of the device and its icon, and you can adjust the tracking frequency period.
Conclusion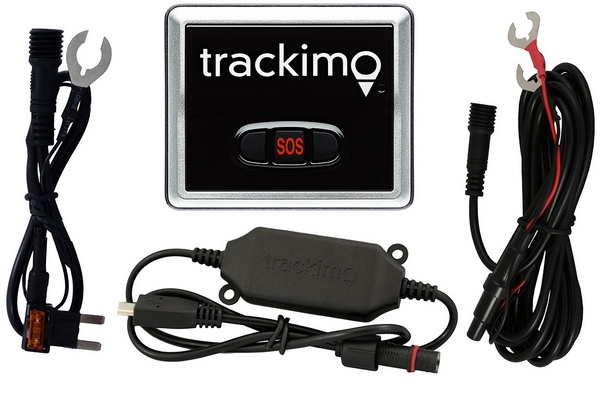 Accuracy
To test the Trackimo device, we drove around for about 3 hours to see how reliable the device is. We found that the device is pretty accurate whether in the car or on foot (can track one's location within 5 meters).
The next thing to do was to see if it would work the same way when inside a building. So we went to a fast-food chain, which was about 20 minutes drive away from where we were. On the first try, we couldn't find our location, the many floors above us probably confused the tracker. It was on the second try that the device got it right. However, when we went for a third time, it did pinpoint our location but not that accurate.
We can't expect too much from Trackimo device since it says that their product is more on for outdoor use. Anyway, we have an option to check the history to see our position before entering the establishment.
When the device couldn't track our location using GPS, cell tower triangulation is used. Unfortunately, this method is less accurate, tracking us 100 meters away from our actual position. So we say, GPS tracking seems better.
Battery Life
Though Trackimo said their battery can run up to 72 hours of continuous use, when the test was conducted, it only lasted about 65 hours. Still better compared to a few other GPS trackers we tried previously.
Cost
As for the cost, Trackimo device is currently selling at a discounted price. For only $139.99, you can get the standalone GPS version or the drone GPS tracker with drone attachment kit. The 3G GPS tracker or the car/marine GPS tracker unit (the one we tested) is available for $179.98. For both Trackimo device models, you also have to spend $60 annually for the international cellular service. This fee is only applicable if you opt to continue the service after the package-included free one-year data usage.
With all the useful features mentioned above, potential users will agree that the Trackimo device is worth its cost. It may not be as small as you want it to be for your loved ones or pets, but it functions exactly as they say it would. For these reasons, Trackimo device gets our Platinum Award.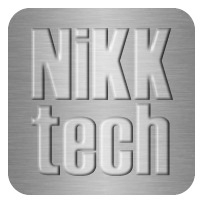 Pros
– Quality
– Compact size
– Velcro, magnetic, and belt clip attachments
– Tracking through both GPS and cell tower signal triangulation
– Battery life (up to 72 hours)
– 12 months international cellular service
– Car/boat battery connector
– 3 text alert keys
– Available bundles
– Software features
Cons
– Price (for some)
– Cell tower signal triangulation accuracy
Watch the video below
Let us help you. We'd be delighted to answer any tracking questions you have or discuss the options in more details