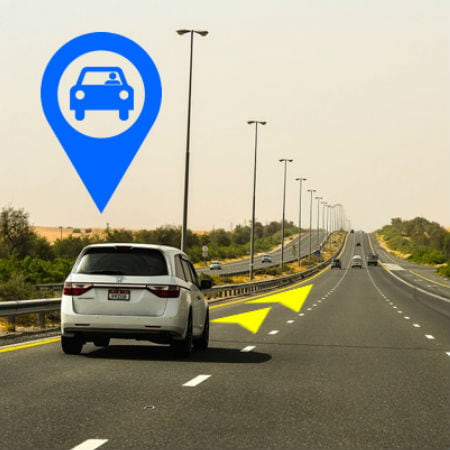 Some may think that owning a separate GPS unit is overkill. After all, most smartphones are now equipped with GPS navigation. But getting a dedicated navigation system for your car is always a good thing as they have far more superior designs than the ones installed on your phone. Smartphones might have taken over the world today, but there are still some things you might be looking for in a navigation system that you can't get out of a smartphone, no matter how "smart" it is.
A lot of people have benefited from car navigation systems, and its major benefits include promoting safe and relaxed driving. The GPS data provided by these systems may also be used to determine the device's real-time location as well as driver reports to keep you updated on their activity. These are all presented on the device's companion app that is accessible via mobile phone or computer.
The mapping software used by a GPS navigation tracker is also efficient and comprehensive. It gives accurate directions, and the quality is better than that of a free app on your smartphone. There might have been instances when you have relied on the free GPS navigation on your phone and found it completely unreliable. For instance, the phone alerts loudly, "You have arrived at your destination," only for you to look at your surroundings and find out that you actually have not. Then you get frustrated, and then you panic because you have no idea what to do now and how to get to your destination. With a dedicated navigation system, you won't experience such an inconvenience.
A GPS navigation device also offers another advantage besides giving accurate directions. In the event that the unthinkable happens and your car gets stolen, you can use the device installed on your car to quickly track down where it is. And in the case of a stolen vehicle, anyone knows that any minute counts. If you take too long, then your car may have been disassembled for parts by that time. You might not want to believe it, but it is a possibility.
Read on below to find out how this technology works to help you track your car anytime, anywhere.
Scroll down for videos
Navigation System: How Do These GPS Systems Work?
Navigation systems are rapidly on the rise. They can come in a variety of forms, but the most common are in-dash GPS systems and portable units. To explore how this little piece of technology works, let us start with the basics.
Purchase a GPS for your car. You may always search the Web for one specifically designed for cars or even a universal tracker. Trackimo is a tracking device equipped with 3G technology, allowing users to track their 3G GPS car tracking device any time of the day.
Install the GPS device on your car and the companion app on your smartphone. Trackimo has a vehicle installation kit that allows the device to be completely hardwired to the car, eliminating the need to constantly charge. As for its companion app, devices may vary when it comes to its installation process. In Trackimo's case, the app can either be accessed via a website or through mobile.
Let the device work for itself. Once you activate the device, you are good to go. Your GPS device will get its signal from a constellation of 24 satellites and their ground stations. The data is transmitted through a global navigation satellite system (GNSS) network. The network makes use of the satellite signals to transmit information on location, speed, and direction to the GPS device. This allows users to act quickly in case of theft or vehicular accidents.
Now that you know how a GPS navigation system works, here are some helpful tips on how you can choose the one that is right for your needs as a car owner:
How to Choose the Right Navigation System
1. Consider the budget you have. Unless you're rich and money is no object, you should start by setting a specific price range. Consider your financial status and how much you can afford to spend. Do not choose devices that are beyond what you can comfortably afford. You should also consider the monthly service fees these devices have. Some of them might have exorbitant monthly rates. Settle for a rate that you know you can afford. Trackimo has one of the lowest monthly rates in the market at just $8.88, and it also offers a great deal: for the first 12 months, their service is completely free.
2. Now that you've settled the budget, the next thing you should consider is its features. The following are the core features of any good GPS navigation system:
Type of receiver – The accuracy of a GPS navigation device mainly depends on how good its receiver is. For instance, if it cannot pick up signals well, then your unit won't be able to accurately detect the position of your car on the road.
Real-time tracking – This ensures that you get accurate updates all the time as it happens.
History reports – This feature is beneficial just in case you want to have data on your driving habits and your car's activities and locations. They can be helpful in case there's a roadway accident and there's the consequent insurance dispute.
SOS button – An SOS button can be crucial in times of emergencies or roadway crisis. For instance, you might get lost in the middle of nowhere when both your engine and your phone suddenly die on you. With just one push of the SOS button, it can send out an alert to your loved one who also has access to the account and it can broadcast the exact location of your whereabouts.
Long battery life – Even if you're not one to like taking long road trips, it helps to have a device that has long battery life. This way, you won't have to keep recharging it constantly.
Easy and convenient access – All these data—map routing, real-time tracking, reports, and such—should be easily on hand. A GPS device that connects to an app you can access on your smartphone provides that kind of convenience.
3. Now that you've considered what you want in a device, you should start carefully shopping around not only for the best device but also for the most cost-effective plan. You need to carefully read the fine print as there devices out there that may come cheap but have extremely high monthly rates. But there are devices like Trackimo that offer both performance and affordability.
For individuals looking to invest their money in something that doubles as a navigation system for vehicles and a portable tracker used for hiking, then Trackimo is the perfect choice for you. It can be mounted on your vehicle and can be used for other ways as well. To top it off, Trackimo even offers one of the most affordable hardware and monthly GPS service in the market today.
Watch the videos below
Let us help you. We'd be delighted to answer any tracking questions you have or discuss the options in more details