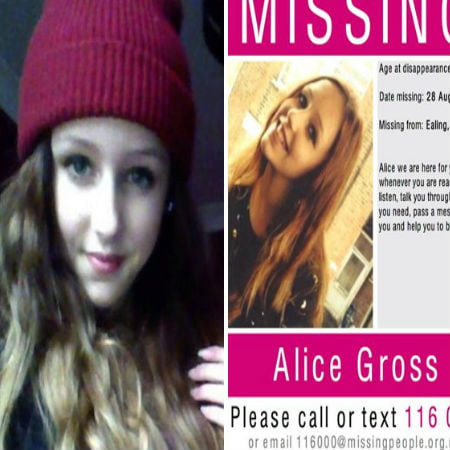 Not everyone who loses a child comes to terms with such hard reality early. And not even just anyone braces up to make their experience a source of inspiration and soul lifting for others. Hanwell teenager Alice Gross was only 15 when news broke out that she went missing on August 28, 2014, and her lifeless body was discovered on September 30, 2014. Although she lived a short life, her mother is making it a worthy one. Due to this sad incident, family and relatives records song for charity "Missing People".
Relatives Records Song For Charity of Lost Daughter
Alice's mom joined hands with other relatives of missing people to raise funds for the charity Missing People, which is set up for those who have been lost, by recording a song titled "I Hope." The song was motivated by the words of Kevin Gosden, whose son Andrew went AWOL at the age of 14 in 2007.
Scroll down for video
Alice vanished in August 2014, igniting an enormous local search. Her body was discovered a month later.
Alice's mom, Ros Hodkiss, said that the charity supported their family and friends at a very tough time. She shared, "It has been an absolute privilege to sing with the Missing People choir on the single 'I Hope.' The charity is very close to my heart; it supported us while Alice was missing and offers a lifeline to families experiencing this trauma."
She continued, "The choir sang a beautiful version of Alice's song, 'Don't Let us Go Away,' at the Missing People Christmas carol service, which I felt honored Alice's memory, and I have joined them since. Although I am not a natural singer, I find singing helps me to connect to Alice and her love of music, and being in the choir has given me the support of others who have experienced the pain of extraordinary loss. Please support the charity by downloading the single."
An average of 140,000 children go AWOL in the UK every year and the campaign is planning to be proficient to grasp every one of them.
Watch the video below
Let us help you. We'd be delighted to answer any tracking questions you have or discuss the options in more details