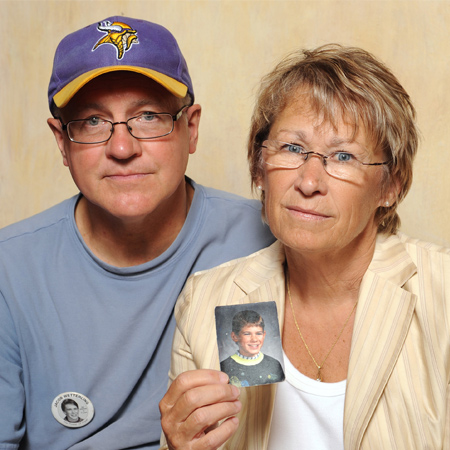 In 1989, Jacob Wetterling was riding his bike in the local neighborhood of St. Joseph, Minnesota, when he was kidnapped by a hooded man.
Twenty-six years had passed since that fateful day, but Jacob's parents, Patty and Jerry, are still hopeful that someday, they will find their beloved son.
Scroll down for video
Until now, the Wetterlings still reside in the same house, and every year, they have a traditional gathering in memory of Jacob.
"We always have a family dinner and we fix his favorite food, steak," Patty said in an interview. "We laugh and hug our grandkids and we honor that. There were six us of in this family and we still carry Jacob in our hearts. It's just what we do."
Patty served as a member of the board of directors of the National Center for Missing and Exploited Children for three years. She wrote a poignant letter to her son and posted it on Jacob Wetterling Resource Center's Web site. The letter read,
HAPPY BIRTHDAY, JACOB!

Birthdays are supposed to be about parties, hats, and noisemakers, cake, ice cream, friends singing, and making wishes but not yet. Not this year, again. How I wish to wrap my arms around you and hug you tight! I have watched the tape of your last birthday party over and over. We rented a suite at the Holiday Inn for your party. You and Aaron raced back and forth in the pool and took turns throwing each other in the deep end. It was so much fun!

I want you to know that since you were stolen away from us, people everywhere have been searching, praying and hoping for your safety and for answers. Last fall, 26 years later, news of possible answers had your story as the number two news coverage in the region. That's pretty amazing 26 years later. People care. There are more good people than bad in the world and people still hope.

My birthday wish is for you to come home. We need to find you. I have another wish for every child who is home safe today, that they will never have to endure abduction or sexual exploitation of any type. We are working just as hard on prevention as we are on searching because this is so wrong…so unfair. I remember how much it bothered you when things were unfair. Me too, it bothers me too.

I am hoping and praying that people will remember you on February 17 and we ask that everyone hug their kids a little tighter, tell them that they love them and take time to play a game or read books. My wish is also that parents will support agencies that help to find our missing kids and help other victims. Today, we ask everyone to volunteer, attend events, send financial support and share safety information. The non-profit work continues on a daily basis. Sometimes sexual exploitation and abduction are on the news, and sometimes not, yet we all rely on the support and expertise of these agencies when we need them. They are there for us. They need our support as well.

And once again today, February 17, we will light our candles, fix your favorite foods and cake, and thank God for the gift of you.

We love you Jacob and we'll never stop searching for you!

I so wish for a happy birthday for you…

Mom
Clues to Puzzling Abduction
In October 2015, Minnesota authorities named Daniel James Heinrich a person of interest with regard to Jacob's kidnapping case. The 52-year-old Heinrich was taken into custody after he was charged with receipt and possession of child pornography.
According to a 1989 feature story in People, Jacob, his brother, Trevor, and a friend named Aaron Larson just came out from a Tom Thumb convenience store and were on their way home when they saw a masked man on a dead-end street near their home at about 9:00 p.m. on October 22, 1989.
"He told them to lie face down in the gutter," Jerry told People. "Then he asked them their ages. He told Trevor to run into the field or he'd shoot. Then he had Aaron turn over, and he looked at his face and told him to run. He grabbed hold of Jacob."
If only GPS devices were available at the time. Searching for a missing person would have been easier and could save people from heartaches. Nowadays, tracking technology is everywhere. One of the best that is available in the market today is Trackimo.
Many parents use Trackimo to keep an eye on their children. One of the device's great features is its ability to send alerts when a child is in distress by pushing a particular button. It's really a relief for parents knowing that family members are safe since you can see their movements real-time.
As for the Wetterling family, the search for Jacob continues. "We hope and pray that we will have the answer to the one question we have asked forever: 'Where's Jacob?'" Patty told reporters gathered outside her home in November. "Somebody knows. We're waiting for those answers."
Watch the videos below
Let us help you. We'd be delighted to answer any tracking questions you have or discuss the options in more details