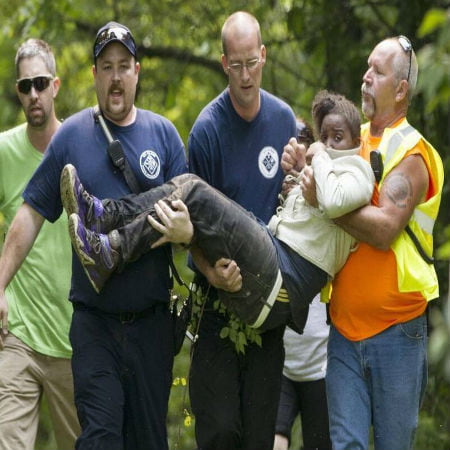 A massive overnight search for a missing girl in Waterloo summer camp took place recently, but it wasn't until the next day that she was found by a woman who lived nearby. She said that she spotted the 13-year-old about 100 yards from where she was seen last.
Joyce Mathes, who lived near Camp Wartburg, said that she was out in the area when she saw the young girl, JaTe'a Lejla Frank of Mount Vernon, Illinois, peek out of the woods. Authorities believed that she ran away from home and took a taxi back to the camp, where she stayed the month before.
When Mathes spotted the teen, she asked whether or not she was hungry or thirsty, but when she yelled for police just a bit away, the teen took off.
Scroll down for video
Missing Girl in Waterloo Summer Camp
Upon Mathes's report, authorities chased after the girl and brought her back, loading her onto an ambulance so that she could be checked at a hospital. Monroe County sheriff Neal Rohlfing said that besides being tired, the girl was unhurt.
The taxi driver who dropped JaTe'a off at camp has been charged. Casey L. McPeak faced one count of endangering the life or health of a child. This is especially so after he confessed that when he dropped her off about 11:00 a.m. on Monday, she appeared to be nervous.
Two staffers working on a project across the road saw her get out; however, according to Bob Polansky, the camp director, after they spoke with the driver, JaTe'a was already gone.
The teen had been a camper at Wartburg a few weeks beforehand and had stayed there for a week but wasn't registered when she came around the second time. Rohlfing said that it appeared she ran away from home.
More than 100 searchers were sent to comb 108 acres in order to locate the missing girl in Waterloo summer camp. However, the search got called off a few hours after. It then resumed 8:00 a.m. the following day.
JaTe'a's relatives, including her mother, were at camp to help with the search, and her mother even sent a message to JaTe'a, telling her to come home.
Rohlfing said that they were not sure where the girl stayed overnight, but they suspected that she had been in a car or structure because she wasn't seen using a devices with thermal imaging. Without a GPS tracker, there is no way to get her exact location either. This opens a debate as to when it is okay to use GPS on kids.
Camp Wartburg opened in 1963 and is operated by Lutheran Child and Family Services of Illinois and had both a day camp and overnight camp programs, serving more than 100 children per week during the summer months.
Watch the video below
Let us help you. We'd be delighted to answer any tracking questions you have or discuss the options in more details