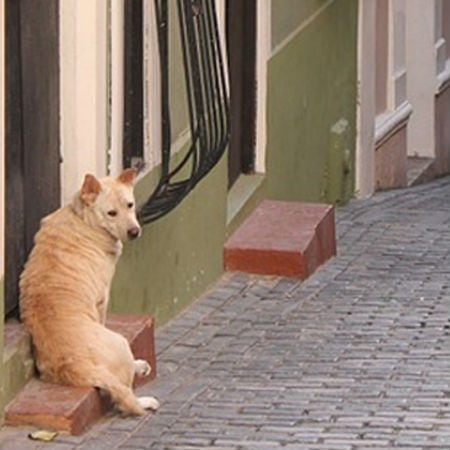 If you're among of the many pet owners who have experienced losing a dog, we have a few advice for you. This article will provide you tips on how to locate your lost dog.
Scroll down for video
How to Find a Lost Dog
Walk around the neighborhood with a treat or your dog's favorite, may it be a toy or a food. If your dog is just around the area, the smell of those will lead your dog toward you.
Web sites with information about lost-and-found pet are also helpful, visit as many Web sites like this in your area as you can and record your pet there as missing. Hopefully someone will find your dog and contact you using the information you left on the site.
Search in places where you usually take your dog for a walk. There's a good chance that your dog has wandered to familiar places such as parks. And while you're there, ask the people there if they have seen your dog. Bring a photo of your pet for reference.
Create a Missing Dog poster. Post it in as many places as you can. Distribute it to people who work at the post office or other services for better area coverage or even even the local shops, supermarkets, and pet shelters. You may also visit your local newspaper or radio station and ask them to send a message for you.
Bring your cellphone with you all the time. You have included your contact number on your lost dog posters or on your dog's collar, so expect a message or call anytime. You should be able to answer your phone right away once it rings.
Let your dog wear a pet tracker. The advantage of letting your dog wear a GPS tracking device like Trackimo  in situation like this is that you can immediately track your dog's location using the device's real-time tracking feature. You may create a virtual fence on the map, and once your dog goes in or out of the area you programmed in the app, an alert will be sent to your smartphone right away. This feature allows quick recovery of your dog.
For microchipped dog, register your dog at Petlog.org (for UK pets) or rfid-usa.org (for US pets), both are a database of microchipped dogs. These Web sites can help you reunite with your dog. In the database, your dog will be tagged as lost, so when someone finds your dog and logs on the database, they will see that the dog is yours.
Using Social Media
Facebook. It isn't just people that Facebook reunites, pets and their owners too. Post a photo of your dog with description. Share it to your friends, let them know that your dog is missing and ask them to contact you if they happen to see your dog near their area or know someone who saw the dog. Look for pages dedicated for lost pets and you may also post your missing dog's info there.
Twitter. Its Retweet feature can also help spread your message. Just don't forget to include a picture of your dog and add a short description.
Creating a Lost Dog Poster
To create an effective Lost Dog poster, use a plain black-and-white font and a clear picture, which means your dog should be recognizable in the picture. Include in the information the breed, the color, and the gender. There's no need to crowd your poster with unnecessary information that the passersby will just likely forget.
What to Do If You Have Found a Dog
Approach the animal cautiously, speak in a calm and gentle voice. You may also coax the dog with a food. Use a leash to contain them. If the dog is too aggressive, don't try to capture it yourself. Call the authorities and let them handle the animal.
Once you capture the pet, check for a tag or microchip, then call the owner. If you are unable to contact the owner, call your local animal shelter and report what you have found so that the owner will know in case the owner goes there to look for their lost pet.
If the dog has no tag or microchip, turn it over to local animal shelter. Pet owners are likely to visit animal shelters when their pets are missing.
Download the FREE MyDog App
This app allows you to send an alert to Petlog, Facebook, and DogLost site to tag your dog as lost in the Petlog database and get help from volunteers to find your dog. You can also find the nearest vets and rescue center using the app's directory for dogs and get advice on how to find your missing pet.
Watch the video below
Let us help you. We'd be delighted to answer any tracking questions you have or discuss the options in more details