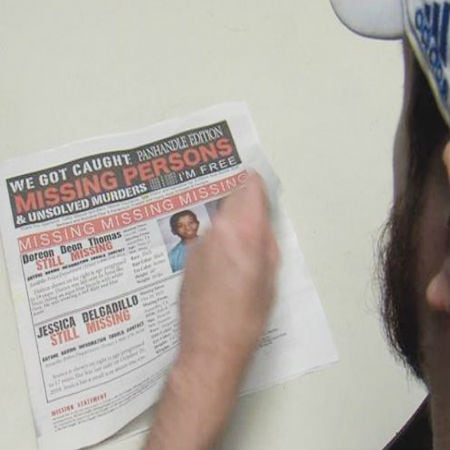 A father has taken it upon himself to look for missing children.
It is possible that you might have seen publications with images of missing children circulating, and the publisher hopes people will at least take as much as a glance before they throw it away.
Joseph Cribbs's daughter and niece were raped and murdered 25 years ago.
Scroll down for video
What motivates Cribbs?
A Father Tries to Find Children Through Publication
"From that, we started to run across other individuals that were having problems with kids running away or kids missing, so we started to set this up to help families," he says.
Cribbs helps find children through publication. He started distributing a paper with information and pictures of missing children in certain areas. He has made it to Texas, which currently has over 275 missing American children, seven of them from the Amarillo and Canyon areas.
"We ran across some old cases where they didn't get any resolution and parents didn't have any money to get flyers, get their child's picture posted in the community," says Cribbs. "And we just thought that that was a total injustice."
Social media being a popular way to get the word out doesn't seem to bother Cribbs about his efforts being diluted.
"I've run into a lot of individuals who don't have social network," he shares. "Everyone doesn't have Internet and a lot of times . . . with this being in the paper, it's kind of like in your face. You can hear about something, we all hear about individuals missing a runaway or something's going on, but we hear about it and within about two days, we forget about it. But hopefully by being in your face in a collective group of all of these faces, someone will say, 'Let me start paying attention.'"
Cribbs's aim is to keep the images of the children fresh in the minds of the public. He admitted it might be quite impossible to find every missing child in Texas; he says, however, that he will try his best to find children through publication.
"A lot of times the outcome of these cases aren't very good, but everyone needs to have some type of revolution, and this is the only way that I can kind of see to put it in your face is in the paper," Cribbs says.
Watch the video below
Let us help you. We'd be delighted to answer any tracking questions you have or discuss the options in more details