Elderly with dementia wandering is more common than you probably realize—cases of old people wandering off until they eventually go missing either as a result of mental ailment, most common of which is dementia, or even the occasional lost elderly people still in control of their mental faculties. One notable case was that of an old lady suffering from dementia.
Elderly with Dementia Wandering And How To Address It
Scroll down for video
After the woman went for her daily walk and didn't return, her daughter called 911. The 81-year-old woman suffers from dementia, and after the call, five officers responded and for 40 minutes, they combed the woods. When she was found, she looked confused but very relieved to be found by the cops.
The story found its way unto social media and it has been liked almost 90,000 times as it was shared by Charles County Sheriff Police online. Cameras have picked up images depicting a touching moment of an 81-year-old woman with dementia who was found wandering alone in the woods.
Charles County Sheriff police answered a call on a Friday from a panicked daughter who wanted to report her mother missing. She said her mother had gone for her daily, walk but she got worried when she didn't return. Suspecting  a case of elderly with dementia wandering, Police Corporal Clevenger and four other officers responded swiftly and combed deeply the wooded area close to her house. Forty minutes passed before they found the old woman.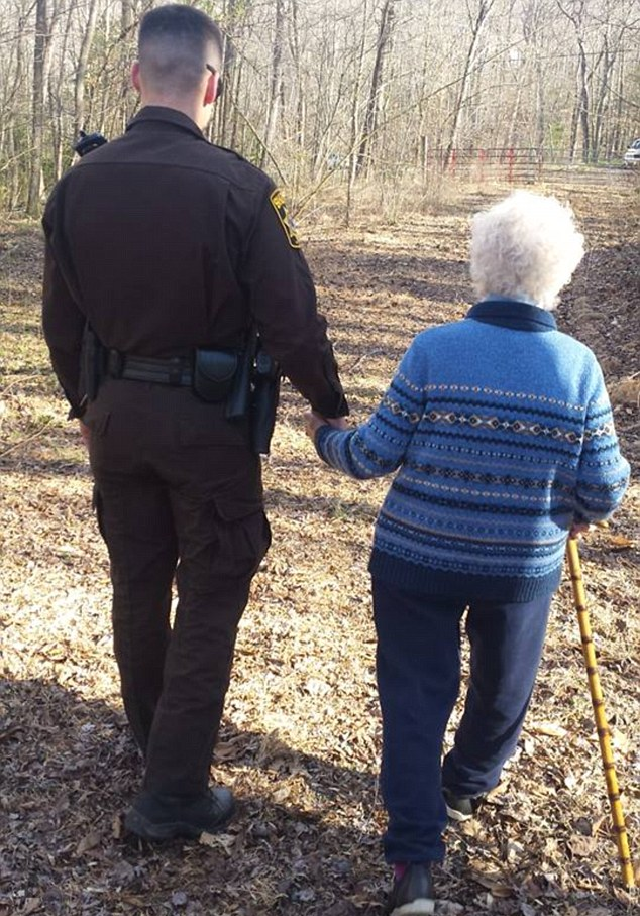 At first, the sudden appearance of the police officers confused her and she asked them if they were taking a walk too, a police Facebook post said. They replied in the affirmative and that it was a "beautiful day." The woman then seemed relieved and told them she had lost her way. Elderly with dementia wandering and getting lost is common among people with the condition and can happen during any stage of the disease.
Watch the videos below
Let us help you. We'd be delighted to answer any tracking questions you have or discuss the options in more details