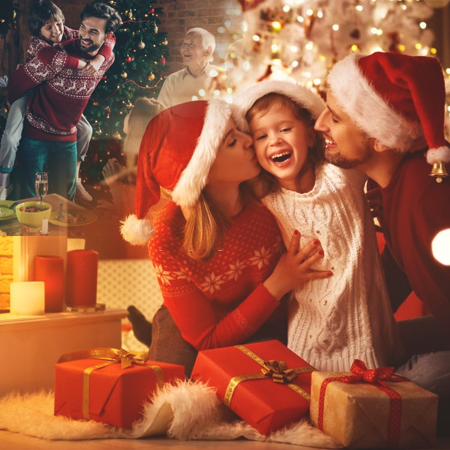 Christmas is a time for merriment and for spreading joy to the people around us. But did you know that it can also be a time that can pose the greatest dangers to our family and loved ones? Whether you're staying at home or traveling for Christmas this year, your family's safety and well-being are your foremost concerns. For your convenience, we've compiled some tips on how to ensure your family's safety this holiday season.
How to Keep Your Family Safe During the Holidays
Safety at Home 
According to statistics, approximately 8,000 people get injured every year during this season, and most of them happen due to decorating-related accidents. Even those beautiful Christmas trees can bring about hundreds of fires, which cause approximately 40 deaths per year. If you keep these tips in mind while decorating for the holiday season, you can keep your loved ones safe:
Choosing a tree
If you've decided on having a natural tree as part of your decorations, choose a fresh, green tree as much as possible. You will know if a tree is fresh if its needles bend and don't easily break or fall off easily. Cut a couple of inches off the tree before you store it in a truck to transport it to your home. When you arrive home, cut a couple of inches off the tree and store it in a stand that is able to hold water, such as a wet floral foam. Make sure you fill the foam with water every once in a while to keep the tree from completely drying out. Put your tree in a spot that's far from space heaters, radiators, and fireplaces; you wouldn't want it to accidentally catch fire from the excessive heat from its immediate environment. 
You can always choose an artificial tree in place of a natural one, if you don't want to go to all that trouble. However, make sure you buy only those that are fire-resistant. If you want a tree that comes pre-installed lights, make sure it has the Underwriters Laboratory (UL) seal of approval as assurance that the lights were set up using proper wiring. 
Lighting safety tips 
The lighting in your household can also be a fire hazard; on top of that, if you and your family members are not careful in using it, it can also cause serious electric shock. When buying and setting up lights in your home, make sure to choose only those that have been approved and tested according to the common safety standards. However, take note that even lights that have been certified and approved can become unsafe if used improperly or they have suffered some form of damage. With this in mind, you must always check your lights for any broken bulbs or frayed wires that can accidentally spark a fire. If you're displaying any candles, make sure they are firmly placed inside secure and sturdy candleholders that won't easily tip over in the event of movement or vibrations. Keep these candles away from any dry, natural ornaments such as pine garlands; such decorations are considered flammable decorations and can be possible causes of fire. 
Fire prevention and safety
An important part of fire prevention is to properly set up smoke and carbon monoxide alarms in every area of your house. You should set up smoke alarms on the ceilings of each room of your house, particularly away from corners. With carbon monoxide detectors, install them in bedrooms where there are gas- or wood-fired appliances. Maintain these alarms by cleaning them out regularly and replacing their batteries on a regular basis. Clean them out frequently by vacuuming out accumulated dust or dirty particles. Also, note that sensors can gradually lose their effectiveness after some time, so be sure to replace your alarms after every ten years. You should also purchase multipurpose fire extinguishers for your home and put them in specific spots where you can easily access them in case of a fire-related emergency. Be sure to place one in the kitchen, where fires are most likely to start. 
Safety While Traveling 
Going on a holiday is one way that you can make your Christmas celebration memorable. Not only will you be able to make new memories together but you can also forge stronger bonds as a family. However, to ensure safe and fun travels, you need to plan your trip carefully and prepare for anything that can possibly happen. Although there will always be circumstances that will be out of one's control, taking the right precautions can serve as you and your family's protection against unfortunate incidents. The following are some practical safety tips you can apply while traveling with your family this Christmas season. 
Take advantage of travel insurance.
When traveling, many people usually forego travel insurance because they think it's unnecessary. However, it's been proven time and time again that unfortunate incidents can happen while traveling, and it always helps to have insurance that can provide you financial coverage in case someone in your family gets sick or injured or you lose all your luggage at the airport. Even if you were to shell out extra money to address these problems, you would still be compensated for it afterward if you have a comprehensive travel insurance plan. 
Book family-friendly accommodations.
When you're traveling as a family, one of your concerns might be to save on expenses. While accommodations can be a bit expensive, you shouldn't compromise on safety and thus risk putting your family in danger so you can save a few bucks. You don't necessarily have to book the most high-end accommodation there is; just make sure the place you intend to stay at offers family-friendly facilities and is located in a safe and secure neighborhood. Check online reviews of the place you'll be staying at and make sure to contact the hotel beforehand to inquire about their particular security measures so that you can have someplace secure to keep your precious belongings while you go out and explore. 
Get around using public transportation.
Although you might think public transportation is unsafe, especially in foreign countries, this is actually the best and safest way to get around as you will be traveling with other groups of people. Remember the "there's safety in numbers" adage? There's actually some truth in that. Not to mention that it is also the cheapest form of transportation there is, so you also get to save on traveling expenses. 
Don't share too much on social media.
It's understandable that while you're traveling you'll want to share all your adventures on social media. Everybody does it. However, while doing that might seem particularly harmless, keep in mind that revealing too much about yourselves such as where you're going, where you're staying, or what you're doing can leave you vulnerable to con artists who might notice the information you're innocently and use it against you to take advantage of you. 
Be aware of travel and health alerts.
Before you book those tickets to your dream destination, make sure you check for government-issued health and travel warnings regarding that location. Travel warnings are usually issued for places that have high incidents of crime or extreme political unrest. On top of that, there might also be weather-related issues such as a potential typhoon coming in. Health warnings, on the other hand, are issued whenever there are outbreaks of diseases that can potentially infect your family. 
Make sure each member of your family has a working smartphone.
Smartphones are important tools that you can use to contact each other if ever you get separated from each other. Such devices also have GPS features that they can use to find their way around. Make sure each member of your family knows how to use one, especially for calling or texting purposes. 
Invest in GPS trackers.
There will be times when your phone gets low on battery or malfunctions for some reason. When that happens and your kid or elderly relative somehow gets separated from you, what do you do then? This is why it's also good to invest in GPS trackers like Trackimo to ensure that you'll always have a way to monitor the exact location of your family members even if you've lost sight of them or they wander away from your group.  Trackimo will give you accurate location updates of the wearer in real time thanks to its hybrid tracking technologies that consist of GPS, GSM, Bluetooth, and WiFi. It also has worldwide coverage so no matter where you are in the world, you'll always have access to the tracker's database. It even has SOS alerts, which can be extremely helpful in case of an emergency. With just a touch of a button, the wearer can send out an immediate call for help and you will be notified of their emergency and specific location.
The Christmas season is a particularly busy time of year, but the hectic schedules shouldn't cause you to overlook the safety of your loved ones. Whether you're celebrating the Yuletide season at home or experiencing the cheery Christmas spirit elsewhere, you and your family are sure to have a fun and safe time together if you follow the above tips. 
Watch the videos below
Let us help you. We'd be delighted to answer any tracking questions you have or discuss the options in more details