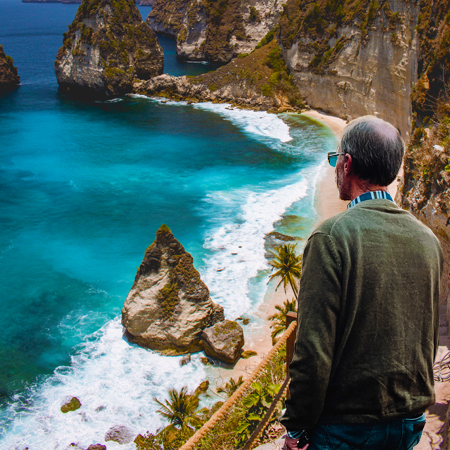 If you believe that the best presents are experiences, not material gifts, you may have found our Father's Day gift ideas largely lacking in value. Worry not—here's a separate list for Father's Day travel ideas to give a special dad in your life (whether that be your own dad or your partner) the unforgettable gift of adventure this coming Father's Day. Whether he prefers to recharge by being active in the mountains, lying on the beach, or fishing by the lake, these Father's Day travel ideas will offer something special for every kind of dad.
Father's Day Travel Ideas for Your Old Man
BodyHoliday
If dad loves extreme sports, the Adventure Program at BodyHoliday will be a perfect Father's Day travel gift! The program comes complete with activities like cave diving, extreme mountain biking, hiking, kayaking, and rappelling. With the Adventure Program, not only does dad receive a daily inclusive spa treatment and access to a plethora of fitness offerings, but he can also opt to add on rappelling down waterfall cliffs and abseiling down 120 foot gorges. And BodyHoliday doesn't only offer the Adventure Program. This St. Lucia health and wellness resort has a 30,000 square-foot wellness center, scuba school, tennis and golf academies, archery, fencing, Tai-Chi, yoga in a tree house, and an array of water sports!
Kimpton Taconic
Perfect as a Father's Day travel present for the nature-loving dad, Kimpton Taconic is located in Manchester, Vermont, in the heart of the Green and Taconic Mountains. Dad can go swimming in secret waterfalls, kayaking, tubing down the Battenkill River, and hiking on Equinox Mountain. You can also enjoy some in-room spa treatments and dinners at the the hotel's on-site restaurant.
Natural Retreats South Fork Lodge
For the dad who loves fly-fishing, book a rustic vacation by the bend of a river as a Father's Day travel gift! Eastern Idaho's Natural Retreats South Fork Lodge rests along the south fork of Snake River, the largest North American river that empties into the Pacific Ocean. It's also one of the best places in the US for tailwater and dry fly fisheries.
Ambush West Virginia's paintball center
For the dad who likes to let loose, allow him to put his strategic skills to the test in the forests of West Virginia at Ambush West Virginia's paintball center. He'll enjoy a real-life gaming adventure on a 4-acre paintball course, with game options such as Civil War–style battles and the ever-popular Capture the Flag.
Atlanta's Centennial Olympic Park
For dads who pride themselves on being lifelong learners, the area surrounding the 21-acre Centennial Olympic Park in downtown Atlanta is a perfect destination. Built for the 1996 Summer Olympic Games, the park area is home to the Center for Civil and Human Rights, which features four fascinating exhibit spaces, including a gallery of items from Martin Luther King Jr.; the College Football Hall of Fame, which houses more than 50 exhibits and an indoor football field; the Georgia Aquarium, which is one of the world's largest; and the World of Coca-Cola, where you can sip sodas from around the globe!
Space Center in Houston
For dads who've always been astronomy and aviation enthusiasts since childhood, the Space Center in Houston is the ultimate pilgrimage. Here, dad can man mission control, take a tour of the astronaut gallery, see and touch moon rocks, and even board a space shuttle carrier plane! Make sure to board the NASA Tram Tour for a behind-the-scenes look at NASA's Johnson Space Center, the home of the International Space Station mission operations, the astronaut corps, and the most powerful rocket ever built.
St. Pete/Clearwater
The perfect Father's Day travel gift for dads who love the ocean is St. Pete/Clearwater, with its 35-mile stretch of white sand beaches, speed boating, JetLev, stand-up paddle boarding, windsurfing, kiteboarding, sky surfing, and more. For those dads looking to indulge in some liquid sunshine, the St. Pete/Clearwater Craft Beer Trail is an hour's drive from end to end and boasts over 30 breweries!
Westin Grand Cayman
Diver dads will surely love this beach as a Father's Day travel gift! Grand Cayman's 5.5-mile beach has received travel mag accolades as "the Caribbean's best beach." During his stay at the Westin Grand Cayman (where the fourth night is free), let Dad enjoy diving beneath the area's aquamarine waters, seeing coral reefs, colorful fish, and even shipwrecks!
Wrigley Field
Father's Day falls perfectly in the middle of baseball season. So if your dad's a baseball fan, take him to one of the game's most famous stadiums, Wrigley Field in Chicago. Whether it's his first time at the old-fashioned ballpark or he's been here before, you can't beat sitting in the stands and soaking up the atmosphere. Besides the Jumbotron and stadium lighting, the park looks pretty similar to when it was built in the early 1900s, including the iconic ivy-covered brick outfield wall.
Watch video below
Let us help you. We'd be delighted to answer any tracking questions you have or discuss the options in more details