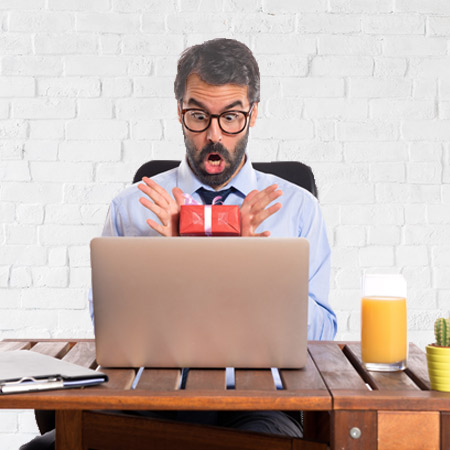 This year, Father's Day falls on June 16. While it might seem like you've got plenty of time to spare, you better start planning now to ensure this special day doesn't creep up on you.
So what does this man love? This is the kind of question you need to be exploring. Is he a foodie? Consider getting him a 7-piece barbecue set! Is he athletic? He may enjoy a fitness tracker that will monitor his progress. Perhaps yours might be the one who travels a lot for business or loves old whiskey. Whatever your choice for him is, make sure you take his character into account when shopping for the perfect gift.
To help you with your Father's Day gift shopping, we compiled a list of actually useful gifts that fit any budget.
Father's Day Gift Ideas for Your Old Man
Before we begin, here's a little trivia. The celebration of fatherhood is known to date back to at least the Middle Ages and was observed in March 19, the feast day of Saint Joseph, the foster father of Jesus. This celebration was brought to the Americas by the Spanish and Portuguese. Father's Day was not celebrated in the US outside Catholic traditions until the 20th century. It was first proposed by Sonora Dodd of Spokane, Washington, in 1909, after she heard a sermon about Mother's Day at the Central Methodist Episcopal Church. She told her pastor that fathers should also have a holiday in their honor. Although she initially suggested June 5, her father's birthday, the pastors did not have enough time to prepare their sermons, and the celebration was deferred to the third Sunday of June.
Now that you know just how much our ancestors valued their fathers, here are the perfect gifts to thank them.
Scroll down for the videos
Let dad create his own perfect topping with the exact temperature he wants! This DIY kit offers a kick from chipotle to guajillo chili, adding fiery flavors to your nachos, chili, pizza, and more while raising your metabolism.
Due to a clearance sale, this electric grill is currently $40 cheaper than its regular retail price. The large grilling surface lets your dad make over 15 servings for large groups of people—perfect for backyard BBQ parties! Why not surprise him early in the morning of Father's Day so you can enjoy an outdoor barbecue by lunch?
A best seller, the X ULTRA 3 GTX has evolved into an even more effective hiking shoe. Thanks to descent control technology, it efficiently tackles technical hikes and really shines during tough descents. Have your pop wear this pair and head downhill with a spring in his step, even in wet conditions.
Dad will look so chic in these classic sunglasses with havana frames and studded temples. The pair features a keyhole bridge for comfort. Hard-shell case and cleaning cloth are both included.
This shaving kit from Baxter of California is nickel-plated, with a chrome-finished badger hair brush and a double-edged safety razor with engraved handles. You want only the best for your dad's face!
Penned by James Beard Award-winning Aaron Franklin, this guide to steak will walk your old man through everything from meat selection to seasoning and marinating, cooking to plating, aging to smoking and far beyond.
If your dad is constantly living for the weekend because he spends every single one on his boat, he'll consider this fragrance the next best thing for the other five days of the week. The crisp, clean, aquatic scent evokes the feeling of the sea. It has notes of citrus, amber tonic, and salty mineral accord.
If your dad travels or hikes a lot, it may be beneficial for him to carry a GPS tracker with him wherever he goes. GPS trackers do much more than just tracking location. It allows you to evade traffic, see quicker routes to your destination, contact the authorities in case of emergency, and prevent vehicle theft.
Personalization Universe allows you to add up to seven dates on this cutting board to remind your dad of all the amazing things that have happened in his life, like becoming a father.
Mugs are a staple present, but this mug is too hilarious not to be on this Father's Day list.
These bourbon-, rum- and tequila-infused blends come with more than just a caffeine kick! A portion of every purchase goes to other dads in the firefighter or veteran assistance programs. All military and first responders receive 15% off every order as well!
Up Dad's shaving game with this luxurious model. It gives Dad the option of a dry or wet shave and has a pop-up trimmer for mustaches and sideburns.
With an Amazon Echo device, Dad can now ask Alexa for a recipe or the time, order himself a pizza, organize his daily schedule, and control smart home tech like lights, thermostats, and security cameras. Now, he won't have to get off the couch during the game if he'd like to adjust the house temperature or make sure he turned the stove off. Available in a range of finishes, from a subtle wood to a sleek fabric, it will blend into any home design.
If your dad is a grill lover, he will surely drool over these cool tools. They come in a handy apron that doubles as a storage pouch. The set includes a slotted spatula, a long-reach BBQ fork, sure-grip tongs, an oven mitt, salt and pepper shakers, and a heavy gauge nylon apron with adjustable locking fastener. Pair this gift with the electric grill early-morning surprise on Father's Day.
Hosting a family picnic is as simple as filling our backpack with the family's favorite foods. Make it easier for your dad with this canvas pack. It's already loaded up with melamine plates, goblets, flatware, and napkins for four, plus a bread knife, wooden cutting board, salt and pepper shakers, and a sommelier's corkscrew! It even has a detachable wine cooler and sable-felt blanket.
This throw pillow isn't just decorative. They're fluffy enough for naps too, not to mention perfectly printed for Father's Day!
Here's a brand-new collection of more than 500 of the very best dad jokes. The jokes are organized into topics—Silly Kids, Action/Reaction, All Puns All the Time, Love & Marriage, One-Liners, Faith—so dads (and fans of dad jokes) can find the perfect rib tickler for every occasion. Have him read some aloud on Father's Day!
Fitbit's newest watch will motivate your dad to accomplish his fitness goals, big and small. It even reminds him to get up from his desk every few hours and go to bed on time. One writer from Good Housekeeping deemed the Fitbit better than the Apple watch.
The Everyday IPA kit includes everything Dad will need to brew his own beer right at home. Created by actual Brooklyn brewers, this easy-to-follow kit ensures a delicious gallon of bitter, earthy brew for less than $50.
Happy shopping!
Watch the videos below
Let us help you. We'd be delighted to answer any tracking questions you have or discuss the options in more details