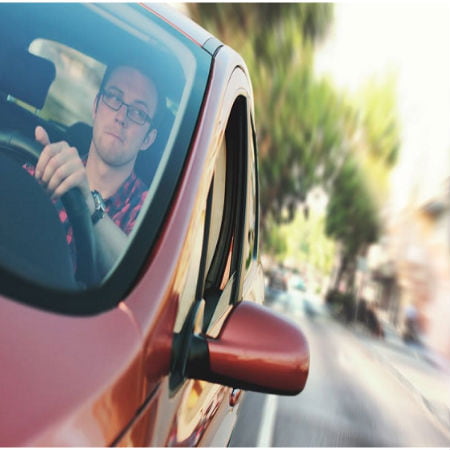 Everyone wants to think that teens are responsible drivers, but the truth is that they rarely are. Most statistics say that vehicle accidents usually happen with teens behind the wheel. Worse, car crashes are the number one killer of teens ages 15 to 20 in the US. Before you hand over the car keys to teen drivers, know the facts.
The Reality of Teen Driving: Facts and Statistics
For many, driving is a daily activity, not requiring much thought or consideration. However, the sad reality is that there are 3,287 deaths each day due to fatal car crashes. On average, 9 of these daily fatalities are related to distracted driving. The sad thing? These deaths all stem from a cause that is completely preventable. At the time of fatal crashes, teen drivers have been the leading age group that reported being distracted while driving. Tragically, it has been estimated that half of all teens will be involved in a car crash before graduating from high school.
Scroll down for video
Fatalities
As parents, be aware that teen drivers are more likely than older drivers to underestimate or fail to recognize dangerous situations, leading to critical decision errors that result in serious crashes.
The number one cause of death among teens in the United States are motor vehicle crashes.
The fatality rate for drivers age 16 to 19 is four times than that of drivers age 25 and above.
The crash fatality rate for a 100,000 population is highest for 16- to 17-year-olds within the first six months of getting their license. Unfortunately, this trend remains high through age 24.
Almost 8,000 people are killed in traffic accidents involving drivers age 16–20.
The top three reasons for these teen driver fatalities include drunk driving, irresponsible driving, and speeding.
Around two-thirds of teen passenger deaths between the ages 13 and 19 occur when other teenagers are driving.
Summer vacation is a time when teen crashes surge. According to a 2017 press release issued by AAA, over the past five years, more than 1,600 people were killed in crashes involving inexperienced teen drivers during this deadly period.
According to the Insurance Institute for Highway Safety and the Highway Loss Data Institute, nightfall (9 p.m. to midnight) was the greatest threat and represented 18% of teen fatalities. Early evening hours (6 p.m. to 9 p.m.) accounted for 16% of fatalities, and 15% of teen crash fatalities occurred in afternoon to early evening (3 p.m. to 6 p.m.).
Crashes
Contrary to popular belief, teens crash most often because they are inexperienced. They struggle judging gaps in traffic, driving the right speed for conditions, and turning safely, among other things.
Teens aged 15 to 20 without driver education are responsible for 91% of teen driver crashes.
Teens are almost 10 times more likely to be in a crash during their first year on the road.
Drivers aged 16 to 19 are three times more likely to be involved in car crashes than older drivers.
20% of 11th graders report being in a crash as a driver in the last year.
25% of 9th graders report being in a crash as a passenger to a fellow teen driver in the last year.
Crash risk increases with each mile per hour that one drives over the speed limit.
The most common types of teen crashes involve left hand turns, rear-end events, and running off the road.
According to Geico, one-third of all teen driver crashes are at intersections.
There are available data on crashes involving 16-year-old drivers, and it showed that having multiple teenage passengers in the vehicle makes it twice as likely for a car to crash than it will in alcohol-impaired driving.
When teen drivers have an additional passenger with them, the risk of them getting into a fatal car crash doubles. If two or more passengers are present, the odds are five times as likely.
In the United States, 1 in 4 crash fatalities involves someone of ages 16 to 24—about twice as high as other age groups.
Distraction
Driving while distracted is on the rise in the US, with 91% of American adults admitting to being distracted while behind the wheel.
Driver distraction is reported to be responsible for more than 58% of teen crashes.
90% of teen drivers see passenger behavior as something distracting.
9 out of 10 teens said it is common to see teen drivers talking on a cell phone.
40% of teen drivers said they have been in a motor vehicle when the driver used a cell phone in a way that caused a car accident.
Dialing a phone number while driving increases a teen's risk of crashing by six times.
Surfing the web is another form of distracted driving. Approximately 19% of drivers including teen drivers engage in this behavior.
Speeding
The US Department of Transportation's National Highway Traffic Safety Administration reported that in 2016, exceeding the speed limit contributed to many teen fatality crashes. The speed limit is supposedly non-negotiable. This makes driving inexperience combined with a lead foot a dangerous and sometimes fatal combination. On the driving contract, be sure to note the consequences for speeding tickets or warnings.
According to the Texas A&M Transportation Institute, teens do not consider driving 5 to 10 miles above the speed limit to be dangerous.
Nearly half of teens report knowing of others encouraging drivers to speed from time to time.
Half of teen drivers report driving 10 miles over the speed limit at from time to time—at least.
Speed is a factor in 31% of US teen driver fatalities.
Drivers aged 15 to 20 had the highest representation in speed related fatal crashes (32% and 22%) compared to any other age group in 2016.
Seat belt use
Risk and youth unfortunately go hand in hand. One of the best ways your teen driver can be protected on the road is by always wearing a seat belt. Every person in a car should use a safety restraint. Always!
Compared with other age groups, teens have among the lowest rates of seat belt use. In 2017, only 59% of high school students reported they always wear seat belts when riding as passengers.
Only 65 percent of teens wear their seat belts consistently—as both a driver and passenger.
Six out of 10 drivers aged 16 to 20 killed in crashes were unrestrained.
Around two out of three teens killed as occupants of motor vehicles are unrestrained by their seat belts either.
Nearly 60% of young drivers involved in fatal drinking and driving crashes didn't use a seat belt.
Substance abuse
At all levels of blood alcohol concentration (BAC), the risk of involvement in a motor vehicle crash is greater for teens than for older drivers. And like alcohol, drugs—including opioids, marijuana, and some over-the-counter medicines—can impair driving by causing drowsiness, altering visual functions and affecting mental judgment and motor skills. Drivers should avoid driving while under the influence of any type drug, just as they would if they consumed alcohol. It is alarming how the percentage of traffic deaths in which at least one driver tested positive for drugs has nearly doubled since 2006.
Teens are actually likely than adults to get behind the wheel after drinking. However, we hear about teen drunk-driving more often because when they do drive under the influence, their risk of crashing is far greater than it is for adults.
Among male drivers between 15 and 20 years of age who were involved in fatal crashes in 2016, 21% had been drinking.
In 2017, among people of ages 16 or older, 21.4 million drove after drinking alcohol while 12.8 million drove after using illicit drugs.
53 percent of teens admitted to sometimes seeing substance use behind the wheel.
In the 2017 National Youth Risk Behavior Survey, 16.5% of high school students reported that, within the previous month, they had ridden with a driver who had been drinking alcohol.
Among students who drove, 5.5% reported having driven after drinking alcohol within the same one-month period.
Parental influence
Parental involvement should not end when a child gets a license. Teen drivers who continue to practice with their parents increase their chances of avoiding a crash. According to the National Highway Traffic Safety Administration, who sponsors Teen Driver Safety Week each year in October, parents are the biggest influences on teen drivers, even if parents think they aren't listening.
66% of teens admit to caring about their parents' opinion on using mobile phones while driving.
56% of teens are taught by their parents to drive.
As parents, we want to keep our teens safe, and we can if we understand the risks they face such as inexperience, night driving and passengers. Help them beat the odds by staying involved as your teen driver gains experience.
Watch the video below
Let us help you. We'd be delighted to answer any tracking questions you have or discuss the options in more details