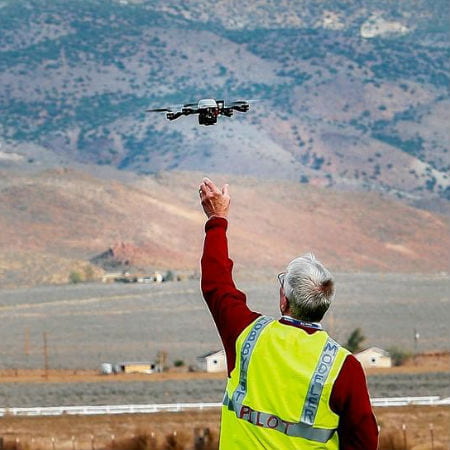 When a computer hangs, it might lose some data. When a drone fails, it might fly away.
The drone industry is flourishing, but it's also facing the "flyaways" problem—the term they use when drone suddenly flies uncontrollably.
According to drone manufacturers, the device's tendency to drift away is caused by various factors including programming glitches, poor GPS signal, and lost connections to controllers. Based on the videos from the drones' cameras posted online, the drone flyaways and crashes oftentimes end up on the lawn or rooftops of someone else's house or buildings, trees, or bodies of water.
Scroll down for video
Darren Kelly, a Canadian videographer, says that for him, drones are unsafe and have potential to hurt people. His first drone, a Chinese-made, crashed into a tree, while his second flew into Lake Ontario. After losing his second drone, that's when he decided to "hung it up."
The drone industry has several safety risks that aviation authorities have yet to address, such as a number of reported cases where drones fly away over crowds as well as the dozens of cases of drones flying in close proximity to manned aircraft. According to the Federal Aviation Administration (FAA), the country's air traffic system is not yet capable of handling large number of small devices flying around at low altitudes.
Although FAA allows drone flying for recreational purposes, commercial use is suspended until the authorities are able to devise comprehensive rules and guidance in flying the devices. There is actually a draft of those rules currently being evaluated by other government agencies, in which one of their aims is to restrict the number of commercial drones flying.
Meanwhile, drone makers are trying to correct the design's flaws that cause it to fly away by adding sensors and improving software to toughen its security.
According to the head of 3D Robotics Inc., Chris Anderson, his company is writing complicated algorithms that will enable their machines to execute "sanity checks," the process of analyzing information from various sensors, and if the data is incorrect, it will just be ignored.
While the drone business is booming, it seems their success is a double-edged sword as novice users of their products are causing problems. Anyone who can afford a few hundred dollars can own the small aircraft. Makers attribute drone flyaways and crashes to untaught pilots, bad GPS data, or some glitch with the compasses. Another reason for drone flyaways and crashes are over-eager first-time drone users who excitedly fly their devices without reading the manual, which means the pilot flies his drone without calibrating its compass.
"Now that we've made them so easy to fly, people just open up the box and put them in the air," Mr. Anderson says. "It's not that people are worse pilots; it's that they're not pilots at all."
Why Drone Flyaways and Crashes Happen
Based on a survey conducted online with 774 drone users, about one-third of them had experienced a flyaway, and 122 of these users had never recovered their devices. For the drone maker, the figures mean that there are lesser number of users reporting flyaway and its programming and fail-safe functions are improving.
According to the Academy of Model Aeronautics, there were six people killed by model aircraft in 1979. And last year, one was killed while doing tricks with his model helicopter. Although drones have no incident of fatal injuries or property damage, it does have records of pedestrians and buildings being struck by the device.
Drone flyaways and crashes constitute problems in business and security—of course no one wants to lose an expensive asset. A Texan entrepreneur invested in a drone worth $1,350 to be used in his new business—aerial photography for construction firms. Unfortunately, his prized possession faded off in October over a Texan freeway. "My drone flew off, and my job flew with it," the 23-year-old says.
Another business executive from Long Island, New York, Bob O'Connor, also had a flyaway experience. He bought a $350 quadcopter only to lose it after it disappeared into the distance. He posted posters of his lost drone around his neighborhood. Luckily for O'Connor, he found his drone four days later after he got a call from his neighbor. Turned out, his drone landed on his neighbor's bush.
Even military drones are not exempted from this problem. Sometime in 2010, a 3,150-pound unmanned helicopter drifted independently for half an hour in the restricted airspace of Washington, DC. Apparently, the software malfunctioned after the U.S. Navy pilots lost track of it.
Another incident of flyaway in the U.S. Army was in October when a pilot lost control of a military drone that disappeared over Columbus, Georgia. According to federal records, the pilot was able to inform the air traffic controller that the unmanned aircraft was headed southwest and would run out of fuel in 40 minutes.
To prevent incidents drone flyaways and crashes, drone makers say that drone's core technology needs to be fixed. The drone's built-in compass and GPS that are used to align and stabilize the robot. But even with it, there is still a chance that a drone will go missing if skyscrapers, network towers, or solar flares obstruct with their accuracy.
Electromagnetic interference is also likely to disrupt the compass and the connection between the drone and the pilot.
Director of aerial imaging for DJI and a drone user himself, Eric Cheng, believes that the interference from the underground train tunnel is the reason he lost control of his Phantom over San Francisco Bay.
Drone makers say that to prevent flyaways, user needs to familiarize the device fail-safe function. The device has a Return to Home feature that allows the unmanned aircraft to return from its take-off spot if it loses its link to the controller or has a low battery. But according to some users, the feature doesn't always work.
An aerospace professor at the University of Texas, Todd Humphreys believes that drone flyaways and crashes are caused by impatient pilots who are too excited to fly their drones and don't wait the device to save its "home" location.
Since drone makers are still looking for ways to fix the glitch, for now the best thing users can do is to attach GPS trackers to their drones. Trackimo GPS drone tracker can help you find your flyaway drone. Its real-time monitoring allows pilot to locate and recover the device. For more information about Trackimo tracking device, visit our Drone page.
Watch the videos below
Let us help you. We'd be delighted to answer any tracking questions you have or discuss the options in more details