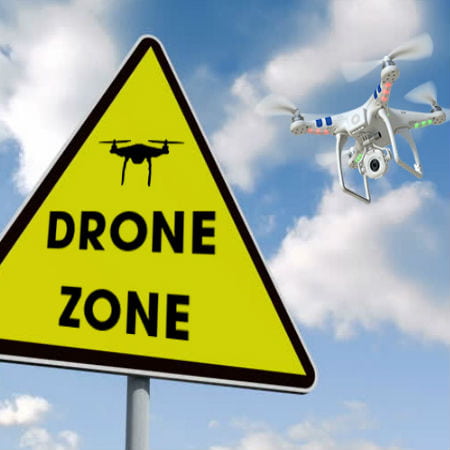 There was a report made by the British Airways that during one of its flights, it encountered a drone mid-air and even collided with the unmanned aerial vehicle. The British Airways flight, which was conveying passengers from Geneva and was making a stop at the Heathrow Airport in London, also reported that although the flight landed safely with no injuries to any of the passengers on board, the drone hit the nose of the Airbus 320, and the police have already launched an investigation into the matter. Ergo, there are certain rules concerning drone flying that needs to be considered.
Scroll down for video
Since April last year, the report of such incidents of near misses between drones and aircraft have amounted to 25, according to the statistics released by the UK Airprox Board. About 12 of these reports were filed under class A, which means that had the collisions occurred, it would have proved fatal for the airplane that was involved. But fortunately, a serious risk was avoided.
Rules Concerning Drone Flying
The incident at Heathrow is then coming just a few weeks after the British Airline Pilots' Association made a call for rules concerning drone flying to be enforced and handled more strictly than ever before.
The rules that have been established in the United Kingdom on the flying of drones include that these unmanned aerial vehicles be visible at all times and flown at an altitude of not more than 400 feet. The drones should also not be flown over widely populated areas as stipulated by the legislation. In addition to these rules concerning drone flying, the UK laws also dictate that drones with a camera fitted to them should not be flown within 50 meters of other people, vehicles, or residential structures.
When using the drones, pilots should take note of the privacy of people around. In addition, whenever they wish to take any pictures and in case the drone is used for commercial purposes such as aerial photography, a permission must first be obtained from the Civil Aviation Authority (CAA). After which, the operator undergoes a training program with a certificate upon completion to show their competency to handle the drones in such capacity.
These rules concerning drone flying stated above do not, however, stop smaller drones from accessing the airspace around airports, even though such places are also considered controlled airspace.
"Anything under 7 kg could, in theory, fly in controlled airspace," confirmed a spokesman for the CAA. "But by doing so, it will almost certainly breach the other regulations such as endangering an aircraft or flying in a congested area."
The laws of the United Kingdom explicitly state that should anyone be found guilty of trying to endanger an aircraft in any way, even without the use of drones especially those with no Drone GPS trackers, but by any other means, that person will be sentenced up to five years in jail.
"Do not fly anywhere near an airport. Even though you may be flying no higher than 400 ft, the chances of getting too close to an aircraft get higher the closer you get to an airport," said the CAA spokesman.
Watch the video below
Let us help you. We'd be delighted to answer any tracking questions you have or discuss the options in more details