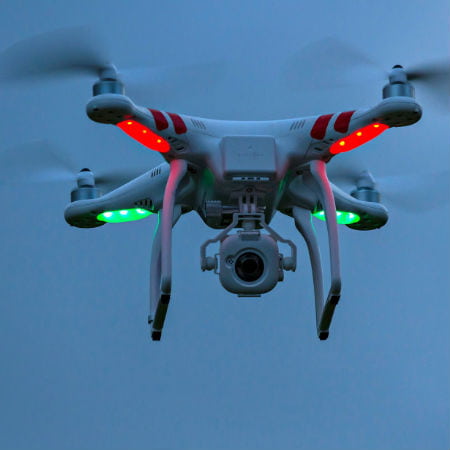 Unmanned aerial vehicles, popularly known as drones, are often seen around skies nowadays. This is because of the lenient laws implemented by the Federal Aviation Administration (FAA) when it comes to flying them and the fact that most drones are now sold at a relatively low price. For the U.S. Customs and Border Protection, the use of these aircraft is a double-edged sword. On one hand, they allow the CBP to expand aerial surveillance at a low cost; but on the flip side, these drones have been known to put the lives of CBP agents at risk.
Scroll down for video
The Risks of Unmanned Aerial Vehicles
The risk the UAVs pose was highlighted by several CBP agents in Menlo Park, California, last April 29. The group spoke in front of dozens of entrepreneurs who gathered for the Department of Homeland Security's new Silicon Valley Innovation Program, an initiative to work with startups and leverage their cutting-edge technology.
Lothar Eckardt, director of the Southwest Region of CBP's Air and Marine Operation, spoke about an incident involving a CBP agent who got near collision with drones.
"Several weeks ago, an Air and Marine helicopter working in the Rio Grande Valley carrying a pilot and a border patrol agent had a near miss of a small UAS," Eckard stated. "We almost lost the helicopter, the pilot, and the border patrol agent, okay? That's what keeps me up at night."
The CBP has long been eyeing drones as an added form of security due to their low cost. In fact, the most popular drone sold in Amazon is priced below $45, while other well-known models are sold at a rock-bottom price of $15. Not only are they affordable, but they are also known to be convenient and technologically advanced. Take the DJI F550 for example, this particular drone is capable of reaching heights way over 400 feet in the air. That fact alone is enough to prompt the CBP to be more hospitable to the prospect of unmanned flights.
This is not the first time for drones to be associated with the CBP. The federal law enforcement agency has already made use of the commercial drone's bigger and more expensive cousins for the military. But these usually come at a hefty cost for taxpayers, not to mention the constant need for maintenance. So portable drones are the next best option here. They generally cost less and are easier to fly and maintain.
Wanted: System That Can Detect Flying Drones
The CBP has sought help from Silicon Valley in creating a system that helps pilots detect flying drones when they are in flight. This is to avoid the risk of an on-air collision between airplanes, helicopters, and these UAVs. At present, the biggest drawback of drones is that their size is not enough to carry transponders that let other aircraft be aware of their presence.
"Nobody can see these things. It's not a matter if. It's a matter of when they're going to collide," Eckardt lamented. "I'd hate to be the one to lose somebody."
CBP has turned to Silicon Valley in a bid to eradicate the misuse of drone technology as well. According to acting chief of U.S. Border Patrol, Ronald Vitiello, there have been several cases of drones delivering contraband like illegal drugs. Each drone was said to be carrying up to 10 pounds of illegal drugs.
"You have to be able to identify, detect flying drones, and then have an operational response for interdiction," Vitiello said of the issue.
Watch the videos below
Let us help you. We'd be delighted to answer any tracking questions you have or discuss the options in more details