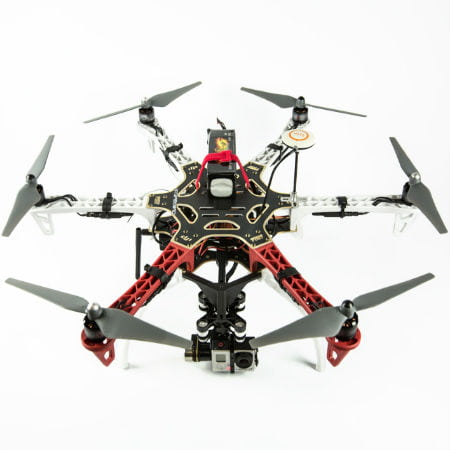 DJI has another drone product, the DJI F550 Hexacopter, also known as the Flame Wheel, which is different from the other DJI-made drones. For the reason that unlike the previous DJI products, which are all ready-to-fly drones, the DJI F550 hexacopter will arrive at your doorstep bare but with complete basic parts. This way, you will be able to build your very own customized hexacopter.
DJI Flame Wheel has three models: the F330, F450, and the F550. But among the three, only the DJI F550 can be categorized as a hexacopter, while the F330 and F450 are both quadcopters. All three versions have the same parts but differ in design. DJI F550 hexacopter has a distinct design that allows it to have a more stable flight, ideal for aerial photography, videography, or simply for recreational flying.
Scroll down for video
DJI F550 Hexacopter Features
The Flame Wheel has everything DIY copter enthusiasts need to create their own hexacopter.
Included in the package are the following:
Heavy-Duty Materials
The copter's attractive frame arms are made of PA66+30GF, a sturdy material that can resist falls. The frame panel uses a tough PCB material for extra strength support.
Combined PCB Wiring
Also included is a durable PCB frame board for an easier and safer wiring of battery and ESCs.
Ample Assembly Room
The frame's design aims to provide sufficient space for the construction of autopilot system.
Attractive Frame Arms
DJI also provides colored frame arms for a colorful flight. You can choose from red, black, and white arms for your customized copter.
A Hobbyist Solution
Whether you are a newbie or an experienced pilot, the DJI F550 hexacopter is an excellent device that allows you to build hexacopter according to your liking. It has Naza-M control system, the H3-2D gimbal, and the DT7 RC—a perfect combination for hobbyist.
Product Specifications
Recommended motor: 22 x 12 mm
Frame weight: 478 g
Recommended battery: 3S or 4S LiPo
Diagonal wheelbase: 550 mm
Recommended propeller size: 10 x 3.8 in or 8 x 4.5 in
A Closer Look
The DJI F550 hexacopter is, as mentioned previously, a bare-bones DIY kit for pilots. It contains all the necessary parts needed so you can build your own flying machine to your own specs only that it's still designed with DJI components in mind.
With Naza M V2 or the DJI WKM autopilot system, the DJI Flame Wheel is capable of performing actions like rolling, hovering, cruising, and other flight movements. Mounted with the right components, this hexacopter is an excellent drone for any aero-modeling activities.
DJI made this model easy to build. Shouldered screws that will keep the frame together are already given. Each arm will need six screws. The wide center plates are helpful plus PCB wiring is also established for an easier and quicker copter assembly.
How to Create the DJI F550 Hexacopter
Included in the DJI F550 ARF kit are six motors, sixteen propellers, six ESCs, M2x8 and M2.5×5 screws, a set of power leads, and a battery strap. Choose propellers according to the kind of battery you will use. If you're going to use 3S batteries, then 10-inch propeller is ideal; and for 4S batteries, 8-inch propeller is recommended.
Before you start assembling, you will need the following: a soldering iron, solder, and a flux. Fortunately, the PCB board is well-marked, the instructions are clear. You will have no trouble placing the connections. Do not forget to test each joint before you proceed to the next process. Make sure that every joint is solidly connected, or else, you'll face some issues later on.
Carefully read the instructions when installing the ESCs and the NAZA controller. Attach the legs of the hexacopter underneath the board where the connections are joined using the provided screws. Then plug the motor to the ESCs and place the controller at the center of the bottom board. Make sure that the controller is placed properly in which the inputs are in the rear.
Once you're finished, download the most recent version of the DJI software from the company's Web site. You may also be asked to update your firmware, if yours is outdated. If there's no issue detected, then you can mount the GPS and the battery. Then check your motors if it's moving in the right direction. Installing the GPS may be a bit challenging depending on the controller you are using. To make sure everything is in place, refer to the manuals provided.
After everything is put together, don't immediately go running outside to test your creation. Calibrate the digital compass first to avoid flying problems later.
Aside from the GPS and controller, you may also add Bluetooth and a gimbal. The latter allows you to mount a camera (most gimbals are compatible with GoPro camera) so you can take aerial shots while in flight. If you need instructions on how to install other extra elements but can't find it in the manual included in the package, don't worry, everything is downloadable on the DJI's Web site.
Users Summary
Overall, this hexacopter is impressive. The bare-bones kit is of ultra-high-quality materials including the frame and legs, which can survive crashes. With the wired PCB boards and easy-to-comprehend manual instructions, building your custom-made copter will be straightforward and may be done under two hours.
A reminder, though, DJI F550 is not for everybody. This is not a ready-to-fly out-of-the-box type of drone. However, if you're a hobbyist looking for a complete DIY solution, the Flame Wheel is for you. You can build a Phantom 2 out of this framework combined, of course, with the right parts. After all the hard work of putting together your precious DJI F550 hexacopter, you may want to know how to prevent losing your drone.
There are many ways to prevent your drone from getting lost, but one of the best is to attach a GPS tracker to it. GPS trackers are tiny, lightweight devices that are designed to tell you the whereabouts of the things and people you care about the most. Just place one onto your drone, and rest assured, you will be able to retrieve your UAV should it fly away.
Watch the videos below
Let us help you. We'd be delighted to answer any tracking questions you have or discuss the options in more details