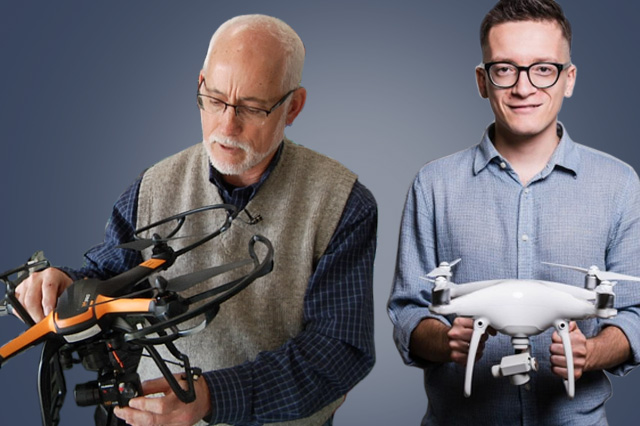 The drone technology, since its introduction, has already gained a lot of appreciation and followership among a lot of people, and this is not likely to go anywhere soon with many more joining this club of drone enthusiasm on the daily basis.
Drone enthusiasts are not a particular set of people but different people from diverse backgrounds with varied qualifications but are brought together under one canopy—their love for drones and the technology behind it.
This love for drones was highlighted just recently as over 300 enthusiasts of the drone technology gathered to meet at the DroneFocus 2016 event, which was held at the Stage Island Park on June 1.
DroneFocus 2016: A Drone Enthusiasts Convention
Scroll down for video
For the second year running, this event, which has been hosted by Emerging Prairie, sees to it that those that share a common love for the drone technology can be brought together in the same place to share ideas and rub minds together. The dignitaries who were invited to speak at the event include representatives from NASA, senseFly, Northrop Grumman, and the military. Speakers were also invited to share what they had from local companies, the likes of Botlink and Flight Pros being part of the pick.
Sen. John Hoeven, who was also in attendance at the conference, started the proceedings by remarking that the North Dakota province became a leader in unmanned aerial technology because of a need that was born "out of necessity."
It had been reported sometime in 2005, the Pentagon had some plans to end the operations of military bases that were in the Grand Forks and Fargo of the North Dakota state, a move that made Senator Hoeven, who happened to be governor at the time, start devising ways to ensure these bases were not closed.
Of the move in 2005, Hoeven said, "We had to come up with a mission and there weren't many to be had. We had to be innovative. We had to look to the future, so we looked to unmanned aviation, which in 2005 was a pretty new proposition in the US military and everywhere else. But we were able to secure the Global Hawk mission for the Grand Forks Air Force Base and the Predator Mission for the North Dakota Air National Guard."
Other Endeavors of Hoeven
Asides from government projects, Hoeven has also helped the private sector a lot. For example, in the year 2006, centers of excellence were established with the sole aim of providing grants to universities that wish to partner up with private bodies for the aim of conducting researches. That funding birthed the University of North Dakota's Center for UAS Research, Education, and Training. Since then, a number of other major achievements have been made and Hoeven would love nothing more than for those to continue.
Of their drone technology advancement, Hoeven has humbly boasted that "we are in the lead. We're in the front of the pack."
He added, "I need some really sharp, young people who are innovative and creative, who have that American ingenuity and spirit, that are going to drive us to the forefront."
With the state already in the lead when it comes to sectors such as agriculture and energy, Hoeven believes that drone technology would be the "next big thing" in North Dakota.
Watch the video below
Let us help you. We'd be delighted to answer any tracking questions you have or discuss the options in more details