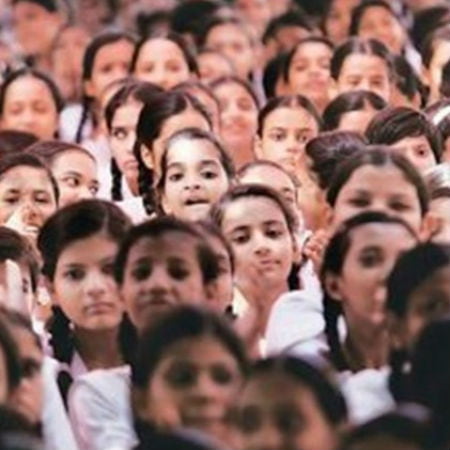 Fourteen-year-old Rekha Munda (real name withheld) was rescued by authorities after she was reported missing in April last year. According to the report, the young girl was lured by a young man who promised her a better life through marriage. But those claims turned out to be false, as Rekha was later forced into a life of slavery. Luckily, she was rescued after her brother informed the police of her whereabouts. Rekha's story is just one of the 14,000 plus cases that are happening around the area. She is a resident of Banarhat in West Bengal's Jalpaiguri district. The region has become increasingly notorious for having the most cases of west Bengal missing children.
Scroll down for video
Rekha has undoubtedly been left traumatized and scarred by the events, as the young girl was tortured and starved by the hoodlums that held her captive. But unfortunately, not all missing cases end up on the same note as Rekha's. A lot of children turn up dead, missing without leads, or are never heard of again.
West Bengal Missing Children Victims of Organized Crime
It is said that organised crime is responsible for all these tragic events. In fact, together with the southwest Indian region of Karnataka, a whopping 93.2 percent of the country's human trafficking incidents are recorded in West Bengal.
Like Rekha, a number of girls are lured by young men in the promise of marriage but are later exploited as either slaves or prostitutes around the world. As in many poor countries, West Bengal missing children may meet this same fate. This is set against a high concentration of poverty in the area, where hundreds of young men and women seek all means possible to escape such impoverished lives.
West Bengal Missing Children statistics is high. One in every five missing children in India is from West Bengal, and police have been probing on these cases every week. It is even a common occurrence to see policemen head to Delhi in an effort to recover a missing child.
Local NGO Child Rights and You (CRY) has been closely following this alarming number. In a statement, the organization highlighted that the number of "cases related to kidnapping and abduction of minors in the state has grown by 608 per cent over the last five years. Number of K&A cases in 2010 was 332, and over the last five years, it rose to a whopping 2,351 in Bengal." They also added that most of the missing children were female, comprising 70 percent of the said numbers back in 2014.
Following the high statistics of West Bengal missing children is the state of Maharashtra, which has a total 13,090 cases of missing children recorded during the same time frame.
It is understandable for parents to feel distraught over the news of the high numbers of West Bengal missing children. No matter where you are in this world, it's understandable that you fear for the safety of your children as society itself poses as a threat to their young lives.
Always remember to educate your child on "stranger danger" situations and familiarize yourself with who they hang out with every day. As an added form of security, you may take advantage of the technology available to consumers. Tracking systems like Trackimo use mobile phone technology to allow parents to track their child's location via GPS anytime, anywhere.
A challenge for parents nowadays is securing your child without ever giving in to fear and anxiety despite the high rate of West Bengal missing children cases. By being prepared, you lessen the chances of abduction, giving you peace of mind in the process.
Watch the video below
Let us help you. We'd be delighted to answer any tracking questions you have or discuss the options in more details