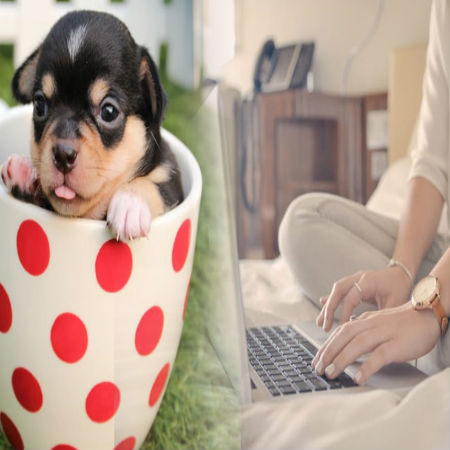 Traveling with your furry friend is definitely one of the most complicated things to do if you don't consider yourself a pet lover. But for pet lovers, family vacation is not fun, if they can't bring their pet along with them. Based on a research done by Best Western International and AAA, more than half of pet owners in the US bring their dogs and cats along with them when they travel.
Whether you're just going for a camping near your home or spending a weekend at the beach or flying across the country, here are some tips to make sure your pet is safe and your trip is as smooth as possible.
Scroll down for video

Tips for Traveling with Your Furry Friend
1. Have a trial travel
Before your trip, go for a drive with your pet to see if he is ready to travel. Observe your pet's reaction if he is in distress or car sick.
2. Buckle him up
Letting your dog sit in the front seat unrestrained might distract the driver and lead to accident. Restrain your pet with a pet seat belt or travel crate, it's safer for both of you.
3. Don't let their heads and paws out of the window
Dogs enjoys sticking their head out the window probably to ward off the nausea since they are prone to motion sickness but the habit is not encouraged since it could put them at risk of ear damage or lung infections, according to the ASPCA.
4. Be prepared
You must be prepared before you go on traveling with your furry friend. There are instances when pets leave their owners while on vacation and it could happen to you. One thing you can do is be prepared. Before you travel make sure your pet is wearing a tag with your contact number and home address in it. Or better yet let him wear Trackimo device equipped with GPS so you can easily locate your pet in case he gets separated from you. You can view your pet's actual location from a real-time map. It's really helpful for recovering your lost pet. And also, don't forget to bring with you your pet's medical records in case you need it.
5. Stop often
Pet owners are advised by the American Veterinary Medical Association to stop every few hours to allow your pet to stretch their body or  use the bathroom.
6. Hydrate
Bring sufficient amount of water to keep you and your pet hydrated for the duration of your trip.
When you're traveling with your furry friend, don't leave your pet alone. Even if it's only 85-degrees outside, the temperature inside your car when your windows are closed can reach as high as 110 degrees in just a few minutes, which could be fatal to your pet. If you're going to a place where pets are off limits, just leave them at home instead of the car.

Flying with Your Four-Legged Companion
1. Make sure your pet is fit to fly
Know that it's better to leave pets who are very young, very old and those sick at home. All airlines allow cats and dogs to fly but in the plane's hold only, but there are breeds that are not suitable for traveling in cargo. Most airlines don't allow such breeds to fly anymore. Of course you want your pet to be in-cabin with you, but it's only possible if your pet's crate is small enough to fit under a plane's seat.
2. Make a research
If you want your pet to go with you to your vacation, check the airlines for pet policies and fees. Whether your pet is allowed to fly and if they can stay with you in the passenger's cabin.
3. Consider flying your pet on a pets-only airline
There are several airlines that cater to pets only, one is Pet Airways. Their cabins are climate-controlled and equipped with  individual crates. They also have a flight attendant that checks on the animal passengers every 15 minutes. And upon landing, pets are escorted to the bathroom for a break. Owners can then pick up their pets at the participating airports' Pet Lounge.
4. Bring your pet's papers with you
This is important if you're flying outside the country. The authorities on the other side might require your pet to have particular vaccinations. You can find information like this on the database of aPug with Mini Luggagenimal import requirements.
5. Purchase a pet carrier
Make sure that it has enough space for your pet to turn around and stretch its body without hitting its head. Also ensure that nothing inside can harm him. If it's the first time for your pet to travel, let the animal get used to being inside the kennel. It's important to let the animal get inside the carrier on his own. If you force him inside he will feel trapped and upset.
When it comes to create dimensions, airlines have different requirements but the USDA requires crate to have food and water bowls,  "Live Animal" stickers, appropriate arrows and bedding.
6. Exercise
Before traveling with your furry friend, spend some time with your pet dog or cat to play or take a walk. When they have burned those extra energy, they are more likely to stay calm and comfortable during the trip.
7. Extra help to let them stay calm
If after exercising your pet is still energetic, Cesar Millan suggests you apply lavander oil weeks before the flight as an "association scent". Before feeding or walking them, put a drop of oil on your hands. On the day of the travel, "the positive association will allow him to calm down and remain relaxed."
Other Pet Travel Tips
Before you travel, speak with your veterinarian regarding your pet's health concerns.
Give your pet a familiar blanket or toy to make them feel relaxed during the trip.
Consider getting your pet dog a Thundershirt. Veterinarians recommend it for pets that get nervous when traveling. These fitting shirts target pressure points of animals to help them relax.
If you planned traveling with your furry friend, choose pet-friendly destinations. For more information to help you on your next travel plans with your canine companion or feline friend, visit GoPetFriendly.com.
Watch the videos below
Let us help you. We'd be delighted to answer any tracking questions you have or discuss the options in more details