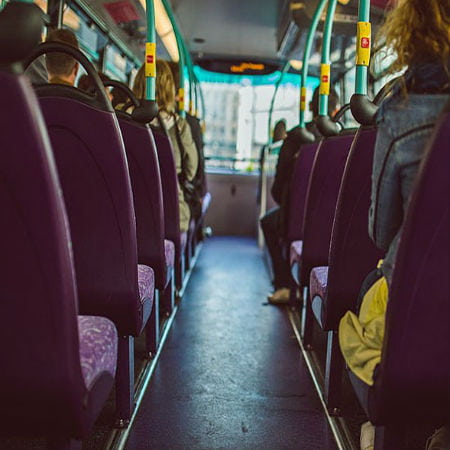 There have been numerous cases of students being late to school because the bus had failed to pick them up on time. This can be due to several factors such as shortage of employees, heavy traffic, or an inefficient bus system. Public schools in Virginia are clamoring to address the issue of late buses by incorporating GPS for school buses in Suffolk.
Scroll down for video
Incorporating GPS for School Buses in Suffolk, Virginia
GPS technology provides time and location data of a fleet. It allows fleet managers to seek out more effective routes to ensure that their buses arrive on their destination on time. The Suffolk's school division had set aside a $200,000 budget to cover the costs for GPS technology for school bus monitoring.
However, not everyone is on board with the idea. Mike Debranski, a school board chairman, is against the idea of installing GPS systems. Debranski is not alone. Only 69 percent agreed to a school bus transportation system based on a survey responded by more than 3,100 parents.
Despite the cold response, GPS has proven to be the right solution in addressing the city's issue with school buses. Suffolk is the largest city in Virginia with an area of 430 square miles. To top it off, its terrain and landscape is a challenge for vehicles as they are difficult to navigate. The recommendation to invest in GPS for school buses in Suffolk came after a consulting firm surveyed the area back in 2015.
A GPS monitoring system allows dispatchers to map out a convenient route for their fleet. So the school buses, which total to 723, will be directed toward more smooth-flowing traffic instead. This is also essential for drivers when it comes to bringing students home as it lets them navigate around unfamiliar neighborhoods with ease.
Neighboring cities Norfolk and Portsmouth have not incorporated GPS technology into their school bus system yet. But in the United States, the number of school divisions that have made use of GPS are on the rise. According to Mike Martin, executive director of the National Association of Pupil Transportation, GPS "enables the districts to know very, very quickly where their buses are."
School officials are optimistic that this will help address the bus issues parents have been raising for a long time, and they are hoping to improve the system as each year comes. In turn, GPS for school buses in Suffolk will also give way to numerous savings for the schools' budget. Schools can benefit from reduced fuel, maintenance, and insurance costs once GPS technology is installed.
School bus tracking system can help institutions manage their vehicles and ensure the safety of the students. Trackimo is an example of a reliable GPS tracking system equipped with the best features that will help schools address safety issues and ensure that the buses are driven efficiently to and from their assigned destination. Everything from emergency situations to bus breakdowns will immediately be addressed if schools start seeking the help of a GPS system.
Watch the video below
Let us help you. We'd be delighted to answer any tracking questions you have or discuss the options in more details