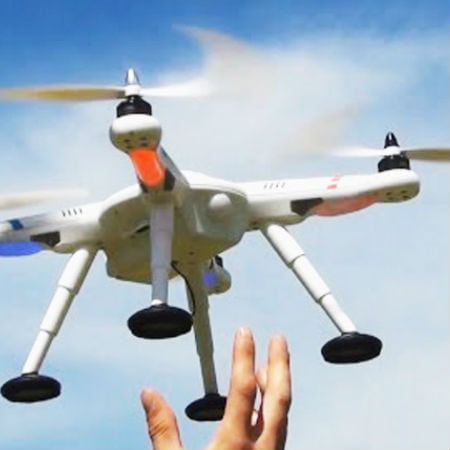 Many quadcopter drones today are GPS-enabled. Drones with GPS are a safer quad because it's the on-board GPS that enable the quad to return to its base. One example of drone with GPS is Skymaster Professional Quadcopter.
The Skymaster Professional Quadcopter was developed especially for professional RC users. This model has an excellent flight stability, thanks to its built-in altitude/position hold function. Frequent throttle adjustment is not necessary as this innovative GPS-enabled quadcopter flutters automatically. To activate the Return to Home feature, simply revert the toggle switch on the controller. The command will send the Skymaster professional quadcopter soaring high, then it will descend slowly back to its original position. You can also make some position adjustment to the drone while in mid-air through spring action on the controller.
Scroll down for videos
Red and blue LEDs, which are positioned on both ends of the shafts, can help with the directional judgement. At the front of the drone are two LEDs that look like eyes, giving the UAV that "alive" appearance.
If you want a GoPro® to be mounted at its underbelly, you will need an additional accessory, which you can get separately. A regular bracket (GT-4042) is available for capturing stationary position footage. For superb video stability with less vibration, you will have to use a gimbal mount for GoPro® Hero 3 (GT-4044). This add-on is what you need for that smooth and efficient documentary style shots. Watch the video below to see the performance of the gimbal.
Caution: Skymaster professional quadcopter is not for novice operators.
Skymaster Professional Quadcopter Important Features
4 x 950KV motors
Channels: 4
Transmission: 2.4 GHz
Unit batteries: 11.1 V 2700 mAh 25C Li-po battery
Remote control batteries: requires 4 x AA
Flight time: 8–12 minutes
Charge time: 60–90 minutes
Charges off remote: no
Gyroscope: yes
Charges off PSU: yes
Charges off USB: yes
Control distance: up to 200 m
Maximum rise/fall speed: 3 m/s
Recommended ages: 14+
Dimensions: 480 (L) x 480 (W) x 83 (H) mm
Box contents:
• 1 quadcopter
• 1 remote control
• 4 blades
• 1 USB cable
• 1 battery charger
• 1 power supply
• 1 Li-Po battery
• 1 allen key
• 1 spanner
Watch the videos below
Let us help you. We'd be delighted to answer any tracking questions you have or discuss the options in more details.