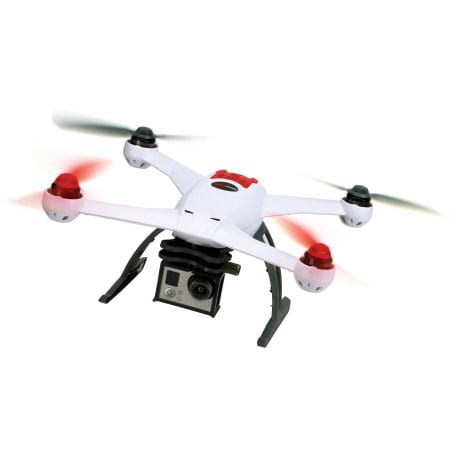 Blade 350QX is a drone quadcopter sold by Horizon Hobby. It weighs 680 grams with 465 mm body measurement. It contains a GPS, barometer, 3 axis accelerometers, and gyros. Its board has a built-in Spectrum receiver.
The 350QX needs very little assembly. You only need to fit a few small screws into some holes to mount the included GoPro plate, then you're ready to soar.
Scroll down for videos
Blade 350QX Flight Modes
The Blade 350QX quad features three flight modes: smart mode, stability mode, and agility mode.
Smart mode is perfect for beginners. This mode uses the model's built-in 3G GPS drone tracker to create a safe zone around the pilot. Meaning in this mode, the pilot can manipulate the GPS-enabled drone within 30 ft diameter. Another important feature of this quadcopter is stick relativity, which makes it easier for novice users. Stick relativity means the drone orients itself from your position regardless of where it is facing. However, in this mode, don't expect to be able to make some flying tricks. If you lose control, just switch the controller and activate the Return Home feature so your Blade 350QX will automatically fly back to where it takes off.
Stability mode allows advanced flight, and pitch and rolls angle are more stable, allowing photographers to capture gorgeous views. This mode also allows the Blade 350QX to fly above the 45 meter altitude limit set for Smart Mode.
Agility mode is suitable for experienced pilots only. This mode allows pilot to do dips, flips, and other acrobatic flight maneuvers.
Motors: Direct Drive Outrunners 1100kV
ESC's: 10A
Battery: 3s 2200mAh
Flight time: 10–15 minutes
Flying Weight: 680 g
Length: 465 mm
Body: X-Quad
Props: 8″ Proprietary
Flight controller: Integrated Proprietary (cannot adjust gains)
Price: 470$ for Ready to Fly
Available Packages: RTF, BNF
Camera: Optional
The Blade 350QX is fun and easy to fly FPV. However, its small size makes it a bit harder to manipulate than other GPS-controlled drones for sale. Smaller quadcopters are easily cushioned around by the wind. The proprietary propellers are durable but a bit soft and can generate vibration. They are also difficult to balance because of inadequate flush back and larger steer hole. But if the pilot is experienced enough, he can maneuver this copter better to be able to capture great shots.
Skill level: intermediate
Agility: 8
Power: 7
Speed: 6
Setup/Build: 8
Durability: 7
Ease of repair: 1
Line of sight flight experience: 7
FPV flight experience: 5
Aerial video capability: 4
Includes: charger, transmitter, spare props, gopro mount
Cool features:
Safe circle flight mode
Extensive LED communication
Replacement body: 35$
Replacement props: 5.5$/pair
Watch the videos below
Let us help you. We'd be delighted to answer any tracking questions you have or discuss the options in more details