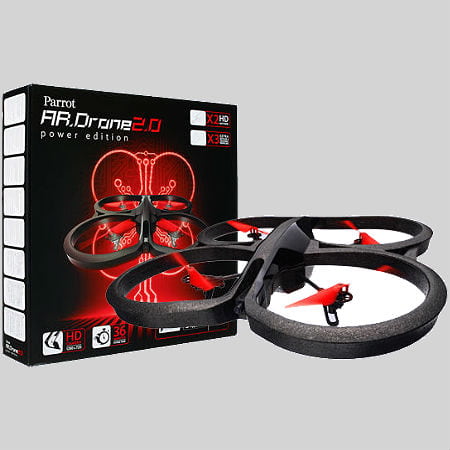 Did you know that you can double the flight time of your Parrot AR drone while making it stronger at the same time? All you need is a little tweaking and couple of modifications to do so.  Imagine having your Parrot AR 2.0 drone with even more enhanced capabilities, that would surely be a great feeling for drone owners everywhere. After all, who wouldn't want a drone that can fly higher and further at the same time?
Read below to know how you can modify your drone.
Modified Parrot AR Drone
Scroll down for video
AR Drone Mod – Upgrade To Shielded Sealed Drive Gear Bearings
Replace your bushing with a new shielded sealed bearing to increase battery time. As a result, your drone will be able to fly even longer. Additionally, the shielded bearing increases the drone's motor life giving you a better flying experience with less rolling.
Here's how to do it:
Take the C clips off and remove the propeller and shaft
With a small flat-headed screwdriver, pull the old brass bearing out
Replace it with the new bearing and put back together
Since the Parrot AR Drone comes with 8 brass bushings, expect the task to be completed in a mere 10 minutes. Note that you need to check each piece to make sure they aren't damaged. While you're at it, you may clean them for maintenance purposes.
Parrot AR Drone 2.0 Mod – Battery Upgrade
The Parrot AR 2.0 typically comes with a Lithium-ion polymer rechargeable battery 1500 mAh – 11.1V.  An extended battery feature was also launched alongside the drone. But to push battery life up even further, follow the steps below:
Upgrade using a Cheerwing 1800mAh 11.1V 20C Li-Po Upgrade Battery. This will allow you to fly your drone from 12 minutes to a maximum of 20 minutes.
The 1500AH Lipo Battery is designed by Parrot as a high-density batter for the AR Drone 2.0. It is a high energy Lithium-Polymer with a discharge capacity of 10C. Included in the package is a PCM(Protection Circuit Module) that protects the battery from overcharging.
Parrot AR. Drone 2.0 Mod –  Stronger Carbon Fiber Base
Every drone owners worst nightmare is having your hundred dollar investment crash landing to the ground. The best thing to do about these situations to reduce gear damage. You can do so by creating a stronger base plate made of Carbon Fiber. This can be easily installed on a Parrot AR Drone 2.0 and a Power Edition.
Modify the AR Drone 2.0 to get a better aerial view
Those who have experience using the AR Drone know that the forward facing camera has a better resolution than the downward camera. You can get the best of both through a little modification. All you really need to do is move the front facing camera to allow it to capture a good aerial view.
Extend AR Drone Range – Mainboard / Antennae Mod Or Wi-Fi Repeater
The Wi-Fi range of the Parrot AR 2.0 is limited to somewhere between 30 to 100 meters depending on where you fly. As a result, this limits the flying range as well. The good news is that you can enhance the range further up to 50 percent with these AR Drone mods:
Install a new modified main board with an antennae on your Parrot AR Drone. This allows you to increase the drone range up to 50 percent
Another way is to use a Wi-Fi repeater to extend the AR Drone 2.0 range. You need to set up the repeater to your smartphone so you can connect to both the repeater and your Parrot drone.
Lastly, you might want to keep a close eye on your drones using a GPS drone tracking device like Trackimo. This may not be classified as a modification, but it does give your Parrot Drone extra protection and safety in case a dreaded flyaway situation happens. To learn more about Trackimo and its essential features, visit our Trackimo page.
Watch the videos below
Let us help you. We'd be delighted to answer any tracking questions you have or discuss the options in more details