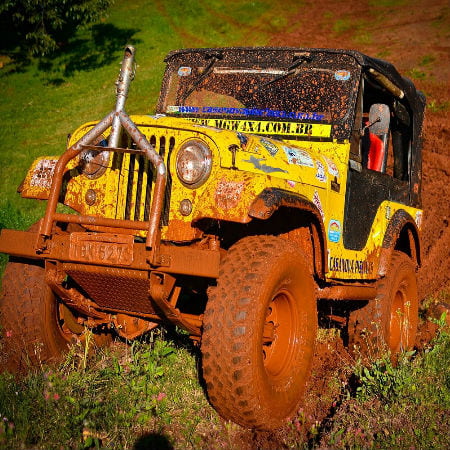 After years of sliding around on icy streets in your old, clunky rear wheel drive car, you are now living the dream in a brand-new 4 x 4 vehicle. These are incredibly handy in snowy climes, but if you yearn to do some exploring, feel free to do Off-Roading Basics also take it off the pavement and into the mud.
However, before you head out, it is always a good idea to be prepared. Whether you are planning to drive along trails or in sand or mud, you need to bring along the necessities and check your vehicle beforehand to make sure everything is in order. Exploring new terrain will not be much fun if your vehicle breaks down in the middle of nowhere with no provisions or gear.
Scroll down for the video
Must-Know Off-Roading Basics
Visit Your Mechanic
Even if your vehicle is comparatively new, it is still wise to make an appointment with your mechanic and have everything evaluated. Ask to have your fluids topped up and all of the nuts and bolts tightened. You will be bouncing around a lot, how are your shock absorbers doing? Request that they keep an eye out for any leaking fluid and make sure that your headlights are functioning properly.
Another off-roading basics is checking your tires. If you plan to do much off-roading, it is wise to have a set of either all-terrain or mud terrain tires. Have your tires been rotated since you acquired the 4 x 4? If not, that should be done too.
This all may seem like a lot of work and something entirely unnecessary for a vehicle that does not have that many miles on it. However, think about the incredible inconvenience, not to mention the cost of having your 4 x 4 towed out of a remote area. Depending on the situation and how far you are from civilization, the cost could end up equaling that of the vehicle itself.
Check List
Once you have made sure that the vehicle is ready for your big adventure, you still have a few more things to do. Refer to off-roading basics, did you include a spare tire and the equipment you will require for changing a flat? Did you fill up your gas tank? How much spare gas are you keeping in the trunk? Did you bring your cell phone? Did you remember the first-aid kit? It is wise to also consider taking along water (for both yourself and the vehicle's radiator), a shovel, some food, blankets, an air compressor, and a tire gauge.
It would also be wise to invest in a GPS device for adventurers. If for some reason, you get stuck and have to leave it to find help, or heaven forbid, your ride is stolen, a GPS vehicle tracking device will help you locate it instantly.
No advanced computer skills are needed to successfully utilize all of the GPS tracker features and the tracking can be done using your smartphone. One always hopes for the best, but it definitely never hurts to learn the off-roading basics to be prepared for the worst.
Watch the video below
Let us help you. We'd be delighted to answer any tracking questions you have or discuss the options in more details