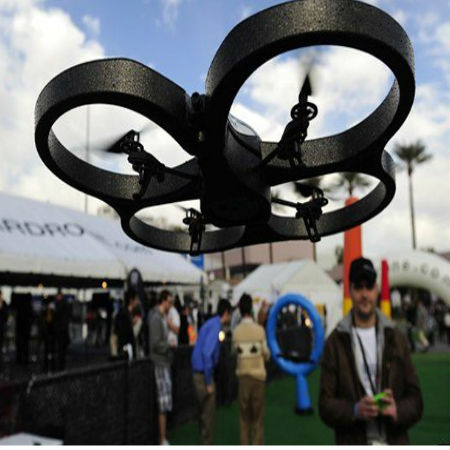 The year 2016 proves to be a good year for hobby drones enthusiasts as there are many new models that are really worth the purchase. Last year, a few great quadcopters were released in the market, including the DJI Phantom 3, which was critically acclaimed by hobbyists everywhere. Yet there are still newest drone models to be highly anticipated for the year 2016.
It is no question that commercial drones have risen in popularity, and lucky for those who use them, they don't seem to show any sign of stopping soon. Below are some of the best new drones that have either been released or are yet to be revealed this year.
9 Newest Drone Models To Anticipate for 2016
Scroll down for video
1. Phantom 4
Release date: March 2016
Price: $1,088.99
One of the newest drone models is the Phantom 4—the latest edition in DJI's consumer drone series. This model has several great features, including smart technology that can conveniently avoid obstacles, crash resistance, and is extremely easy to fly. Its design is even more glossy compared to its past editions. Other features include a 4K camera capable of shooting 120 flps slow-mo videos. The Phantom 4 is a contender for being the best quadcopter of 2014.
2. GoPro Karma
Release date: TBA
Price: TBA
GoPro has been tight-lipped about their first drone, but teaser shots are quickly building up the hype around it. The video posted shows the drone reflection on a skier's goggles and that is all there is to it. The sample footage does note that the drone is capable of recording in 4K resolution.
3. DJI PHANTOM 3 Professional
Release date: January 2016
Price: approximately $750–$900
This new model added to the Phantom 3 range is for those who aren't willing to splurge money on a Phantom 4. While the latter does fare better in terms of motor efficiency, battery life, and overall specifications, the Phantom 3 would be great for those on a budget as it still has essential drone features such as Point of Interest and Follow Me.
4. Parrot Disco Drone
Release date: End of 2016
Price: $1,299.99
The Parrot Disco Drone is the only one on this list of the newest drone models that is not a quadcopter because it has only one propeller. Users can control the drone using their smartphones, and because of its light weight, it can go at an impressive speed of 50 mph. Other announcements made with the initial prototype includes its 32 GB storage and a 14 megapixel camera.
Scroll down for video
5. Lily
Release date: May 2016 (August 2016 for new pre-orders)
Price: Initially $699 on pre-order, but orders made from May 2016 above cost $999
As one of the newest drone models, Lily's adorable promo video had been proven effective as it quickly gained popularity among online users. Among its notable features are the waterproof exterior, convenient size, 1080 pixel camera, and foldable propellers. Some potential downsides that users have pointed out are that the battery isn't removable and there isn't an obstacle avoidance feature, so users need to be vigilant when using this drone. It should also be noted that Lily does not have a remote control, but it comes with a tracking device so users can carry on with their activity while being filmed.
Lily has remained as one of 2016's top drone sellers because of its convenience and budget-friendly price.
6. Hexo+
Release date: available now
Price: $1,349. Solo priced at $999 + plus $400 for the gimbal.
This self-flying device has a total of six rotors and allows users to choose how the camera moves. The three-axis gimbal is similar to the 3DR Solo and has similar camera movements as well. Among its amazing features are options like as Follow, 360, and Hover and Reveal.
7. Airdog
Release date: available now
Price: $1,599
For only $1,295, buyers will go home with a drone, gimbal, and the tracking device AirLeash. But you need to provide your own action camera. The Airdog may be self-flying, but it does not have obstacle avoidance, so users need to be careful when flying through rough terrains. This design is actually quite popular despite its expensive price. Numerous users have noted the convenience in bringing it around because of its innovative folding design.
8. Qualcomm Flight
Release date: TBA
Price: TBA
Chinese drone manufacturing company Yuneec is becoming a key player in the international drone business. It will be the first of many newest drone models being made this year to use the brand-new Qualcomm Snapdragon Flight board.
Snapdragon Flight is the first drone specific board based on a Qualcomm Snapdragon 801 series processor, with features such as Bluetooth 4, GPS high-accuracy positioning, and 4K video processing with 720p encoding. This much-awaited product is a breakthrough in drone technology. It's light weight, obstacle avoidance feature, and consumer-friendly design are set to make waves in the industry.
9. FPV Racing
For those into drone racing, then the FPV racing drone is the one for you. This is also one of the newest drone models to be impressed of. This is a quadcopter that is literally built for speed more than capturing shots. Drone racing has apparently been on the rise especially for hobbyists, with more and more users modifying their machines to participate in races. Race course layouts are not specified and generally depend on the organizers.
Own a drone or planning to get one of these new releases? Make sure you prevent the number one problem all drone owners have to face: flyaway drones. To address this issue, purchase a reliable 3G tracking device like Trackimo to keep your drones on check at all times.
Watch the video below
Let us help you. We'd be delighted to answer any tracking questions you have or discuss the options in more details.