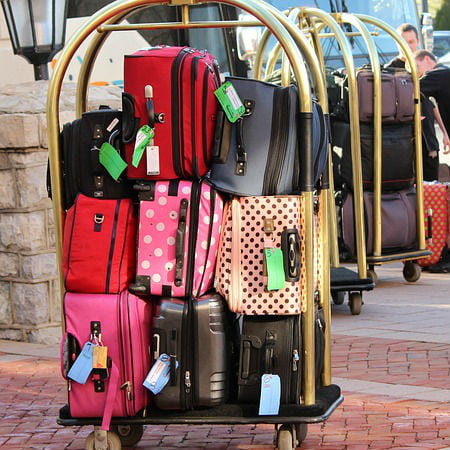 One of the most important decisions you have to make when travelling is your choice of suitcase. We have all seen those undercover videos showing airport baggage handlers seemingly going out of their way to treat suitcases as poorly as possible. Therefore your luggage needs to withstand a great deal of abuse which may even result to its loss. While there are many ways to avoid losing your luggage, it is still important to choose the toughest suitcases that will survive all the rigours of modern-day travel. The best companies keep that in mind when designing their suitcases nowadays and here are some of the best hard shell suitcase options that you can choose from.
Travel Suitcases That You Need
Hard Shell Suitcases
Scroll down for the video
If you prefer true durability, hard shell suitcases are an excellent choice as they are one of the toughest suitcases around. While the conventional soft suitcase design offers advantages like extra flexibility and space to pack items, they simply do not have the same ability to withstand wear, tear and abuse. Hard shell suitcases are also almost always water resistant, another advantage when travelling to all manner of climate zones. Earlier incarnations of hard shell suitcases tended to crack and fall apart, but the technology has improved considerably in recent years. Now made from poly-carbonate, a suitably tough but more flexible material, they are better able to withstand both the sort of wear they were designed for as well as some of more extreme treatment luggage sometimes gets subjected to.
Some Heavy Hitters
The Pelican brand has a stellar reputation as their products are used by the military and law-enforcement agencies. Now also available to consumers, these suitcases are waterproof and can withstand up to 1500 pounds. They also boast a combination lock that has been certified by the TSA.
Another prime contender for toughest suitcases is the Zero Halliburton Air II, which manages to be highly durable while also being comparatively light. It also offers a TSA approved lock and looks both sleek and impressive. Some reviewers have claimed that it is easily scratched when going through airport baggage handling. This may be a deal breaker for some, or you could say that the battle scars give it even more character.
Also likely to hold up well for you is Flight 001 F1 Dsh-1 Luggage. Boasting all of the sturdiness that most travellers need, this also comes with a TSA combination lock and a light weight that makes it a prime choice for those with lesser arm strength. Perhaps most importantly for people who like to have their luggage stand out, the red, white or blue color choices certainly make it easy to find.
But the Grand Prize for acquiring the Toughest Suitcases Goes to…
However, if you're looking for something truly indestructible, the most impressive performer is Luggage X. While it may lack an impressively bad ass name, the company's number 77 model is certainly made to last. It even came out on top in a humorously destructive test carried out by the Skyscanner travel site. Let's just say that if your suitcase can survive having a car dropped on it and looking hardly any worse for wear, chances are it will meet your travel needs as well!
If you travel a lot and know that your luggage will be subjected to quite a bit, it is important to choose the right and the toughest suitcases. A number of excellent hard shell models are on the market and there is definitely one out there to suit your specific needs. It is wise to also further ensure that your bag and its contents arrive safely by investing in a GPS tracker. That way, if your suitcase is misplaced, there is a much better chance that you will be reunited with it soon.
Watch the video below
Let us help you. We'd be delighted to answer any tracking questions you have or discuss the options in more details