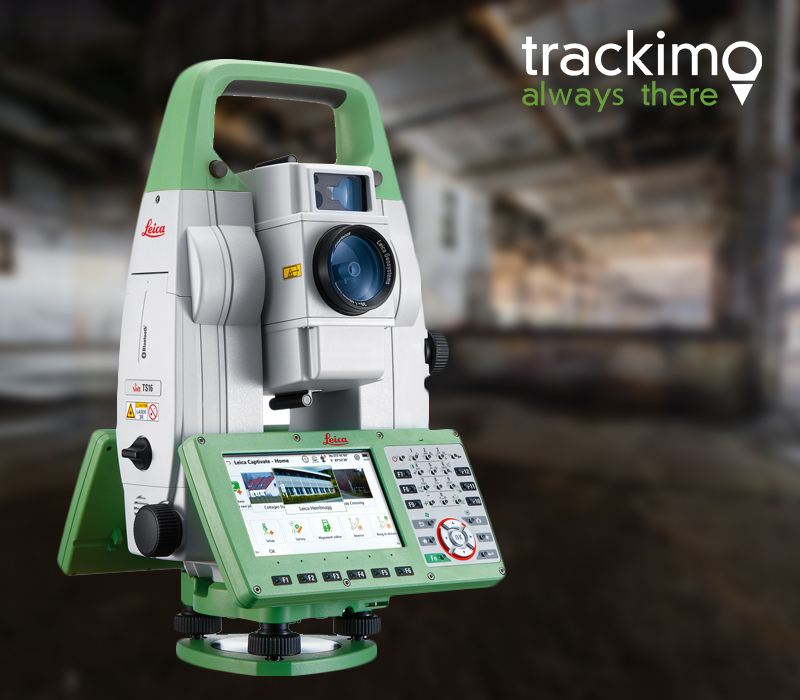 Is the security of expensive equipment still something that business owners worry about today?
According to a Twitter poll started by M&P Survey Equipment, 88 percent of respondents indicated that equipment theft is indeed a big concern for their respective companies. This is why on March 6 of this year, during M&P Survey Equipment's free Smart Security Day, which took place at their offices near Chester for anyone interested in securing expensive survey equipment, the new LOC8 module from Leica Geosystems was the focus of their presentation.
The LOC8 demo included an introduction to the Trackimo tracking service, which they utilized and partnered with for LOC8. Trackimo is a world leader in GPS tracking technology. Trackimo's GPS trackers are currently sold in partnership with Vodafone, other world-leading cellular providers, and high-end world-leading field equipment manufacturers.
With this technology, the survey and mapping, civil engineering, and building construction industries have a lot to thank asset tracking platform LOC8 for. Leica Geosystems recently launched this platform, enabling companies to track assets and expensive devices across geographical boundaries. Leica has partnered with the US-based company to provide a web interface and mobile app to give users complete control over the security of their equipment. 
LOC8 not only functions as an effective tracking and fleet management tool, it is also a great theft-deterrence solution. In fact, LOC8 aided in the recent recovery of a stolen Leica TS16 total station in Manchester.
Learn more about Leica Geosystems and LOC8 here.
Leica Geosystems
Based in Switzerland, Hexagon is a world leader in sensor, software, and autonomous solutions aiming to put data to work and boost efficiency, productivity, and quality across industrial, manufacturing, infrastructure, safety, and mobility applications. Hexagon's technologies shape urban and production ecosystems to become increasingly connected, ensuring a scalable, sustainable future. The Hexagon Geosystems division, on the other hand, is a market leader in information technology, offering a unique geospatial and industrial solution-centric portfolio that helps professionals across many industries accurately understand their environment and better execute their work. Hexagon currently has approximately 20,000 employees in 50 countries and net sales of approximately €3.8 billion.
Scroll down for the videos
Their reality-capture technologies create digital worlds from different views, whether it is a single dimension between two walls in a house, cadastral boundaries of properties, or 3-D shapes of cities, infrastructure, utilities, entire countries, or even crime scenes. These digital worlds provide actionable information vital for understanding, planning, and execution. During execution, Hexagon Geosystems' positioning, guiding, and visualization solutions empower users to work with the highest efficiency and quality.
Leica Geosystems is a part of Hexagon that creates complete solutions for professionals across the planet. Known for premium products and innovative solution development, the professionals in a diverse mix of industries—such as aerospace and defence, safety and security, construction, and manufacturing—trust Leica Geosystems for all their geospatial needs. With precise and accurate instruments, sophisticated software, and trusted services, Leica Geosystems delivers value every day to those shaping the future of our world.
LOC8: The Brainchild of Leica Geosystems and Trackimo
The segment manager for geomatics, Paul Birtles, talked the attendees through the Leica Geosystems' software and explained how registering your Leica Geosystems equipment can help prove your identity as the owner should your equipment get stolen. Birtles said during the talk on Smart Security Day, "In light of serious thefts of construction and geomatics tools including survey equipment over the past few years, Lecia Geosystems have been developing additional security solutions which enhance the already available solutions of PIN/PUK, MyWorld Security, Captivate alarm, and the newly developed LOC8 system. With this and additional visible deterrents available, we make the equipment undesirable to steal and difficult to sell on, thus, we can take away the demand."
Equipment like the Leica total stations have been frequently pilfered in the United Kingdom, leaving businesses with unnecessary insurance premiums and stolen valuable assets. Because of this, Leica Geosystems sought to innovate and apply state-of-the-art technology to ultimately reduce instances of theft and eventually decrease the market for stolen assets. In order to do this, their first step to achieving this goal is to make Leica Geosystems equipment difficult to steal.
The LOC8 device can be fitted to a Leica total station and provide security features such as geofencing, remote locking, GPS/WiFi travel history, and motion alarms. Although it is easily installed, it's quite easy to remove. If a thief attempts to remove the LOC8 module from a stolen instrument, it will automatically shut down and can only be reactivated by an approved Leica supplier.
The following are the advantages of the asset tracking solutions that Leica Geosystems offers with LOC8:
Real-time worldwide monitoring
Location-based remote monitoring systems are helping businesses optimize asset movement, reducing transportation costs, and increasing the efficiency of assets. With GPS tracking devices like Trackimo, location tracking remains convenient and accessible anytime, anywhere, as long as GSM cellular reception exists, ensuring that the equipment or vehicles never go off the radar. Trackimo packs a powerful hybrid of GPS, GSM, Wi-Fi, and Bluetooth tracking technology to accurately locate your assets worldwide in real time, whether they are indoors or outdoors.
Geofences
Whether you're monitoring industrial assets, pumps, tanks, chemicals, vehicles, sensors, or anything else, your geofences alert you when anything is inside or outside of your custom geofence zones. Geofences create an automatic bridge to recovery by integrating law enforcement services to retrieve stolen property or when equipment is accidentally sent to incorrect locations. Geofencing can alert a dispatcher when a cargo van breaks from his route.
Remote locking
Aside from LOC8's tracking and geofencing capabilities, expensive equipment can now be remotely locked with just a touch of a button on a smartphone or desktop app. The operation of the equipment relies mostly on establishing a connection to the installed LOC8 device, so even if the Leica total station is not powered on, LOC8 can still lock it, preventing a thief from ever being able to use the device. Once found, the device can be simply unlocked the same way, without the hassle of bringing it to a service center.
Data link
Trackimo provides a two-way data link to control measuring devices remotely and get real-time data from the field, allowing firmware updates for the device and real-time error reporting, reducing failure rates and helping to identify problems.
Multiple device tracking
Since you're tracking multiple assets at the same time, you can add and manage unlimited tracking devices you're using on a single view on your desktop, tab, or phone. This makes it perfect for any asset manager to monitor all equipment at the same time in one account.
Peace of mind
Now that companies are able to track, locate, and lock their total stations, they can obtain insurance coverage and lower premiums. With LOC8 also acting as a theft deterrent, companies can save operational costs in the long run from minimizing downtime due to theft or preventing wasted time locating misplaced devices.
Benefits of Using LOC8 for Business Assets
A Motorola study found that businesses save an average of $5,484 per employee per year by utilizing asset tracking technology. The asset management savings were mainly attributed to an increase in mobile workforce productivity and enabling enterprises to become more efficient via a reduction in annual labor and fuel operating costs. Fleet fuel management systems, for example, can help your company reduce fuel and labor costs while improving customer service significantly.
Below are the ways an asset tracking platform like LOC8 reduces annual expenses in businesses. 
Fuel consumption
Recent studies indicate that businesses have reported a reduction in fuel usage as the biggest advantage of asset tracking. The use of LOC8 gives better route options for your drivers. Choosing which routes to take makes driving more efficient, saving you time and money. In doing so, you can eliminate unnecessary costs and reduce unproductive work. This will reduce the time your driver has to spend on the road, resulting in faster delivery arrival and lesser fuel expenses.
Unnecessary downtime
If your fleet vehicles are just idling on the road, it's a waste of time and resources and your company won't be earning money. You can monitor this kind of inefficiency by using LOC8. Once you notice that your vehicle is just idling, you can prod the driver to do his job or return to the fleet base. Idling can be monitored in real time or determined in daily, weekly, or monthly basis through a report generated by a cloud-based tracking system.
Driving habits
Vehicle information such as location, speed, acceleration, and brakes are among the vital information that LOC8 can gather and analyze when the equipment you're tracking is being transported. Its live tracking platform via Trackimo allows you to receive this data automatically once predefined limits are reached. Tracking this data is necessary to avoid unnecessary wear and tear and accidents due to bad driving habits.
Asset productivity
Your company's assets include your employees, your equipment, and your money, and you have to make sure that all these assets are used in the best way possible. If you own a construction firm, for example, you can use the reports from LOC8 to find out the most efficient way and day for employee productivity. Through tracking employees, you may discover that Tuesdays are the slowest day of the week and that sacrificing one day by moving all Tuesday shipments to Wednesday may save you a lot of money.
Maintenance costs
Most sophisticated fleet managing systems notify users in case a vehicle requires repairs or maintenance, and that is crucial when it comes to preventing the truck from breaking down in the middle of day-to-day operations. In order to keep company vehicles in top shape, routine maintenance is necessary. Instead of manually monitoring company vehicles on a regular basis, which is a tedious task by the way, let LOC8 do it for you. You won't be needing paper files on vehicle mileage to know when to visit the shop for oil change anymore.
Theft
Stolen fuel, vehicles, and equipment are huge losses to any fleet company. With LOC8, you will be immediately alerted if your equipment is brought to a route where there are threats for burglars. You will also generally have no trouble noticing if your field equipment has been stolen. Equipment being moved on a nonworking hour? You'll get an alert. LOC8 quickly helps you track down the stolen equipment, enabling you to recover it almost immediately. Even better, LOC8 offers the remote locking feature to catch the thief red-handed or make stealing difficult for them. Aside from reducing the possibility of unnecessary losses, LOC8 helps you learn about any kind of trespassing or inside jobs happening on your property.
Insurance premiums
Many insurance companies reduce their premiums if an asset tracker for asset management is installed. Companies do not need to sacrifice their current coverage by doing so, therefore saving the company a lot of money. Additionally, an asset tracking device like LOC8 can be beneficial in case of an accident involving your equipment. The device records every movement made with your equipment, justifying that your employee did no wrong if false accusations were made. Contact your insurance company regarding their policies of GPS-installed equipment.
Customer relationships
A bad habit that most businesses do is attracting new customers all the while neglecting the old ones. This more often than not results in a lack of growth in clientele. With asset tracking, you can prioritize both new and old customers. Deliver your services on time and maintain healthy business relationships with all of your customers with the help of asset tracking technology, which ensures that you would be able to respond to customers in case of delay and calculate the estimated time of delivery, and hence, increase employee productivity and positive feedback.
Conclusion
In short, asset tracking platforms like LOC8 will help you and your company improve asset management, consequently saving you more money, improving productivity, and ensuring employee safety. The trend of smart asset management is a new generation concept that proves to be successful in enabling asset owners to manage and maintain their plant, facilities, and equipment more efficiently. From expensive film production equipment to construction equipment, LOC8, which is launched by Leica Geosystems and is powered by Trackimo, lets asset owners relax in the office while increasing profit and productivity.
As of now, we're only scratching the surface of what this means to our businesses, industries, and ultimately, to our lives.
Watch the videos below
Let us help you. We'd be delighted to answer any tracking questions you have or discuss the options in more details