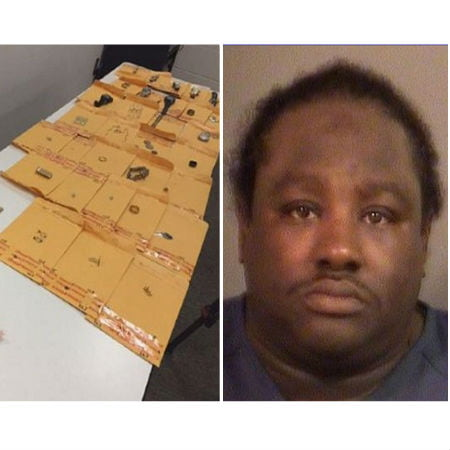 St. Joseph Couny local police and the neighboring districts of Elkhart and Berrien have been receiving reports of robbery and they believe 50-year-old Darrell Vaughn is the culprit. To be able to gather evidence against the robber and eventually send him to prison, the law enforcement make use of GPS to track thief. Specifically, they used a GPS vehicle tracking system.
Scroll down for video
Vaughn has been a person of interest for quite some time, and now local authorities have decided to take action and gather a case against him by using GPS to track thief. The law enforcement agencies recognize the effectiveness of the technology when used for burglar cases.
St. Joseph County investigators requested a warrant from a judge so they can start monitoring with the help of GPS on Vaughn's movement by tracking his vehicle, but the judge denied their request, saying they don't have enough evidence to arrest the man. But after a few weeks, they were able to present to the judge more evidence against Vaughn, pinning him as a suspect resulting in the judge approving their request for warrant.
Using GPS to Track Thief and Gathering for Evidence
Based on the initial investigation conducted by St. Joseph County detectives, Vaughn was the person responsible for the series of housebreaking incidents happening in the area for the past several months. They were disappointed when the judge rejected their request for permission to track the suspect's vehicle, but it didn't prevent them from doing their jobs.
So when they were finally given a go signal to use GPS to track thief, they were able to get detailed information on where Vaughn was going at any given time, how much time he spent on each location, and other information.
The investigators tailed Vaughn 24/7, even on holidays. With the help of live GPS tracking device, they were able to gather more incriminating evidence that led to the robber's arrest. When they searched Vaughn's properties, they found and recovered various items that were reported stolen.
St. Joseph County investigators can't still say whether Vaughn committed the robbery alone or with help from others. With or without an accomplice, homeowners can relax now that the suspect is caught. Vaughn was charged with theft, possession of firearm, and burglary and is detained at Elkhart jail while waiting for his trial.
Vaughn was previously convicted of intimidation and domestic battery.
Watch the videos below
Let us help you. We'd be delighted to answer any tracking questions you have or discuss the options in more details.