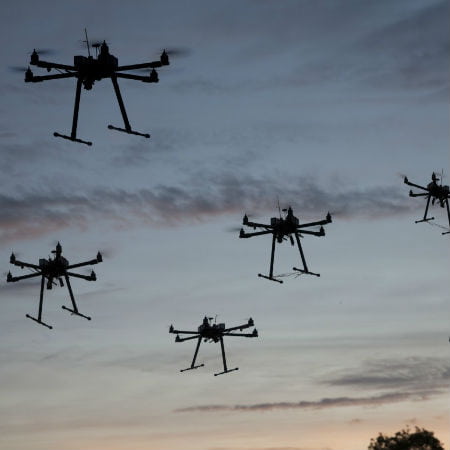 Unmanned aerial vehicles, mostly known to the public as drones, have increased in popularity over the years. Despite starting out in the military as a machine used for missions unattainable by humans, it has varied in usage and has become more and more accessible to the public. Many consumers now, based on drone statistics, purchase drones usually for recreational uses; thus, many manufacturers continue to market them to hobbyists.
On the other hand, the commercial growth of drones have prompted the US Federal Aviation Administration (FAA) to enforce strict rules when it comes to registering them. They have also encouraged users to be more responsible in drone usage. A good of example of this is by using a GPS tracking system like Trackimo to keep your drones in check.
So just how big has the drone industry become? Check out these intriguing drone statistics below, taken from data gathered in 2018 to 2019.
Intriguing Drone Statistics and Facts Gathered in 2018-2019
Estimated number of drones shipped by the end of 2019 runs up to 2 million.
The FAA's online registration system went into effect on December 21, 2015. This required all UAS weighing more than 0.55 pounds (250 grams) and less than 55 pounds to be registered using the online system or by using the paper-based aircraft registry. In May 2017, a US Appeals Court Order caused a temporary halt in UAS registration. It was reinstated in December 2017 with the 2018 National Defense Authorization Act (NDAA). Despite the temporary halt, registration's pace continued beyond May 2017.
With the continuing registration, more than 900,000 owners had already registered with the FAA by September 2018. Monthly owner registration reached 8,000 to 9,000 in January to December 2018, with peaks during the holiday season and summer. With over 900,000 modelers registered as of December 31, 2018, the FAA's drone statistics estimate that there are around 1.25 million drones distinctly identified as model aircraft.
Currently, that is in the year 2019, the number of drones being registered was more than 2 million, which still marks as very exponential growth with every passing year.
Scroll down for video
There are more drones purchased than drones registered.
Comparing with industry sales and other data noted above, the FAA concludes that aircraft is almost 40% higher than ownership registration. A comparison of last year's drone statistics with this year's shows that the annual growth rate is around 13%. This continues to be substantial growth as anticipated from the introduction of drones as a recreation activity facilitated by falling equipment prices and improved technology.
The pace of consumer registration has slowed down since 2018.
Based on drone statistics from the FAA, the pace of registration in 2018 slowed considerably compared to 2016 and 2017. Monthly owner registration now stands at half of what was observed a year ago. The number of consumers appears to be dropping, year by year. Some people own multiple drones and may likely be planning to purchase more, but the number of new pilots is losing pace. Perhaps the novelty is wearing off? All those who were interested have gotten one, got it out of their system now, and got rid of them? This may worsen given the current partial US government shutdown, which will delay the grant of new certificates. It may also slow further because some drone-based service providers who are not making money will choose not to recertify as a remote pilot.
On the other hand, commercial user registrations continue to rise.
The fastest growth opportunity comes from businesses and civil governments. For commercial users, each individual drone is required to be registered, and the pace of monthly registrations is at almost 3 times higher than last year. By the end of 2018, the FAA drone statistics report that there were "more than 277,000 non-model aircraft registered since registration opened," with 14,600 registrations per month in 2018.
By 2023, they predict that there will be over 835,000 of them. Last year's forecast for 2022 was 452,000 units, and they now believe this will be surpassed by the end of 2019 or early 2020 if the current growth trend continues.
Filming and photography top drone uses.
According to data from drone statistics, filming and photography are expected to emerge as the maximum revenue-generating segment over the forecast period of 2019 to 2025. Valued at around $1.86 billion in 2018, they are expected to witness profound growth over the next six years. Drones are increasingly being used to film movies, record events, and functions, and aerial photography. The advent of UAVs is set to transform the media industry as it allows the journalism sector to also cover news in areas where human entry is prohibited. Such devices also find applications in efficiently shooting action sequences in movies from an aerial view and photographing inaccessible places.
DJI continues to dominate the drone industry.
SZ DJI Technology Co., Ltd. (aka DJI), a Chinese company, continues to dominate the market and has made gains this year in every product category, from drone aircraft at all price ranges to add-on payloads and software. Recent drone statistics show that DJI is still the dominant brand for drone aircraft purchases, with a 74% global market share. Much of DJI's dominance can be attributed to its aggressive product development, technological advancements, and partner development in the enterprise channel.
Businesses and various industries increasingly benefit from UAVs.
From accident reporting to crop monitoring to infrastructure inspections, drones are, so to speak, on the rise:
Previously, an investigation could take up to three hours gathering information manually, but with a drone overflying and documenting an accident this might be reduced to around 45 minutes.
It has been reported by the DJI that almost 133 lives around the world were saved with the help of drones. The usage of drones on construction sites has led to about a 55% increase in the safety of the workers.
The drone logistics and transportation market was estimated to be valued at $11.20 billion in 2022 and is projected to reach $29.06 billion by 2027, at a combined annual growth rate (CAGR) of 21.01%.
Results of a survey of 269 farmers by Munich Reinsurance America indicate that three quarters of all farmers in the US—from those with less than 100 acres to those with more than 5,000—have either begun to use drones for precision agriculture, and monitoring crops, livestock, and soil conditions.
Companies like Amazon, Google, Walmart, and even 7-Eleven have thought about or experimented with deliveries via drone.
SenseFly recently completed work on a three-year construction project in Northern Ireland to build the new A6 highway. A SenseFly eBee Plus drone provided detailed aerial coverage and minimize interruptions with road traffic and ongoing quarry operations.
 The real estate and construction end use segment is expected to witness substantial growth over the forecast period on account of the increasing need for UAVs in surveying lands, providing constant and reliable project updates, improving safety, and preventing hazardous situations on construction sites.
In the military, drones still perform tasks like intelligence gathering or chemical detection.
Surveillance and reconnaissance are probably the biggest military drone applications. Carrying payloads that include color video cameras and infrared night vision cameras, more than 19,000 drones are now in the arsenal of the US Army, Air Force, Marines, and Special Ops, and more have gone to other nations' armies.
North America accounted for the largest market share in terms of revenue.
North America is anticipated to continue leading over the next six years owing to favorable government initiatives regarding the advancement in drone technology coupled with the growing demand from businesses for drone-acquired data.
Asia Pacific is expected to witness the fastest growth rate over the next six years. Countries such as China and Japan are increasingly adopting automation and advanced technologies across industries to counter labor costs. The higher efficiency of drones as compared to manual labor for certain tasks, particularly in the agricultural sector, is expected to drive their adoption across the region.
The sales of drones in Europe is steadily rising due to several favorable regulations. Companies operating in the regional market are exploring new ways to transform their conventional business processes by leveraging the benefits offered by drones.
The demand for UAVs in Middle East and Africa, on the other hand, is expected to rise, particularly in inventory management and monitoring applications across the well-established oil and gas industry and utility sector of the regions. Moreover, the regional oil and gas sector is increasingly adopting drones for pipeline inspection and maintenance.
The adoption of drones is gaining momentum in the African countries particularly within the medicine and agriculture industries. Governmental bodies across the key African countries, such as Tanzania, have partnered with delivery companies such as Zipline to carry out deliveries of medical supplies and blood to inaccessible and rural areas.
Public distrust still clouds drone use.
Be responsible with your drones! Despite the benefits of commercial drone use, the general public still has concerns about drones with regards to safety, security, privacy, and public nuisance. Unauthorized drone sightings, in many ways, hurt legitimate commercial operators who often need to gain permission from reluctant land owners so they can perform inspections and survey maps for infrastructure unreachable by other means.
A highly influential group in the USA called the Uniform Law-Commission is all set to propose an act on the privacy matters of drones, also known as the Tort Law Relating to Drones Act. This law aims at creating an arbitrary aerial trespass zone of 200 feet in the sky, which will determine a no-fly zone over any private/public property. This act is not yet adopted but is still in the talks.
Another law in Pennsylvania, the Unlawful Use of Unmanned Aircraft law, went into effect on January 12, prohibiting anyone from getting surveillance of someone in a private place using a drone. Officials in York County say they've seen the problem with drones and Peeping Toms firsthand. The new law will require police to determine if the person behind the act knowingly or intentionally used the drone for footage before a fine can be given. If found guilty of using a drone for the wrong reasons, officials say you could face up to $300 in fines.
To keep drones away from endangering the lives of others, incorporate a drone tracking device in case it flies outside the safety perimeter. These devices are programmed to notify owners on the exact location in case their drones get away from the fence set.
Watch the video below
Let us help you. We'd be delighted to answer any tracking questions you have or discuss the options in more details