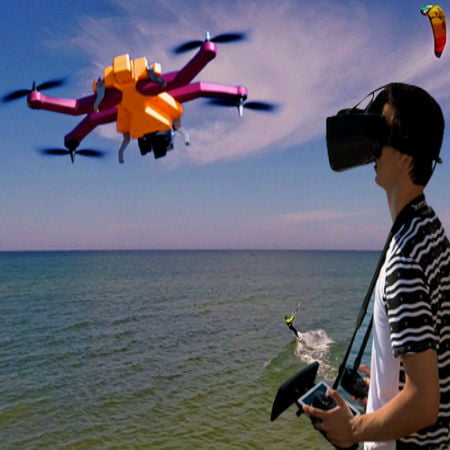 Drones have so many intriguing applications including photography, surveillance, farming, and even firefighting; their ongoing popularity comes as no surprise. Any equipment that is this versatile and offers so much potential for enjoyment holds great appeal for both tech enthusiasts and those who love an adrenaline rush.
Sports enthusiasts have joined the ranks of people now embracing drones, and they are now staging drone sports competitions that show off their aircraft in nifty and exciting ways.
A League of Their Own
Established in 2011 and billing itself as "one part X Games, one part NASCAR, and one part professional wrestling," the Aerial Sports League gathers together drone enthusiasts from around the world for competitions. One such ASL match took place in New York City in Sept 2015, which showcased drone pilots wearing heads-up displays.
The task was to pilot their craft through a tricky figure eight-style course that included hurdles designed to foil inexperienced quad copter pilots. Even those unable to attend were able to witness the dizzying spectacle thanks to some exciting first person view video that made it feel like you were perched right on the speeding craft as they decked and dived.
Scroll down for video
Formula 1 in 3D
Obstacle courses are not the only racing option when it comes to drone sports. Enthusiasts are also embracing the idea of just letting their craft tear up the sky and barrel around a "track" as quickly as possible. The First National Drone Racing Championships took place in the summer of 2015 and tested the skills of more than 120 pilots from around the world.
Described as "Formula 1 in 3D" and the first of its kind ever staged in the United States, the race's use of first-person view allowed both the pilots and spectators to experience identical thrills as the various craft reached a top speed of 70 mph. The match was not without its glitches and crashes, but when the dust settled, Australian Chad Nowak won the $25,000 purse by topping all three of the events: individual time trial, the team time trial squad, and the freestyle trick competition.
Drone Sports Underground?
Well, not in the actual sense, but not all competitive drone sports are taking place in sanctioned events. Instead of net covered fields in locales like Sacramento, drone fans around the globe are taking over old warehouses and empty parking garages to use as racing venues. Sometimes competing at night when the areas are all but abandoned, these racing enthusiasts put their craft through the paces and post their first-person-view videos on the Internet.
As these competitions often utilize a "straight line" course with no obstacles, small drones can reach much higher max speeds, even 150 mph. Such matches have proven particularly popular in Australia, and the sport is growing so fast in that country, officially sanctioned races are on the horizon.
Whether you plan to venture into the exciting world of drone sports or have more modest plans for your craft, make sure that you read up on beginner's guide to drone use. It is also a good idea to invest in a GPS tracker. If your drone ever encounters flyaway, you will instantly know where it is.
That makes a successful recovery much more likely, an outcome you want, particularly if you have spent a lot of time and money on your copter. Feel secure and concentrate on the fun you are having sharing your piloting and/or videography skills with friends and family—or even the world!
Watch the videos below
Let us help you. We'd be delighted to answer any tracking questions you have or discuss the options in more details