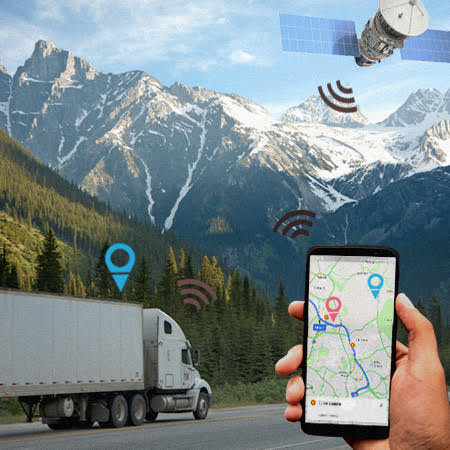 There is a reason why GPS trackers have proliferated in various industries. The device is a good investment as it can greatly contribute to the success of any business. Depending on the type of GPS fleet tracker you will use, the technology offers fleet vehicle efficiency on the road. It has the ability to shorten your fleet vehicles' travel time, which means more trips, more delivery finished in one day, and more business opportunity for you. But with so many GPS fleet trackers to choose from in the market, how do you select the best GPS for fleet monitoring? This article aims to help you pick the fleet tracking solutions that best fit your company's needs. But first, let's have an overview of GPS.
What Is GPS?
Global positioning system or GPS is a space-based radio navigation system owned and maintained by the US government. It uses 24 satellites in the space to pinpoint an object's location anywhere on earth with great accuracy. The technology was developed initially for military use only until the then–US president Ronald Reagan ordered the use of the GPS system be available for civilian use.
All GPS devices work basically the same way: they can locate your fleet anywhere at any given time. They only differ in software features and packages. Read below to determine the type of GPS device that offers better profitability for your company.
How to Select the Best GPS for Fleet Monitoring
1 . Identify your company needs
You can start by gathering data from each department, whatever information they need about the fleet. Also identify problems related to your fleet that are crucial to your business. What do you need GPS for? What's your goal?
Know for yourself if you need to reduce fuel consumption, increase customer satisfaction, increase fleet safety, monitor company vehicles, prevent avoidable fleet breakdowns, or manage remote workers.
2. Think about your future needs
You also have to think ahead about what your company might need in the times to come. If you want a tracking system that is flexible, efficient, and economical, then consider cloud-based GPS tracking system. It's convenient to use as tracking information can be accessed anywhere where there is Internet connection. Moreover, no maintenance is needed as software update is automatic.
3. Research and test
When looking for the best GPS for fleet monitoring, you need to research thoroughly. List down the brands that you think meet your requirements. Then scrutinize further the features of each product until you come up with only two choices. Read reviews and watch demo videos. If you know someone who has bought a particular system, try asking about the system's customer support. Opt for the company that is responsive and easily available when you have concerns about their product.
4. Teach your staff
Train all of your employees who will directly be using the system on how to use it, including the drivers and the maintenance staff. That way, you can maximize your investment.
Watch the videos below
Let us help you. We'd be delighted to answer any tracking questions you have or discuss the options in more details