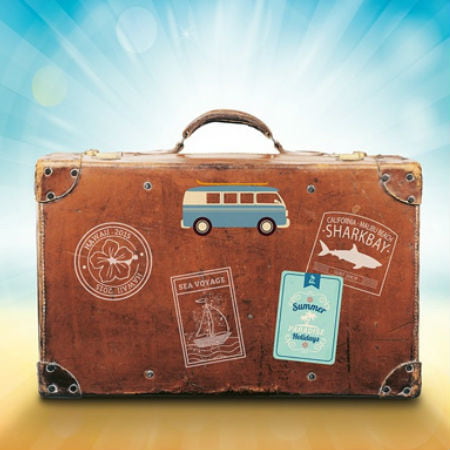 Whether you are headed toward a certain destination or coming home from a trip, you always end up worrying about your luggage. Imagine waiting by the conveyor belt only to find out that your luggage is missing or that it's returned in an unrecognizable state. You cannot help but question if you are to blame for being too lenient and for not thinking about how to avoid lost luggage or the airline company for their negligence.
The first thing to keep in mind is that you should avoid panicking as panic will only result in distorted decisions. Here are some helpful tips in dealing luggage issues while traveling and how to prevent them from happening again:
Different Ways on How to Avoid Lost Luggage Situations
Scroll down for video
Delayed Luggage
Majority of delayed luggage are eventually returned to their owners. This can happen in a matter of few hours to a couple of days, depending on the situation at hand. Bags that are sent to the different airport will take a couple of days before the owner can claim them. In these cases, you will need to report the missing luggage right away by heading to the airline desk where you can fill up a Property Irregularity Report (PIR). This may not be a requirement, but it gives you the backing documents needed when keeping track of your luggage. Do make sure that all essential information are included, from your hotel or home address as well as your phone number.
The airline will make arrangements for you to claim the luggage in the most convenient way possible, but you may need to check on the progress yourself by logging on the airline's online luggage tracing page and enter your reference number. If this feature is not available, you can always contact the company's customer service or central department for assistance. As for reimbursement, an airline may reimburse unexpected expenses caused by the luggage delay so do keep the receipts as proof. Additionally, you might want to check the ticket information as well as travel insurance policy to make sure that the airline is committed to covering extra costs.
But if there is no update for the delayed luggage after three weeks, this will be declared as lost.
Lost Baggage
If you are on an outward flight and the airline loses your luggage, the company will be made to pay for the essential items lost. Do note that the classification of "essential items" may vary per airline. For example, toiletries and undergarments are branded as essential items over specific pieces of clothing. So your best option here is to discuss with them their policies to gain a better understanding of it.
As a customer, you are fully entitled to receive compensation for lost bags, but these rules are subject to change depending on the area you are traveling to. In the United States, airline companies are obliged to refund your checked baggage fee. In addition to that, a maximum of $3,400 per passenger is given for customers who have lost their luggage as well as its contents. But to know exactly the company's policy on this, contact customer service or read the terms and conditions on their Web site.
Before you can receive the compensation listed above, you will need to fill up a written claim for damages. This can be done through mail or by making a personal appearance in the airport. Do list the value of your items you had in the bag in your documentation as well as its receipts. At the very least, you can receive depreciated amount of your items.
Do note that airline companies are not held responsible for items of value such as heirlooms, jewelry, or rare artifacts as these need to be stored in carry-on bag or should be left at home in the first place.
Stolen Bags
It is a sad reality that items go missing each day, and what's even more alarming is that even the bags can end up stolen with many airport and TSA employees discovered as the prime suspect. The truth is, you can never be too lenient when you're bringing your belongings in public places such as airports. You can be in the baggage carousel, claiming your luggage, and the next thing you know it's out of plain sight. The best thing to do in this scenario is alert the police.
Credit card travel protections and travel insurance bags may include reimbursement in case a luggage is stolen or lost throughout the trip. Check on what the insurance covers and take note of item limits and policies regarding valuable items.
Damaged Baggage
Mishandled baggage can be frustrating for every airline passenger out there. It can be even more inconvenient when passengers discover that their baggage is damaged after they leave the airport. So to avoid this from happening to you, make sure to fully inspect your bag before leaving. If you discover any damages, go to the luggage handling counter in the airport so you can fill up a PIR immediately. Again, this is not a legal requirement but will help speed up the whole process.
Note that minor damages shall not be covered by most airlines and you'll need to submit your bags for further inspection.

How to Avoid Lost Luggage from Happening

1. Luggage tags. 
There are smarter and more high-tech luggage tags available in the market nowadays. Some contain unique codes that airline personnel can trace, and others have embedded microchips.

2. Attach your name and itinerary in the interior and exterior of your luggage.
Luggage tags can be easily torn off during check-in, so a copy of your itinerary should be placed on top of all your belongings. This is especially useful if your luggage ends up in the wrong airport as it gives staff the convenience of easily tracking you down.

3. Keep a list of the items you have packed. 
A packing list will help you keep track of your belongings before and after the trip is done. This can also serve as a time saver when listing the contents of your bag in case it goes missing. Another option here is to take a photo, this may serve as evidence in case you cannot secure receipts.

4. Valuables must be kept on carry-on bags. 
As stated above, most airline companies do not claim responsibility if anything valuable goes missing.

5. Always keep an eye on your bags. 
Whether it is passing through security or if you are in the pre-departure area, you are never really safe from thieves. So better safe than sorry!

6. Double-check the destination ticket attached to your bag. 
This is the common cause for misplaced luggage, so to avoid lost luggage, make sure that the information attached is correct and see that you get a claim ticket for each.

7. Pack clothing in your carry-on bag. 
You never really know if your luggage is delayed or missing, so pack a change of clothes in your carry-on bag just in case.

8. Travel insurance. 
Baggage loss is the main reason why most travelers purchase insurance. Aside from that, you will receive compensation in case your flight gets canceled or if you encounter medical emergencies during the trip.

9. Get a reliable GPS tracker. 
To avoid lost luggage get GPS trackers, these will allow you to monitor your luggage while in transit. Trackimo offers powerful GPS technology that gives users the convenience of tracking their belongings and to avoid lost luggage through their smartphone. If you want to learn more about Trackimo and its in-app features, visit their page.
For any cases of stolen, damaged, or lost luggage, make sure that action is taken immediately. You may also call the Department of Transportation's Aviation Consumer Protection Division if you are not assisted by the airline properly. Do not be so comfortable to avoid lost luggage.
Watch the video below
Let us help you. We'd be delighted to answer any tracking questions you have or discuss the options in more details