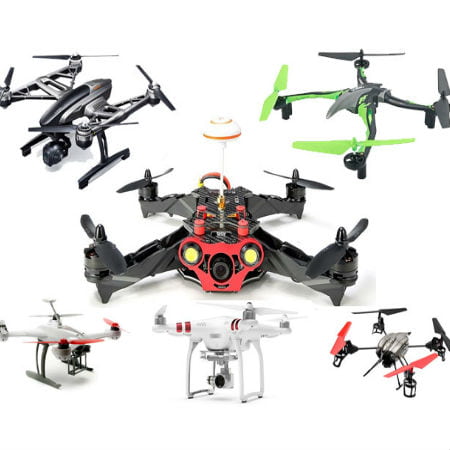 Are you planning to buy a drone? Choose one of the 2016 best drones with features that fit your purpose. We have here a list of the latest and 2016 best drones and quadcopters. However, since most of these models are upgraded version of its predecessors, it means these are not for amateurs.
Note: quads that are suitable for beginners are marked with *.
Scroll down for video
Brands like 3D Robotics, OnagoFly, and Walkera, as well as nano-sized quadcopters, are not recommended for new users. Same goes with the previous Parrot models and any crowdfunded projects. The issue is reliability.
If you buy a model, it's advisable to also buy an extra battery and spare parts, like motors, just in case.
2016 Best Drones
Models under $100
Micro-sized—ordinarily as big as your palm, including the propellers
Hubsan X4 H107L
Upgraded version of the trendy micro-beginners should buy the alternative prop guard.
Dromida Verso
Fixed prop guards and reliable
Small-sized, about 10 in² and is very light
Syma X5
Affordable, reliable, quality materials, and knowledge availability
X5c model has a camera
Syma has recently launched the X 11 model, with a size that is between a micro and a mini. It has a good review and it's recommended for a first or second quadcopter.
WL Toys v636 Skylark
A latest and more advanced "toy grade" mini
WL Toys v959 (new)
 A standard quadcopter upgraded with superior stabilization system with a built-in camera for taking video and photos. New users can get rid of the camera once they master flying the V959.
Dromida Ominus
Another great toy grade quadcopter! This is a bit similar to the WL Toys v636—but better.
This is just the first part. Don't forget to read the second part of 2016 Best Quadcopters.
Watch the videos below
Let us help you. We'd be delighted to answer any tracking questions you have or discuss the options in more details