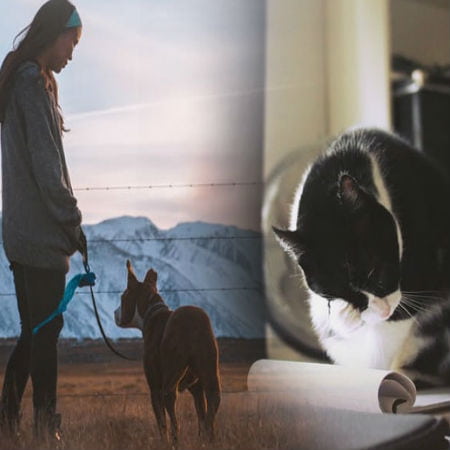 It's always nice to travel to somewhere with your best friend—your pet. Now there is even an airplane specifically designed for those traveling with pets. But the issue here is not about whether you want your pet to go with you or not. The question is, should you?
You know your pet more than anyone else so only you can answer that. So if you're planning on traveling and are thinking of bringing along your pet, we have here a list of tips for your pet to have a comfortable and enjoyable trip with you.
Everything You Need to Know Before Traveling with Pets
Scroll down for video
The very first thing to keep in mind is that pets may be traumatized after traveling, so you must ensure their comfort throughout the trip. While every animal is different and their temperament may differ, these general tips are perfect for discerning as to whether or not you would want to take your animal on a vacation with you.
Flight Travel with Pets

1. Ask if they allow pets
Before booking for your flight, inquire from the airline first what kind of accommodation they can give to your furry friend, whether they can stay with you in the cabin or will they be put in the cargo hold.
Each state or country has different pet policies, so some may require you to submit certificates or permits for your pet to enter their soil. For example, in Australia, depending on where you came from, you will need a permit to import an animal that would require your pet to be under a quarantine facility for at least 10 days and meet other specific conditions. Earlier this year, Hollywood celebs Johnny Depp and wife Amber Heard bypassed those rules, and it got them into trouble.
2. Anticipate the cost
Allocate some extra cash if you are traveling with pets because you will need to spend on your little guy's crate, air and hotel charges, toys, food, and many other things. Estimate the cost then allow some extra wiggle room for emergencies. When traveling with pets, it is important to think about everything that can possibly go wrong and prepare a solution for each beforehand, if you really want to ensure your pet's comfort and safety when traveling.
3. Use proper identification
A strange environment may make your pet anxious, and they may run away  from you. So it is important that put a tag on your pet containing your contact information, including their rabies vaccination information. Or better yet, attach a GPS pet tracking device like Trackimo on your pet. This is your best aide when traveling with pets, as it has long-lasting battery life and even comes with a mobile application, which you can install on your phone for up-to-date and real-time notification on your pet's whereabouts. Pet monitoring using GPS will allow you to monitor your pet and recover them right away if they are missing.
4. Train your pet
Pets are trainable. Teach them to follow your commands. This will save you a lot of trouble while traveling with them. If your pet are trained to be friendly and obedient, then you will have nothing to worry about.
5. Know your pet's temperament and health status
Don't expect your pet is fine with riding a car or boarding a plane straight off the bat. They don't have the ability to even speak to you about their concerns. So before traveling with pets, go to a veterinarian and have an expert assess your pet's temperament. Another way to know your pet's attitude toward trips is observing their behavior whenever they board your car.
Another very crucial thing to look into is their health. Before traveling, be sure that your beloved pet is healthy enough to travel with you. Check its temperature, heart rate, etc., if it's normal. Visit your vet also and take be aware if there's a prescription given.
6. Have a pet first aid kit
When traveling, bring a pet first-aid kit. It should contain a thermometer, tweezers, antibiotic ointment, gauze, and other items. You may consult your vet on this.
7. Provide a crate
Don't be stingy when buying a kennel for your beloved pet. It should be durable and fit for your pet. It should not be too small because it will be very uncomfortable or too large because your pet might be tossed around inside and they could be injured.
If your dog is allowed to fly with you in the cabin, make sure that you meet the plane's size, weight, material or design requirement on crates. It should have proper ventilation and trays for food and water.
You may also put a blanket or cushion inside the crate to make your pet comfortable if your pet is house-trained. Otherwise, it's enough that the carrier is clean and is free of anything that could be harmful to your pet.
8. Do a trial travel run
Buy the crate in advance to give your pet ample time to familiarize itself with the crate. It's important that your pet is comfortable inside it and doesn't feel like it is trapped.  This will lessen the likelihood of your pet being anxious for the duration of your travel. Normal training methods should work.
Car Traveling Tips
Never leave your pet alone
If you really care for your pet, there are pet safety tips for road trip you must keep in mind. The most important thing to remember is to never leave him alone in a vehicle. Even if the temperature is just mild, the temperature inside your car is a lot hotter than the temperature outside. If you leave him alone in the car, you are putting your pet in serious danger.
Other Tips
Don't let your pet's head stick out of the window.
Leash or tie your pet with a pet seat belt
Don't let your pet sit the passenger's seat. It's dangerous for both of you, as it's very distracting.
1. Do frequent pit stops
When traveling with pets, it is recommended to stop every two or three hours to allow your pet a restroom break and stretch its body.
2. Bring food and water
Stock some food and water in your car for you and your pet to avoid starvation and dehydration especially if your destination is a far. Around three liters of water a day is ideal.
3. Help them with carsickness
Most pets are susceptible to carsickness. Help them overcome this by providing fresh air thru open windows and frequent stops/walks. Other remedies are also available over the counter, but it is best if you consult your vet.
Tips on Accommodations
1. Look for pet-friendly hotels
Many hotels or lodging houses allow pets. To be sure, ask your hotel if they allow pet inside, if not, research on the Internet what hotels around your place of destination accepts pets and ask in advance what are their pet policies to avoid hassle on your part. You can find pet friendly houses here: PetsWelcome.com, PetsontheGo.com, BringYourPet.com and PetFriendly.ca.
2. Stay on a lower floor
To avoid incidents or accidents involving your pet, take the floor with no stairs or elevators, in short, the ground floor.
3. Groom your pet
Always wipe or wash the mud and other dirt off your pet before going back to the hotel after a day out with him. Because if the stain won't be removed, you might be asked to pay the cost of cleaning or replacement of the linens or floors.
4. Always use your pet crate
Even though your are staying in a pet-friendly hotel, it doesn't mean you can let your pet loose and unattended. So you should still keep your pet in its crate so the animal can relax and you can as well.
Hotel Tips
1. Make use of the Do Not Disturb sign
If you have to leave your pet inside your room, do not forget to hang the Do Not Disturb sign on the door's handle so that hotel staff won't be attacked by your dog, especially if your pet is aggressive toward strangers.
2. Play some music
If you are going out, play your pet's favorite music. A lot of animals are calmed by sounds that is familiar to them.
3. Exercise your pet in approved areas
Your pet needs to be walked regularly to let out their energy. You can ask the hotel staff where you can let your pet exercise.
4. Try Home Exchange
There is a home exchange group for pet owners—GoCat.travel. In this case, you can stay at another pet owner's place in exchange, you will also look after their pet. This way, you don't have to pay for your pet to be put in a kennel.
At the end of the day, it's for you to decide whether you want to take your pet on a trip or not. But traveling with pets comes with a ton of responsibilities, so as the owner, make sure that you are able to tend to their needs and comfort while having fun with their company as well.
Watch the video below
Let us help you. We'd be delighted to answer any tracking questions you have or discuss the options in more details