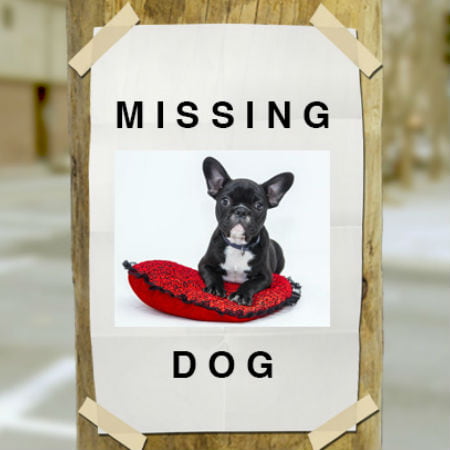 Tips To Find Lost Pets Quickly
This is the second part of a two-part article on how to find lost pets effectively. Click here to read the first part of the tips to find lost pets article.
Scroll down for video
3. Advertising for your missing dog
Making flyers. Printout leaflets with information about your dog such as a picture, description and your contact number. Include the date and the general area where he was last seen, avoid giving your exact address.
When making a lost dog poster, include the phrase "Lost Dog" at the top using large and readable font. Information should be brief and direct to the point.
Use the latest and colored photo of your dog. Make sure that all important and unique features of your pet is visible. If applicable, offer a reward for your pet to motivate people.
Where to place. Put your Lost Dog posters in public bulletin boards, telephone polls, trees, gas stations, popular stores, restaurants, in short, in as many places as you are allowed to post where a large number of people can see it.
Don't post all information about your dog, leave at least one identifying feature of your dog such as a scar or a specific mark so that when you ask a complete description of the dog from the caller, you will know if it's really your dog or you're just being scammed.
Use the Internet. Post a soft copy of your poster on Web sites for lost animals or local classified ads like Craigslist.
Utilize social media. Yes, social media is very effective and helpful for owners to find lost pets. Post it on your Facebook account or Twitter account so your friends and the public will be aware and can inform you if they see your pet. Remember, the more people who know about your missing dog, the more likely you are to reunite with your pet.
Place an ad in the local newspaper. Using the same information, put an ad in your newspaper's classified section.
Be cautious of scammers. When someone calls and tells you that they have your dog, ask them to give you a complete description of your dog including the one piece of information you withheld from the poster. Meet them in a public place and take someone along with you. Don't give the reward unless you are certain that the dog is really yours.
Find postings on found dogs. On the same Website where you've posted your ad for your lost dog, check also for the listing of found pets.
4. How to prevent your dog from being lost
Use ID tag. Attach an ID tag to your dog's collar. In the ID tag, engrave your dog's name, vet's name, and phone number including yours. This way, if your dog becomes lost and someone finds him, that person knows who to contact. So make sure that the dog tag is always updated for the changes in information. The disadvantage of it is that, a tag may come loose when the dog plays outside and then there will be no way for you to know where your dog is.
Microchip your dog. A microchip is a grain-sized chip inserted under the skin of a pet. It contains information about the dog, which can only be viewed if your pet is scanned in a pet clinic or shelter. The problem is what if the clinic or shelter has no chip scanner? Then there will be no other way for the staff to know who owns the dog.
Use a GPS dog locator such as Trackimo that can be attached to your dog's collar. The best thing about this technology is that, you will be alerted the moment your dog escapes from your backyard. You only have to log in to the computer or a smartphone to view your dog's current whereabouts. As long as the the collar is not removed, you can retrieve your dog in no time at all.
Always close the doors or gates. Don't leave doors open in your house. If there's a hole in your backyard, make sure it's fixed before your dog tries to escape.
Don't forget to put lash on your dog if you're going out in public places such as parks or beaches so you will be able to prevent your pet from running away.
Watch the videos below
Let us help you. We'd be delighted to answer any tracking questions you have or discuss the options in more details