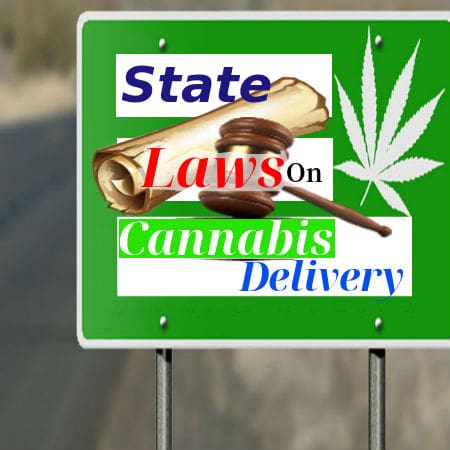 Marijuana, or cannabis, has a surprisingly large market in the United States, prompting many states to legalize its use, whether for medical or recreational reasons. However, the stigma that surrounds the use of cannabis is still very much present, forcing users to purchase the drug in secret to protect their privacy. Without these laws on cannabis delivery, buying the drug this way, however, can be hard, even for those who use it for medical purposes.
It is for this reason lobbyists continue to push for cannabis use and delivery to be legalized via laws on cannabis delivery. They believe that legalizing such service in the US will make it easier for medical marijuana patients to get the drug they need, help licensed marijuana enterprises compete with the black market, and reduce drugged driving.
The laws on cannabis delivery vary per U.S. state, making it harder for dispensaries and non-brick-and-mortar stores to identify which ones allow the service. The issue on cannabis legalization is a fairly new debate subject despite California taking the leap forward and made marijuana use legal in 1996. It's been more than a decade, yet the laws are still yet to be ironed out.
The fact that cannabis delivery is a service those who need the drug can hop on is worth a celebration, but the truth of the matter is that this option comes with challenges. To order and have marijuana delivered to your doorstep, even if it's for medical reasons, is not and will never be as easy as ordering pizza.
33 US States and Their Laws on Cannabis Delivery
To start a marijuana delivery service in the United States, one has to know that while 33 states have legalized marijuana, only 10 of which allow recreational use. Another noteworthy fact is that not all of these states allow marijuana delivery services, and even if the state has legalized its delivery, counties will still have to issue a permit before the cannabis can be delivered to homes. More so, not all licensed retail marijuana dispensaries have delivery permits. The content, type, and volume of the drug are just among the several other factors to consider.
To have a better understanding of where these restrictions put users and cannabis delivery service providers on the map, here are thirty-three US states and their laws on cannabis delivery.
Scroll down for the video
1. Alaska
Alaska legalizes the use of marijuana for both medical and recreational use. Patients, regardless of age, with medical marijuana needs are provided identification cards for easier access. The state does not recognize medical marijuana patients from other states even if they have state-issued registry ID. However, citizens who are 21 years old and above can purchase marijuana for whatever purpose as stipulated on Alaska's Ballot Measure No. 2.
Cannabis delivery is accepted so long as the person delivering and the recipient are 21 or older.
2. Arizona
Arizona allows the sale and purchase of marijuana but only if it's for medical purposes. It recognizes patients from other states but only with Arizona-approved conditions. Moreover, the House Bill 2349 prohibits the possession of medical cannabis in an educational institution.
The state does not allow cannabis delivery to homes, and purchases are only allowed from registered dispensaries.
3. Arkansas
Arkansas limits the use of marijuana to medical only. The use of marijuana and paraphernalia relating to the administration of the drug is only for individuals aged 18 and above.
As stipulated in the Medical Marijuana Amendment of 2016, Arkansas's state laws on cannabis delivery is legal but only if the patient is over 18 and with Arkansas registry identification cards. The drug should also be from licensed dispensaries.
4. California
Some say that California is the safe haven for marijuana buyers, no matter the purpose of the purchase. The state allows the use of medical marijuana with little to no restrictions.
The state's laws on cannabis delivery, however, have it that marijuana can be delivered to homes only if it's for medical purposes. Patients are required to obtain a registry ID card to enjoy the service.
5. Colorado
Colorado has approved the use of cannabis for both medical and recreational purposes. The state is one of the first to have elaborate laws on cannabis use. Like any other states, Colorado utilizes identification system for patients under 21 years old trying to take advantage of medical marijuana.
Although marijuana laws are in place, Colorado's cannabis delivery dies in Senate Committee, which prohibits the home delivery of the drug from all dispensaries, licensed and unlicensed.
6. Connecticut
Recreational use of marijuana in Connecticut is still illegal, and legislators are yet to revisit the matter. The state only permits the use of medical marijuana and delivery to patients with registry ID cards.
7. Delaware
The state of Delaware approved the use of marijuana for the purpose of treating medical conditions. Per the state's laws on cannabis delivery, only licensed dispensaries that have physical retail stores are allowed to make deliveries. And these transactions may only be carried out to registered medical marijuana patients with specific documentation.
8. Florida
Florida allows the delivery of marijuana to patients registered in the Office of Medical Marijuana Use Registry. An order must be submitted to the registry by an authorized physician before medical cannabis can be delivered to the patient's residence.
9. Hawaii
Hawaii allows the use of marijuana but solely for medical purposes. Like most states, people who wish to obtain the drug have to meet the qualifications set by the government.
Although the state recently overhauled its medical marijuana program, changes still do not allow cannabis delivery to patients. House Bill 321 states that a "dispensary shall be prohibited from off-premises delivery of marijuana or manufactured marijuana products to qualifying patients or to primary caregivers of qualifying patients."
10. Illinois
Illinois is one of the states that have booming marijuana business with over $225 million of revenue. The revenue, however, comes from medical marijuana ventures only. When it comes to laws on cannabis delivery, only licensed dispensaries are allowed to transport the drug to registered patients.
11. Louisiana
Louisiana is one of the newer states to legalize the use of medical marijuana. At the moment, the state still doesn't have registry ID cards for medical marijuana patients, and cannabis delivery is definitely not allowed and will remain so until marijuana laws are ironed out.
12. Maine
Maine is one of the ten states that legalize the cultivation and use of medical cannabis for patients aged 21 and above. Cannabis delivery is allowed, but only the citizens of Maine can take advantage of the service. However, to obtain the drug via home delivery remains with challenges, as service providers will have to go through all the proper channels first. It is also important to note that municipalities of the state have the right to revoke marijuana business licensing.
13. Maryland
Maryland only has medical marijuana laws, and for one to qualify, a physician must register the patient in the Maryland Medical Cannabis Commission. The state's municipalities have the right to revoke the cultivation, selling, and distribution of cannabis in the locality. Therefore, every cannabis-related transaction, including delivery, will have to be permitted by the municipality or county where the drug will be consumed.
14. Massachusetts
The state of Massachusetts recently legalized the use of marijuana for recreational use. Although laws legalizing marijuana are in place, the Cannabis Control Commission has delayed the implementation of delivery licenses. Medical dispensaries are allowed to deliver to medical patients, and several groups already offer this service.
15. Michigan
Michigan is one of the few states to legalize marijuana for both recreational and medical use. However, the laws remain vague, and localities are left to create ordinances regulating its use. Delivery of recreational marijuana is prohibited, but delivery transactions are allowed if the buyer is a registered patient and owns a medical marijuana card.
16. Minnesota
In Minnesota, all individuals with a legal prescription may possess and use medical marijuana. Only state-licensed marijuana businesses are allowed to cultivate, process, deliver, and dispense medical cannabis. It is noteworthy, however, that those who want to use it are only permitted to carry a limited quantity of liquid extract products.
17. Missouri
The state of Missouri is currently revisiting its legal marijuana scope. At present, qualifying patients may use medical marijuana. However, medical cannabis delivery is prohibited, and marijuana is only allowed to be purchased at licensed marijuana sellers.
18. Montana
According to Montana's Medical Marijuana Program, "marijuana items may only be transported between registered premises, licensed testing laboratories, or a registered cardholder's home by a licensee or licensee employee."
19. Nevada
Nevada allows the use of marijuana for medical and recreational purposes. In order to deliver marijuana to customers, businesses must first own a physical dispensary before they can carry out any transaction.
20. New Hampshire
The possession of cannabis in New Hampshire is legal as long as the user can present a medical prescription. Cannabis delivery can only be enjoyed by patients with medical marijuana cards.
21. New Jersey
This state allows marijuana delivery but only to customers with legal prescription and a registry ID card.
22. New Mexico
The state of New Mexico allows the cultivation of medical marijuana and permits home delivery. Additionally, cannabis sellers are not required to own a physical dispensary.
23. New York
The state of New York's laws on cannabis delivery strongly supports the operations of cannabis delivery service providers and dispensaries but solely for medical purposes. Moreover, patients must obtain valid prescription and ID cards to use the drug and take advantage of delivery services.
24. North Dakota
A physical dispensary is required in order to operate a cannabis delivery business in North Dakota. According to the North Dakota medical marijuana law, licensed dispensaries should only provide delivery service to qualified patients and should be done directly or through the customer's designated caregiver.
25. Ohio
Although Ohio permits the delivery of medical marijuana, a dispensary employee still have to check and acknowledge that the delivery meets relevant packaging and labeling requirements.
26. Oklahoma
In Oklahoma, purchasing medical cannabis is legal as long as it is from a state-licensed dispensary. Patients still can't have the drug delivered to their houses due to strict laws on cannabis delivery.
27. Oregon
Another state that allows the use of both medical and recreational marijuana is Oregon. Delivery of marijuana products is allowed under the provisions of the law, as long as costs and fees do not exceed $3000.
28. Pennsylvania
The use of medical marijuana is okay as long as the patient is over 18 and with registry ID cards. The cannabis can only be received by the designated caregiver or an authorizing physician, not directly by the patient.
29. Rhode Island
The state of Rhode Island's laws on cannabis delivery permits the operation of medical marijuana delivery services and dispensaries. Customers, however, must possess a medical marijuana ID card or be registered. The state also allows out-of-state customers to purchase medical cannabis in Rhode Island.
30. Utah
Utah also allows the operation of cannabis delivery services and dispensaries for the purpose of easing certain conditions. Like in other states, Utah uses the identification card system and prohibits the distribution of marijuana to individuals without a registry ID card.
31. Vermont
Medical marijuana delivery services and dispensaries are already available in Vermont. Delivery and use of cannabis are limited to individuals who are registered and recognized as medical marijuana patients.
32. Washington
Currently, medical and recreational marijuana is legal in Washington. Anyone over the age of 21 with a valid ID from any US state can legally purchase marijuana in Washington. Local jurisdictions, such as cities and counties, reserve the authority to revoke the sell and delivery of cannabis from dispensaries.
33. West Virginia
In West Virginia, qualified registered medical marijuana patients may be in possession of marijuana. State-licensed businesses can even process an order for cannabis delivery to patient's home so long as they are registered medical marijuana patients.
The non-uniformity of laws on cannabis delivery and use in the United States complicates the matter. Other than the abovementioned regulations, dispensaries and cannabis delivery businesses will have to strictly abide by other state laws regulating the handling of the drugs while they are being transported to homes. Some states even employ a marijuana delivery tracking system for trucks delivering either recreational and medical marijuana for the same purposes.
The law is still vague and the whole process still faces some challenges, but lobbyists vow to never stop pushing for a comprehensive and uniform federal laws on marijuana use to ultimately provide comfort for those who rely on the drug. And for added layer of security, technology has joined the equation to protect the cannabis and the employee delivering it—and that's through GPS tracking system.
With the legalization of cannabis use and delivery comes the increase in the rate of cannabis theft. Considering the benefits and value of the drug, it becomes the apple of the eye of some thieves. But this can be prevented with the help of the latest technology. The usage of GPS tracker to monitor deliveries has become a growing trend among companies that offer cannabis delivery service. The device helps fleet managers determine the real-time location of delivery trucks to prevent untoward event like theft and keep the drug safe until it reaches the patient's doorstep.
Watch the video below
Let us help you. We'd be delighted to answer any tracking questions you have or discuss the options in more details.