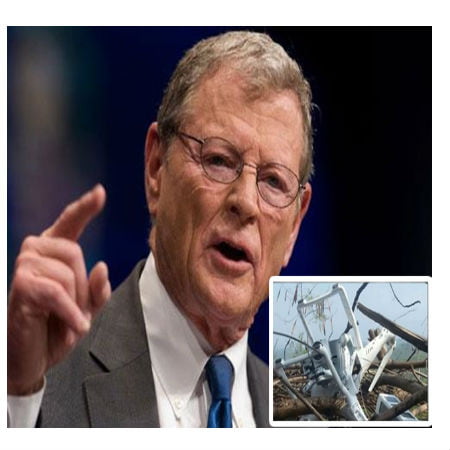 A group based in Illinois, which is referred to as SHARK (Showing Animals Respect and Kindness), announced on their press conference that United States senator Jim Inhofe would be held responsible for a drone shot down on September 11, 2015. The drone was deployed by SHARK to monitor the annual pigeon shooting fundraiser organized by the senator.
Illinois Group 'Showing Animals Respect and Kindness' Holds Sen. Jim Inhofe Responsible for a Shot Down Drone
According to SHARK, the drone was monitoring the event "for possible violations of Oklahoma law" and they went on to reveal that the footage of the crash will be made public on Tuesday.
Scroll down for video
SHARK's Plan
SHARK made it known that the bill for the damaged drone would be delivered directly to the Tulsa Republican's office and an amendment to SHARK's ethic complaint against the senator would also be filed "for the illegal and dangerous discharge of a firearm with his knowledge and potential consent." The group also made it known that they would make sure the complaint was delivered to all the offices of the members of the Senate Ethic committee.
For a long time, the group has been pushing for the event to be cancelled, but their efforts were ignored and the event went on as planned. The group requested that the Oklahoma state law enforcement officers cancel the event since it violated humane laws of the state of Oklahoma. Right in front of the law maker's offices in Tulsa, news conferences were held and the senator was tagged an "animal serial killer."
"I think it's important to point out that despite a number of reaching allegations, we are really spending a lot of time highlighting the views of an out of state, anti-hunting, and anti-rodeo extremist group," Ryan Jackson, the chief of staff for Jim Inhofe stated in an e-mail.
Another bill introduced by Sen. Ralph Shortey of R-Oklahoma City proposes to give property owners the liberty to shoot down drones that were flying over their land, but the bill did not pass during the session.
SHARK also raised issues with Senator Inholfe concerning another event held at Altus, during which almost a thousand pigeons in captivity were released into the air only to be shot at by the participants of the fund raiser. A video of that event is available on YouTube as it was secretly recorded.
Watch the video below
Let us help you. We'd be delighted to answer any tracking questions you have or discuss the options in more details