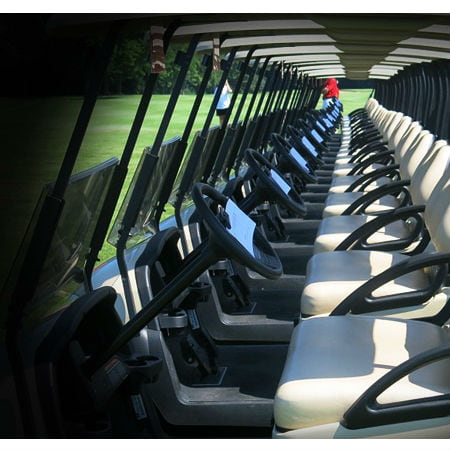 Some villages have reported a series of golf cart thefts in their area. This is unsurprising because small vehicles are prone to vehicle thefts. To help them keep their valuable possessions safe, Advantage Golf Cars recommended the following tips on how to prevent golf cart thefts.
How to Prevent Golf Cart Thefts
Scroll down for video
Provide Garage for Carts
This is the most basic protection you can provide to your vehicle. Though it may not totally prevent golf cart thefts, having a secure area for your vehicle minimizes the risk of robbers stealing your possession.
Install a Distinct Keyed Ignition Switch
Electric golf carts are typically pre-installed with keyed start switches straight from the factory and the keys for the carts are usually generic, which gives thieves an easy access to the golf carts. One way to prevent golf car thefts is to go to retailers who often sell aftermarket switches and have your cart's switch modified.
Set Up a Security Alarm System
This type of security is used mostly for cars, so obviously, you can also use it to protect your carts. But invest in one that is specifically designed for your golf carts.
Consider Putting a Lock on the Steering Wheel
Though most steering wheel locks sold in the auto shops are designed for cars, there are shops out there that sell models that will fit in your golf cart.
Use an Immobilizer Lock
The device is also called a wheel boot. It's the same device the police use to lock car's wheels whose drivers have committed parking violations. The device prevents the car from being moved. It is most effective when combined with a lockdown anchor. With the two anti-theft devices, robbers will have a hard time lifting your golf cart from its position.
GPS trackers have useful features that can help you protect your golf cart. It will send you an alert on your phone the moment your golf cart is moved from its parking position. And in case the thieves successfully removed the golf cart from your garage, you can still track the stolen vehicle, increasing the probability of you taking back the stolen property with the help of the police.
Watch the videos below
Let us help you. We'd be delighted to answer any tracking questions you have or discuss the options in more details.