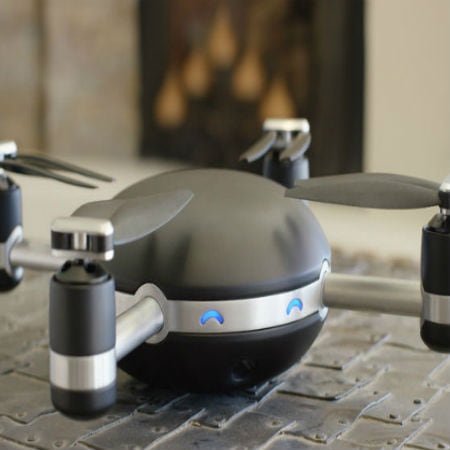 Though Lily looks like a quadcopter, it is actually a flying camera. Lily camera drone can take aerial shots using GPS.
The drone's sales have dramatically increased since 2013 as it makes the photographers capture aerial shots quickly and inexpensively, though one must have to learn first how to operate the device before using it.
Now there's even an easier way to take photographs using the latest invention of a U.S. company—a portable drone that is programmed to follow the subject around without the need for the traditional radio controller.
Lily Camera Drone: A Drone Follows Your Move
Scroll down for video
To launch the Lily camera drone, you just have to throw it into the air, and in just a few seconds, it will follow you around—well, actually, it will follow the GPS tracking device, similar to the Trackimo tracking device except that Trackimo is rectangular while Lily's GPS control pad is circular and has 5 buttons.
You just bring with you the device, put it in your pocket or in your backpack while walking in the park, kayaking, snowboarding or any other extreme sports—and Lily will capture your every move as you go. It's very light and takes high-definition shots. You can encode particular instructions as to how you want the shot to be taken if you want it leading or side on or simply circle around the subject.
If it gets caught in the rain, you don't have to worry because it's water-resistant. The Lily camera can fly up to 20 minutes, and if it plummets in the river, it floats too! If the rotors get damaged (standard plastic), it can easily be replaced.
Aside from that, the quadcopter's controlling pad has a built-in microphone that is coordinated with the camera so you can record audio from the ground.
The Lily camera is currently on pre-sale for $899, but it will revert back to its regular retail price of $999 after the pre-order campaign period.
Below is the Lily Camera Drone product descriptions:

Specifications
Dimensions and Weight:
Size: 10.29 in x 10.29 in x 3.22 in
Weight: 1.3 kg
Flight:
Max Speed: 25 mph
Max Altitude: 50  ft above head
Min Altitude: 5 ft above head
Camera:
Video Resolution: 1080p 60 fps / 720p 120 fps
Video FOV: 94º
Video Format: H.264 codec, .mp4 file format
Photo Resolution: 12 MP
Digital gimballing
Image stabilization
Fixed focus
Sensors:
Accelerometer
Three-axis Gyro
Magnetometer
Barometer
GPS
Front-facing camera
Bottom-facing camera
Memory:
4 GB micro SD provided
External memory card slot
Battery and Power:
Built-in Lithium-Ion Battery
20 min of flight time
Charging via 5A charger
2-hour charge time
Waterproofing:
IP67 rating
Watch the videos below
Let us help you. We'd be delighted to answer any tracking questions you have or discuss the options in more details.