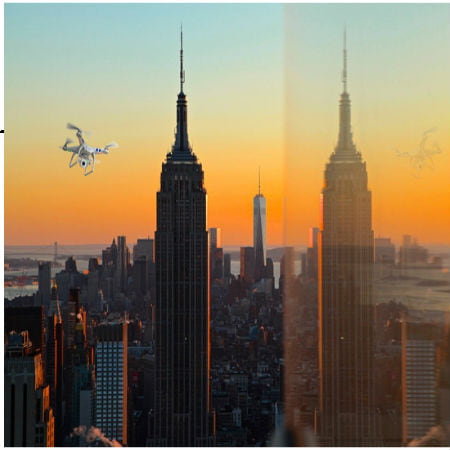 After the Empire State Building drone crash has been experienced, Sean Riddle, a 27-years-old New Jersey man was arrested. He was charged with reckless endangerment and illegal navigation of an aircraft in and over the city.
Sean was flying his drone in Midtown Manhattan and taking pictures with it when the incident occurred. He lost control of the aircraft and it hit the Empire State Building at the 40th floor and then fell on to a ledge on the 35th floor. This was very lucky as the drone quadcopter could have harmed pedestrians or caused damage to properties had it landed on the jam packed streets of Manhattan.
Empire State Building Drone Crash
Scroll down for video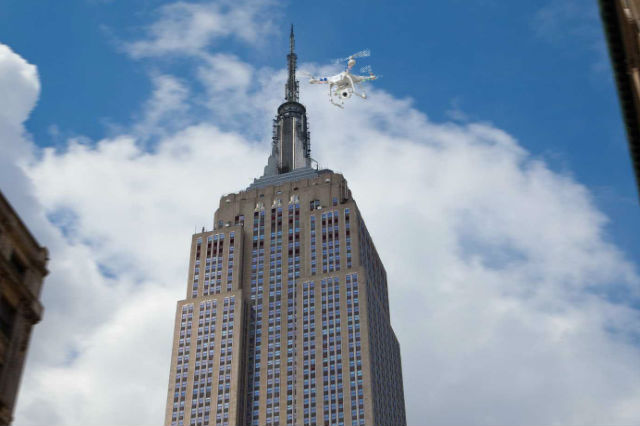 After the crash, Sean Riddle entered the building in an attempt to retrieve the aircraft. He asked security guards for help but they called the police who arrested him.
According to tweets by Sean, before flying the gps drone camera, he had taken precautions to ensure he wasn't doing anything illegal. He tweeted that a cop had given him permission to fly the drone 20 minutes before he did. He also said that he checked a website on flying of drones in New York legally.
However, further checks online at a website dedicated to drone regulations show that the Empire State Building and most parts of Manhattan have been designated as restricted areas due to the large number of heliports and helipads found in those areas. The website also lists some other regulations such as:
Drones should not be flown over unprotected people or moving vehicles.
Drones should be kept below 400ft.
Drones should be kept at least 25ft away from people and vulnerable property.
All local laws and ordinances should be kept before flying over private property.
Sean Riddle's case, also known as the Empire State Building drone crash event, is the most recent in a series of high profile drone crashes that have been occurring recently. Seattle's Great Wheel was struck by a drone and the drone crashed onto the deck of a nearby restaurant. A year ago, a little drone crash-landed on the lawn of the White House no thanks to a drunk employee of the National Geospatial-Intelligence Agency who lost control of the drone.

Other Restricted Areas
After the Empire State Building drone crash, drones were also banned at Super Bowl 50 which saw the American Football Conference champion Denver Broncos defeat the National Football Conference champion Carolina Panthers by a score line of 24 to 10. The Federal Aviation Administration ensured that no drone was flying within a 36-mile radius of the Levi's Stadium which hosted this year's edition.
An announcement was recently made by the Department of Transportation stating that almost 300,000 drone owners had already registered their aircraft, per the Federal Aviation Administration's new regulations. The new rule states that all owners of small drones (weighing between 0.5 and 55 pounds) must register before February 19 or before their first flight outdoors.
Watch the video below
Let us help you. We'd be delighted to answer any tracking questions you have or discuss the options in more details.