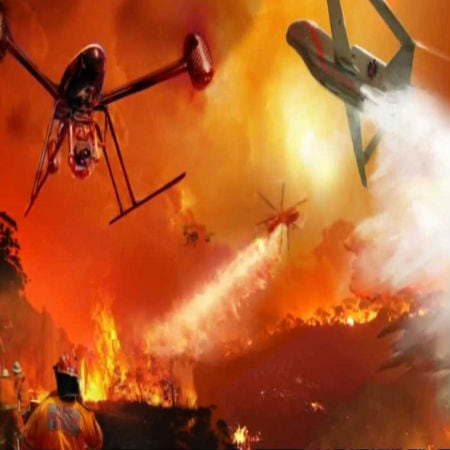 Wildfires are huge disasters that are mostly commonplace during the dry season or as climate goes, the summer and as such, preparations are always put in place to ensure the prevention and in the worst-case scenarios, quick and swift responses to make sure they do not do major damages before they are put out. One of such measures as now specified by the British Columbia district is that drones be wary of approaching areas of wildfires, even going as far as imposing strict fines on any and such erring drone enthusiasts. That's why, it is crucial to keep drones away from wildfires to avoid the continuous increase in drone accidents.
Why Should You Keep Drones Away From Wildfires
Scroll down for video
Provincial Wildfire Coordination Center information officer Ryan Turcot has reiterated this opinion by saying that the BC wildfire service as well as Transport Canada would frown at any drone activity near wildfire events. To further drive home their point, those found wanting would be made to pay a fine of $25,000 and still face up to eighteen months in jail time.
The restriction states that for those who want to operate their drones, they must not be found within a radius of five nautical miles around the fire. The legislation, which includes drones of any and all sizes, also states that such drones must not be flying at altitudes of around 3000 feet above ground level in the case of such wildfires. In short, they should keep drones away from wildfires.
Safety measures have also been put in place for the unforeseen circumstance in which a drone enters the restricted airspace. According to Turcot, a breach by drone activity would result in grounding of all nearby aircraft, and this status would be maintained till said drone has left the vicinity. Explaining the reason behind this type of measure being out in place, he said, "Violating these rules can put the lies of aircrews and those on the ground in jeopardy."
In line with this, using a GPS tracking device for drones is helpful to monitor their flight and whereabouts.
Although all these might look like some strict rules, the BC government has more than enough reason to worry about these kinds of occurrences. Just last year, in August, crews working on a wildfire burning in Kelowna were forced to stop their operations after there were reported sightings of drones overhead. Just some couple of weeks after, a similar incident caused a crew working on a wildfire in the Testaliden Creek to stop, spanning into several hours of stoppage.
"Progress to contain that fire was impeded," Turcot lamented, "and we were lucky that the fire didn't get worse as a result."
These kinds of events reached an unwanted height just three months ago—May 16, to be precise—when some group of people drove to the Beatton Airport Road Fire and attempted to release their drone into the sky from there. Lucky enough, they were not able to achieve their aim as they fled the scene on the approach of crew members.
Watch the video below
Let us help you. We'd be delighted to answer any tracking questions you have or discuss the options in more details