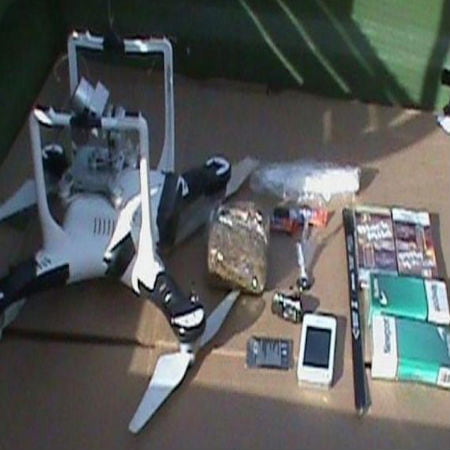 In just six months, several remote-controlled drones have crash-landed within jail premises, which have sparked off concerns that they might be smuggling things into the prison. Jail experts have expressed concerns that these drones have been used to smuggle in items that are not allowed into the prison like drugs and mobile phones. These machines have also been suspected to be used for surveillance purposes in finding smuggling routes and working out escape plans.
Smuggling Contraband Items via Drone
Scroll down for video
An investigation by Sunday People showed that drones are becoming more dangerous every day. Just weeks ago, according to some documents from the Internal Ministry of Justice, a drone that has a camera feature was spotted inside a Liverpool jail. According to the document, "At approximately 5:15 p.m. in the grounds adjacent to I Wing, a crashed drone was found. It was equipped with a camera. The camera has been handed to the police."
Assistant secretary of the Prison Officers Association, Glyn Travis, said, "The use of drones to evade security has reached an all-time high. It is an extremely worrying development as drones are inexpensive, easily accessible and you don't have to be a fighter pilot to fly one. They are used to transport contraband or as reconnaissance vehicles, looking for weaknesses in security. At a time of cost cutting and reduced staff numbers, it is hard to deal with this new threat."
July this year, in the 841-capacity Whatton Jail in Nottinghamshire, Europe's biggest prison for sex offenders, a drone with a camera came down and caused a security scare.
A memo on drones being found in prison grounds read, "A crashed helicopter drone, with a camera attached, was found in the grounds of C3 Unit by staff. It was taken to security."
One month earlier, a drone was found with a parcel attached to it just outside HM Prison Swansea. A mobile phone was attached to it too. An eyewitness who found the drone said he saw a man driving away from the category B jail. The man driving was traced and arrested by the South Wales police.
In March, a drone was flown into the Bedford Prison packed with phones, drugs, and a knife. The razor wire protecting the jail stopped it from going through.
The drone was a Chinese made DJI Phanton 2 Vision model equipped with a wide-angle camera and is worth $1,175. Seven of these devices have been found in four months. Three of these incidents have reportedly happened at HMP Onley, Warwickshire, which involved attempts to take drugs in.
The Civil Aviation Authority regulates the use of drones strictly. However, on the Internet, drones can be bought for a low as $16.
According to a Prison Service spokesman, "The use of drones over prisons has nothing to do with staffing levels. These incidents are rare and anyone caught using them in an attempt to smuggle contraband into prisons can expect a sentence of up to two years."
Watch the video below
Let us help you. We'd be delighted to answer any tracking questions you have or discuss the options in more details