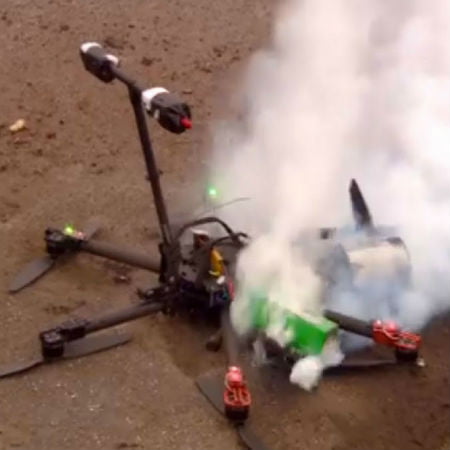 Local cops don't have much information, but it seems like the pilot broke federal rules as a drone crashes in Manhattan's busy streets.
It was probably the most shocking thing to have happened to a businessman who was walking through the East Side of Manhattan on a Monday—a helicopter of about 3 pounds crash-landed a few feet from him. The man got the memory card from the crashed chopper and handed it over to the local ABC News Station, which eventually broke the news shortly after the accident.
Businessman Witnesses as Drone Crashes in Manhattan Streets
Scroll down for video
The man was concerned that he could have been injured by the incident in which the drone crashes in Manhattan streets, so he got in touch with local police who told that the pilot didn't break any drone use guidelines and rules, forcing him to just let the pilot be.
It should have been hard for the man to accept that such an act of recklessness doesn't constitute a breach of the law or perhaps even a regulation that should check drone activity. There are laid down regulations put in place by the Federal Aviation Authorities; however, it seems they aren't enough yet.
According to the rules of Federal Aviation Administration, however, hobbyist drones must not exceed 400 feet of flying altitude and must not fly close to airports and heavily populated areas like busy streets of cities. When FAA spokesman Les Dorr was contacted by The Verge, his voicemail was reached and only the message "I am out of the office due to a lapse in funding. Please call back after news reports advise a resumption of services for all federal agencies" was heard.
Chris Anderson, the founder of the drone company 3D Robotics and the online community for enthusiasts, DIY Drones, confirmed that this kind of flight was illegal. According to him, "The FAA has very clear guidelines on this, and such flying over built-up areas is clearly in violation of those rules (and has been for decades). One of the things we created DIY Drones for was to inform people about such regulations and principles of responsible flight. But clearly, the message needs to get out better."
Hopefully soon, we will start to see more people abide strictly by the regulations put in place by the authorities and begin to see more responsible drone activity that doesn't interfere with day-to-day activities or pose a threat to human safety. Also, people should probably mount drones with a real-time GPS tracker to monitor them thoroughly.
Watch the video below
Let us help you. We'd be delighted to answer any tracking questions you have or discuss the options in more details