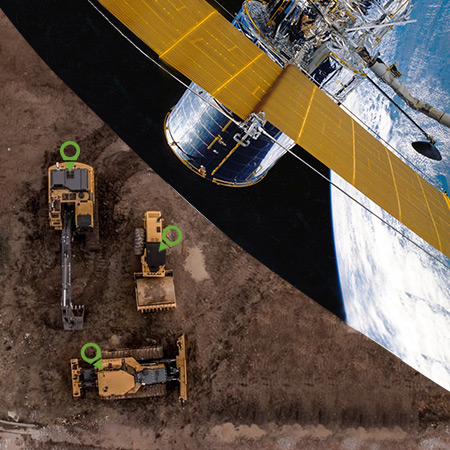 Businesses have come a long way from having to monitor data through paper-based logs and spreadsheet software. Gone are the days when we had to intricately and manually fill in the necessary time, location, and usage information as a way of keeping track of our assets. With the aid of technology, how asset tracking works is now easier and more comprehensive.
How Asset Tracking Works and What It Is
To put simply, asset tracking refers to the activity of monitoring valuable commodity that generates income for the benefit and use of a corporation. The system of how asset tracking works puts together a software and series of bar code scanners to identity bar code–labelled assets such as equipment, items, and all tools that need to be tracked.
Scroll down for the video
The system radically evolved as soon as businesses, large or small, realized the value of their assets. When an equipment goes missing in-transit or in the workplace, companies spend lavish time searching for it, which often results in catastrophic delays, missed schedules, wasted workforce, and unsatisfied customers.
The high-tech way of managing assets has helped companies overcome challenges brought about by traditional asset monitoring. How asset tracking works using the right tool sees businesses using a one-log inventory system to monitor and document all assets. Aside from that, asset tracking also calculates asset depreciation cost to accurately account the lifespan of asset for tax and insurance processes. It consolidates the certification and warranty of every asset, giving corporations enough information to determine which ones are up for maintenance and which ones are not.
Using GPS saves money for businesses by incorporating them to asset tracking aiding on monitoring their insurance coverage expiration rather than waiting it out until they wind up missing deadlines. Asset tracking system is also more user-friendly and visually presentable, as it shows pictures of actual cargo and signed documents as items move.
The common assets that small and big businesses track include—but are not limited to—IT equipment, office apparatus and furniture, and construction tools.
Why You Need Asset Tracking
Whether the company you manage or own is big or small, you can get many advantages from investing in asset tracking. For one, you can benefit from lower administrative costs as you wouldn't need to hire administrative professionals to track down your company's assets manually. Ultimately, this means reduced instances of asset loss as a result of reduced opportunities for human error. This allows you to give your focus instead on other revenue-generating tasks.
Asset tracking can also ensure accountability on the part of your employees when it comes to handling your assets. In the course of running a business, you can incur costly losses especially if you don't carefully monitor your assets. Another advantage that it brings about is improved customer satisfaction. As you streamline and enhance the functions of your business, this will flow over to your customers' experience with your services, products, and staff and bring about increased satisfaction on their end.
Moreover, with an efficient asset tracking software, you will be able to identify certain asset utilization trends that will, in turn, enable you to prepare your company for growth in the future. Note that this is difficult to do with manual asset tracking. Getting hold of certifications and regulation compliance documents will also be much faster and easier, and you can track and manage more of your assets than you normally can with manual tracking.
You will also get valuable insight into how your company's physical spaces perform, such as the warehouse, storage, and even the office. This leads to determine essential links in how these spaces make use of assets and how you can make adjustments to them so you can streamline your business's operations. Moreover, asset tracking will also help you anticipate your company's specific needs in terms of assets, such as in equipment maintenance.
Lastly, the high-level insight which you will gain through asset tracking will help you understand your assets better—where they are, how they are being used, and what actions you and your managers need to undertake in order to keep them in play. With asset tracking, you don't have to do any more guesswork when it comes to monitoring and managing your assets.
Different Types of Asset Tracking Technology
Nowadays, there are three types of technology commonly used in asset tracking. Many companies usually take advantage of a combination of these types to streamline their business operations and make them more efficient.
Ever since its first commercial use in the 1970s, bar codes have been a ubiquitous sight in the business and consumer world. The bar code itself may be an old concept, but recent advances in portable scanning technology have increased the bar code's value. The fact that it's still so much in use until today is one proof of its versatility and how this technology has adapted to the times. At present, over 90 percent of asset tracking projects all over the world show a preference for bar code technology.
Radio Frequency ID (RFID)
What RFID does is to transmit details of specific assets to a certain receiver with the help of radio frequency tags or chips. One advantage they have is that they are more advanced than bar codes; however, it should be noted that just because they are a more recent invention doesn't mean they are always the more efficient option. With RFID, you can scan multiple objects at a distance, which makes it suitable for instances when assets are not readily viewed or accessible. However, they are also a more expensive form of tracking, which makes them not suitable for assets that are less valuable.
GPS trackers are devices that are attached to assets and, with the help of GPS technology, transmit the location of the device and the asset to a remote server. With this type of technology, no human intervention is needed so you can track the exact location of your assets. They are capable of tracking assets in real time and even in motion, which makes them ideal for managing fleets of vehicles and transportation of assets.
Factors Affecting Asset Management
Asset management does not come with no challenges. Here are some of the factors affecting an efficient asset management.
1. Assets
The key to managing assets properly lies in the asset itself that the company is trying to protect. These assets vary in terms of form, features, and usage. They can be categorized into tangible, intangible, capital asset, fixed, and current assets. These assets can be further classified into most perishable, least to depreciate, and more. It is crucial for a company to determine the kind of assets they own and want to track. At times, it is even best that these assets are uniquely labeled. This is so monitoring would be easier and problem-free.
2. Bar code labels
Most electronic assets do not need identifiable bar code labels, as these items already have unique serial number. However, most office furniture and medical equipment don't have this feature. A basic function of how asset tracking works is assigning a unique identification number (bar codes) to every asset that needs monitoring. As there are no two similar sets of serial numbers, it is easy for the system to determine which asset you need information on. Just enter the number and you will get information on the item's movement, condition, and more. This eliminates the inefficient labor normally associated to pinning down an equipment.
3. Functionality
The asset tracking system a company employs should cater to its needs. Computer systems tend to be very limited in terms of customization and upgrade options. As business grows, so do its assets. A good asset tracking system is versatile enough to meet the changing demands brought by the company's growth. Not just that, the system should also be able to meet the future needs of the company in terms of monitoring.
Assets are the backbone of every company. These assets generate income that is used to compensate employee and to ensure continuity of business. As one would expect, the responsibility of monitoring is as big and serious as the value of these assets. No matter how comprehensive an asset management system is, no matter how advanced the technology used, the entire operation would be flawed if business owners fail to keep a closer eye on the operations and leave it all to the system. This means that while it greatly helps to adopt an asset tracking system, to have a responsible manager to foresee this aspect of the operation will do more good.
Nevertheless, it can't be denied that using the best of technology to monitor company assets offers more benefits than expected. There are a lot of good trackers on the market today. But perhaps one of the most trusted is Trackimo.
Trackimo allows for a more comprehensive system of tracking assets that a company needs. It provides a reliable 3G GPS asset monitoring. Incorporating Trackimo into your day-to-day operations will revolutionize the way you track your valuable assets.
Watch the video below
Let us help you. We'd be delighted to answer any tracking questions you have or discuss the options in more details.