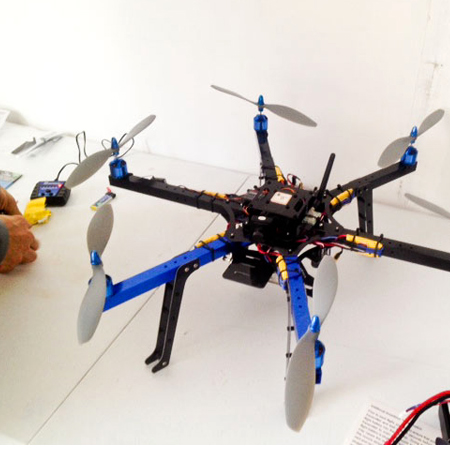 ArduCopter 3DR is a DIY quad kit developed and manufactured by 3D Robotics. It's a kit complete with everything you need to build your own UAV quad. For the instructions including how to install firmware and calibration of the board, sensors, speed controls, etc., you can easily find it on the Internet and download the guide to your computer. Assembly is not at all difficult, although it can be tedious.
The power distribution board is still nicely placed in between the base plates, but it is now easier to get into the PDB as the frame has an easy to remove thumb nuts to pull out the stack.
The ArduCopter 3DR has undergone a slight redesigning both in mechanical and documentation, improving its quality yet remaining to be an affordable and easy-to-operate drone! It has now 40 mm shorter arms and shorter motor cables, reducing the overall weight of the hexacopter, but now it can carry about 1 kg package, including a 3G GPS tracking device for drones. It also has a better mounting surface and smaller frames, which makes the ArduCopter 3DR a portable UAV.
Scroll down for videos
The quadcopter's full flight electronics has been upgraded to fit APM2.5., the previous design fits APM1.0 and 2.0. If you are thinking of adding a sonar to the frame, all you need is the ArduCopter 3DR HexaCopter Sonar Mount.
ArduCopter 3DR Lifting Capability
Frame weight: 1356.3 g
Battery weight (4S 5000mAh): 534 g
Miscellaneous payload: 533.7 g
All-up weight: 2,424 g
Flight time in hover: 12:10
Using this configuration, the UAV lasted over 24 minutes! (Using Misc Payload for a second battery)
Frame Weight: 1356.3g
Battery Weight (4S 5000mAh): 534.0g
Misc. Payload: 843.7g
All-Up Weight: 2734g
Flight Time in Hover: 10:00
Maximum Take-Off Weight Test Performed at 3190 g
Please note: weights and flight time test results are supplied by manufactures.
ArduCopter multi rotor Hexacopter 3DR DIY kit includes the following:
2 fiberglass main frame boards
6 aluminium arms
2 fiberglass carrier boards
Fiberglass landing gear
Power distribution board, power cables, and signal cables for PDB-APM
All hardware needed to assemble the components above
6 motors (850kv)
6 20A ESCs
6 propellers (10 x 47)
ArduPilot Mega 2560, oil pan, GPS, magnetometer, assorted cables, and connectors
ArduCopter 3DR is reported to be up for sale at $655.
Watch the videos below
Let us help you. We'd be delighted to answer any tracking questions you have or discuss the options in more details